Valerie Bertinelli's Veggie Chili Is So Satisfying, You Won't Miss the Meat
Valerie Bertinelli's Veggie Chili is so hearty and filling, you won't miss the meat. Here's how she makes this plant-based wonder.
With its abundance of meaty mushrooms, vegetables, and hearty beans, Food Network star Valerie Bertinelli's vegetarian chili is just as filling as the original beefy recipe.
It's also packed with the chili basics you love and, with its fun toppings, is an easy simmer-all-day dish perfect for company.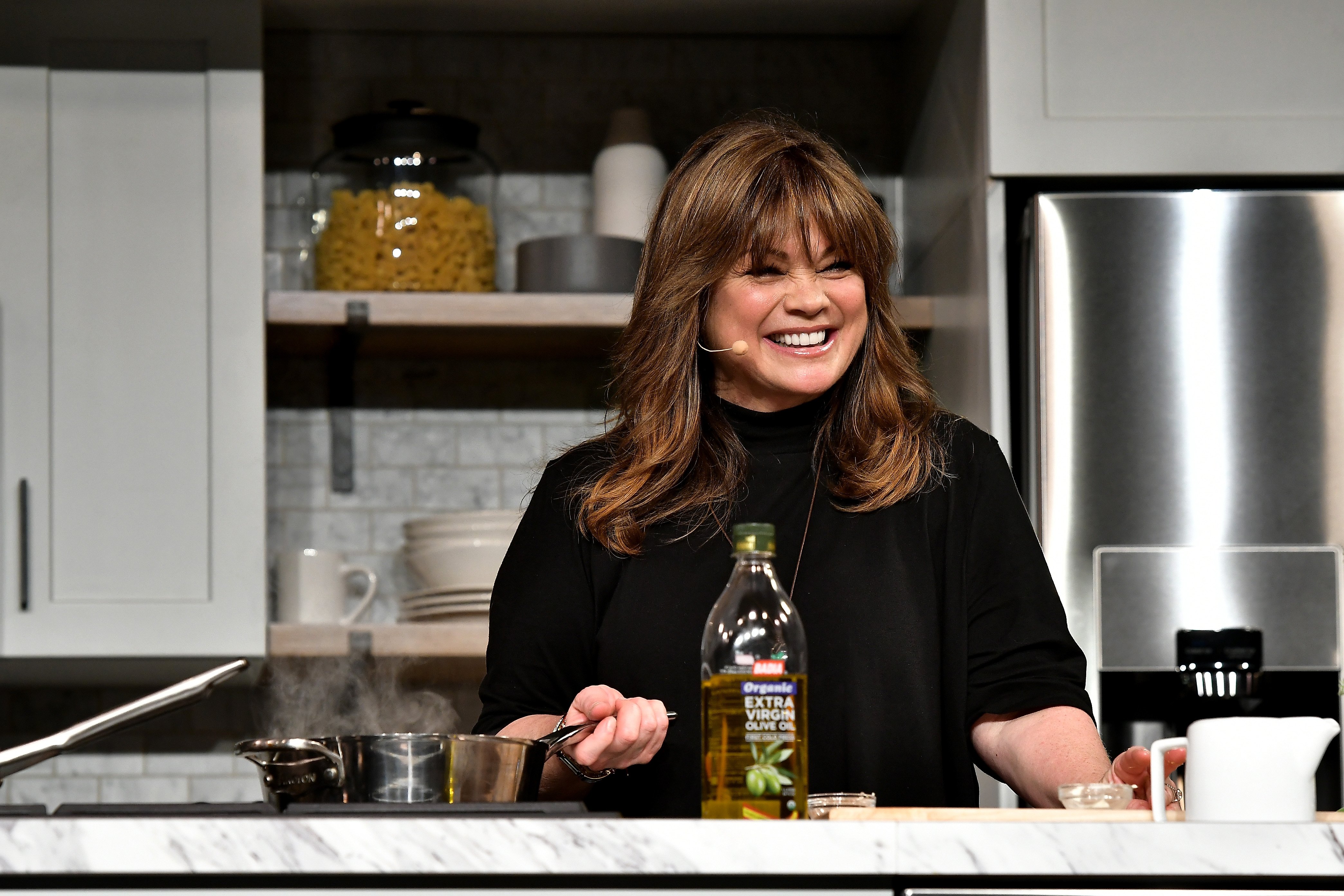 Valerie Bertinelli's Veggie Chili is a meatless makeover masterpiece
The Valerie's Home Cooking host's plant-based chili calls for vegetables that mimic the heartiness of meat.
For this dish, you'll need: baby bella mushrooms, fresh cilantro, celery, orange and red bell peppers, onion, a poblano pepper, corn, zucchini, tomatoes, fresh garlic, and black and pinto beans. The chef adds seasonings including chili powder, smoked paprika, ground cumin, and ground coriander.
And don't forget the toppings. Bertinelli turns to sour cream, grated Cheddar, chopped white onion, avocado, and pickled jalapeños so there is something for everyone to complete their bowl of chili.
The former Hot in Cleveland star added that she especially loves "chili for entertaining because you just put all these great toppings out and then people can choose what they love and the have the base of a chili."
Her chili recipe gets its chewy texture from mushrooms
The magic, Bertinelli says, is mostly thanks to the mushrooms she's strategically chopping for this recipe.
"I've got one pound of baby bella mushrooms," she says in the Food Network video, above, for the recipe. "And I'm slicing up some that are going to add some texture. But I also want the feeling of ground meat, so that's where [the balance of the mushrooms comes] in and the stems."
Putting the mushrooms and their stems in her food processor, she gives "this a little pulse until it's like this nice kind of meaty consistency, like a ground meat. And the food processor does all the work."
Get the reviews and complete recipe on Food Network's site.
Bertinelli's plant-based spin on the classic recipe is big on flavor
The ground-up mushroom mixture is placed in a pot with salt, "to really have them release their water."
"All the typical flavors that you find in chili are added" at this point, including the chopped onions, celery ("I like to use the tops and all the leaves, too"), the red and orange bell peppers, the poblano pepper ("It's a little spicy but not too spicy"), and grated garlic.
The vegetables, Bertinelli points out, are purposefully chopped on the larger side because "this chili is all about texture. You want nice big pieces of veggies" and she reminds us to keep salting and peppering as we go along.
She adds cilantro leaf stems ("I don't want to waste the stems because there's a lot of flavor in these stems"), saving the leaves for garnish.
The seasonings are added now because "we really just want to flavor all of the veggies before we put any of the liquid in. … all of a sudden, it's smelling like chili!"
Lastly, she stirs in the diced and crushed tomatoes, along with the zucchini, beans, and corn, and this chili is ready to serve!