'Vanderpump Rules': Brandy Howard and Julie Goldman from 'The People's Couch' Admit 'Jax Is Our Favorite'
Jax Taylor from Vanderpump Rules felt the love from The People's Couch hosts Brandy Howard and Julie Goldman when they dished that he was actually their favorite. Goldman and Howard also found the entire cast to be "lovely" when they hosted the Vanderpump Rules After Show and only shared positive remarks about the experience.
Julie Goldman and Brandy Howard recall the 'Vanderpump Rules' cast as 'lovely'
A Watch What Happens Live with Andy Cohen virtual viewer asked Goldman and Howard to spill about which cast member was the biggest nightmare behind the scenes. Before Goldman could answer, Howard ran with the question. "I'm not gonna let Julie answer that because she'll talk too much 's'," Howard said while Goldman grinned. "But honestly, no one was a nightmare behind the scenes. We had our own pre-judgments going in simply because we were huge fans of Vanderpump. So we were mainly judging them about what they did on the show. They're all really lovely. Andy, I'm sure …"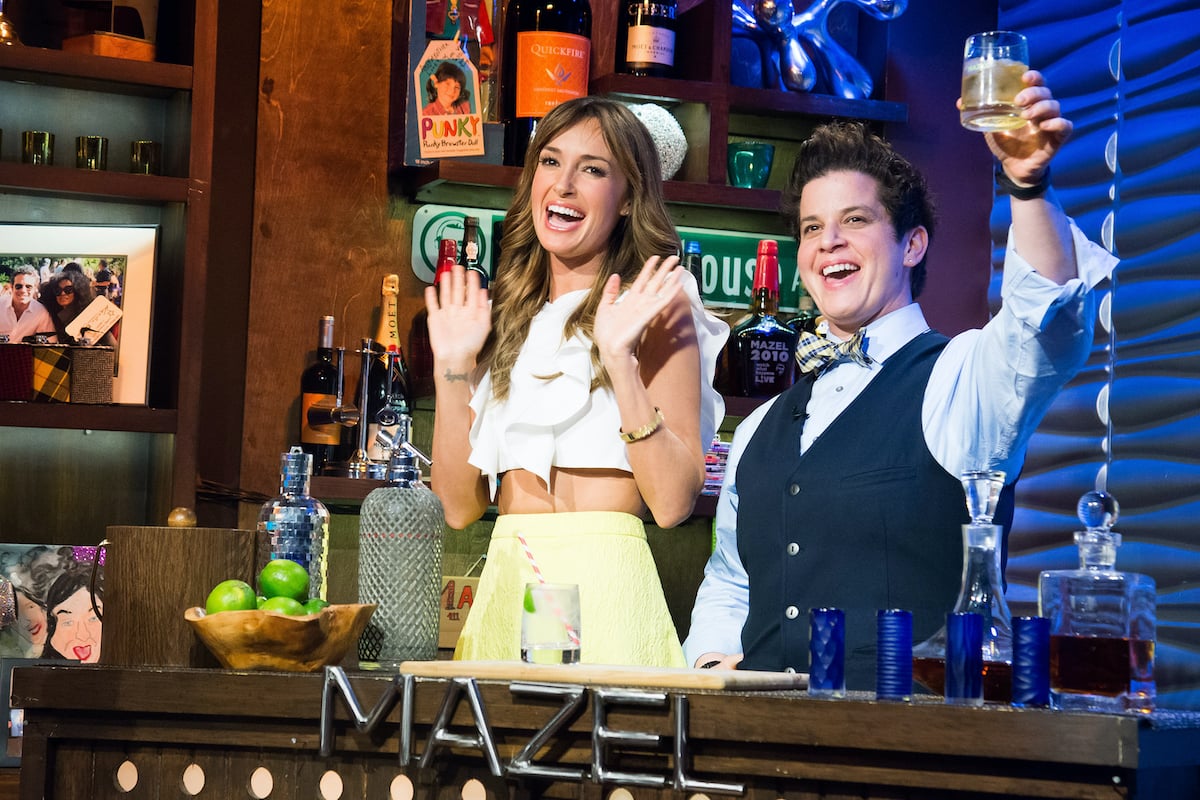 Host Andy Cohen said the entire cast was professional and added, "I mean, I have to say, Jax, week after week would show up here just for me to lambaste him, you know, horribly."
"Yeah, and Jax is our favorite," Howard exclaimed, who also hosts the podcast Dumb Gay Politics along with Goldman.
Jax Taylor is 'the best,' according to Julie Goldman
"The revelation is that Jax is by far … the best," Goldman shrugged.
Taylor must have been watching Watch What Happens Live with Andy Cohen. He tweeted, "Wow….. this is so sweet of you. Love you guys," in response to their comment.
WWHL isn't the first time The People's Couch comedy duo crowned Taylor as being "the best." They chatted with Showbiz Cheat Sheet in 2020 about their dream of leveraging Taylor's wife Brittany Cartwright to unseat Kentucky Senator Mitch McConnell.
RELATED: 'Vanderpump Rules': How Will Jax and Brittany's Exit Impact the Future of the Series?
"We did the [Vanderpump Rules] After Show the first year Brittany was on and she was so nice," Howard said. "Jax [Taylor] is always our favorite too. So we were going to drag Brittany and her mom out to Kentucky, out to the mall. And be like, 'B–tch, surprise! We're all going to campaign against Mitch McConnell now.' We don't know what her politics are, but we figured she'd be like, 'Ok, whatever.'"
'The People's Couch' also loves Brittany Cartwright
Howard and Goldman also appreciate Cartwright as much as they do Taylor. "We love, love, love Brittany," Howard told Bravo's The Daily Dish in 2016.
"What you see on the show is really how she is in real life," she continued. "She's an authentically sweet person and she seems like she fell for Jax because he's f–ing hot and not because he's on a TV show. She really doesn't seem thirsty for the limelight."
RELATED: 'Vanderpump Rules': Tom Schwartz Didn't Think He and Katie Maloney Would Stay Together
"We gave her some incredibly profound advice and she'd be smart to take it," Goldman added. "Oh, you want to know what it was? We told her, 'If Jax cheats on you or f–ks you over in any way, just go and get with James'."
No word on a People's Couch revival but Cohen admitted fans demand one.