'Vanderpump Rules': Dayna Kathan Admits Season 8 Seemed to Like 2 Different Shows
Some Vanderpump Rules viewers complained that season 8 seemed clunky as producers tried to blend six new, younger cast members with the original group.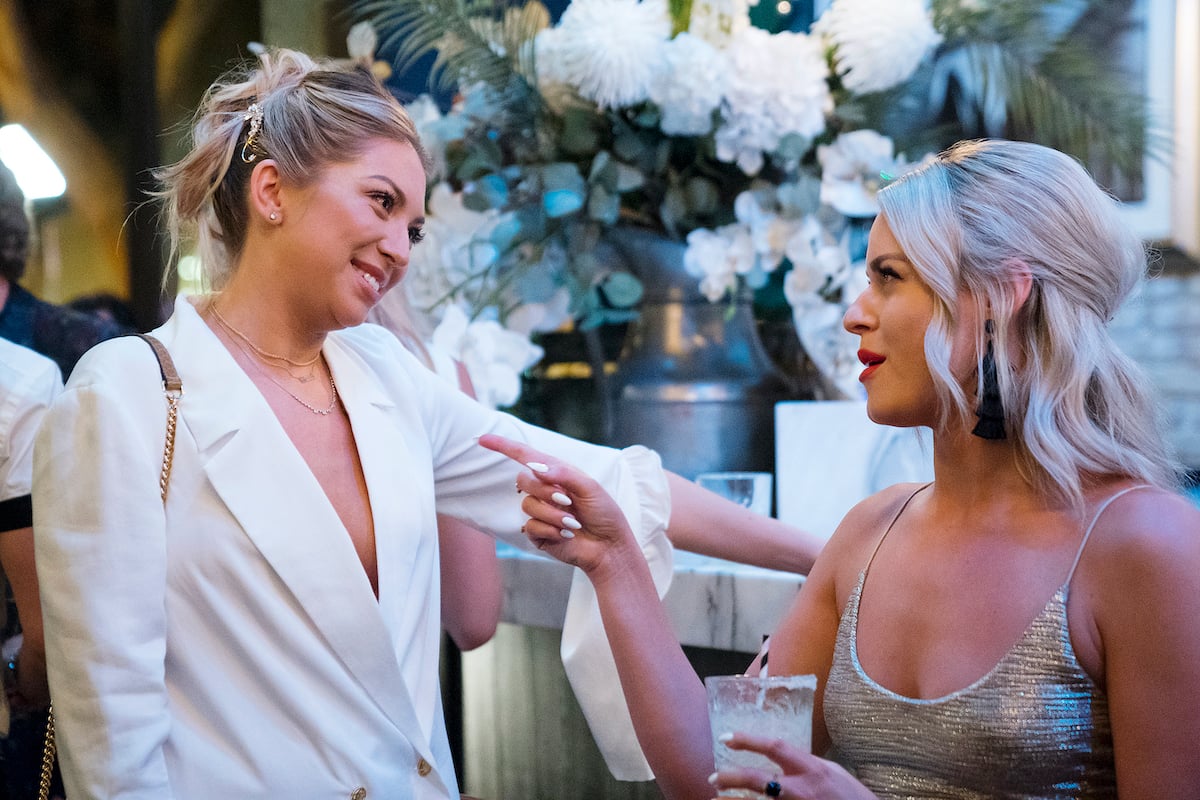 The seminal premise of the series was to follow the young and mostly single servers who worked at Lisa Vanderpump's restaurant SUR. But fast forward eight years and most of the original group have coupled off, married and a few are expecting a baby.
Producers may have wanted to steer the show back to the original focus, but some viewers thought the latest season fell flat. Newcomer Dayna Kathan even admitted that season 8 seemed like two different shows when she watched it back. She added that Jax Taylor helped to forge more divide as he shunned the new cast. He blocked them on social media and avoided socializing with most of the new cast.
Dayna Kathan thinks Jax Taylor cannibalized part of the season
Kathan said Taylor took over part of the season. "Well, I mean, ultimately, so me and the other people were happening, right?" she told Katie Maloney-Schwartz on her Dear Media podcast, You're Gonna Love Me.
"That wasn't our choice necessarily, that was obviously made by the powers that be who make the show," she continued. "And I do feel like, in a way, and I mean, I don't know if you'll cut this or not, but I feel like [Taylor] cannibalized part of the show this season. I honestly think the last three episodes were really good. And even if it wasn't like, so married together, it was clear there were differences."
"You guys made the show, you've had the show it's yours, but we're there," Kathan said to Maloney-Schwartz, who is an original cast member. "It's funny because the whole time we filmed, I didn't feel that separation. And then I watched the show back and I was like why does this seem [like] it is two different shows? And I understood longtime viewers' frustrations. But I think that everyone would have had a better season if it would have been more of the season had been like the last three episodes personally."
Taylor went out of his way to make the new cast feel unwelcome
Kathan, who seemed to assimilate the easiest with the original cast, said Taylor still has her blocked on social media and made the new cast members generally feel unwelcome. "I'm just over it," she said.
"And I've actually never talked about that publically because everyone around me advised me not to say anything when like he was blowing up on Twitter, but like Charli [Burnett] honestly is not alone in feeling that way. And Danica [Dow] and other new people. Like he blocked me. He passive, aggressively tweeted about me several times."
Kathan admitted she was torn because she got along well with Taylor's wife Brittany Cartwright. "I love Brittany so much and she's been very welcoming to me," she said. "And we have a great relationship. But like, you know, even the copious times I've been at their home, he's made a point to try not to make eye contact with me or engage me and whatever. And so I'm just like, you know, f**k you. I just don't care anymore. Like, I really don't."
Kathan said Taylor was passive-aggressive
Maloney-Schwartz said she knew Taylor and some of the original cast weren't exactly rolling out the welcome mat. But she didn't think Kathan was grouped in with the rest of the new cast.
"It was surprising to me because, because I had spent so much time at their house, like after filming had wrapped," Kathan said. "And then when it started airing and then he blocked me on everything. And a Twitter rampage started. Brittany called me and was like, 'sorry' like she just said, 'that's just how he is' and whatever."
"But I was like, where is this coming from?" she wondered. "It was really surprising to me at the time, because not that he and I were close and honestly, not that I'd want to be, but he didn't like give off that energy that we had a problem."
"And then it just like came out so passive-aggressively," she continued. "And I'm like, if you have a f**king problem with me, you see me all the time."
Kathan wanted to tell Taylor off when she realized what he was doing. "Go ahead and look me in the eyes and tell me you don't f**king like me," she said about Taylor. "Like, I respect that if someone doesn't like you, they don't like you. And that's cool. Like, do whatever you want to do in your life. But don't act passive-aggressive."