'Vanderpump Rules' Deepfake 'Brokeback Mountain' Has Tom Sandoval Telling Tom Schwartz: 'I Wish I Could Quit You!'
Tom Sandoval and Tom Schwartz from 'Vanderpump Rules' star in a deepfake 'Brokeback Mountain' video.
Tom Sandoval from Vanderpump Rules shared a fan's deepfake video where Sandoval and Schwartz's faces replaced actors Jake Gyllenhaal and Heath Ledger in the 2005 film Brokeback Mountain.
The video, created by Instagram account, pettyfreddyspaghetti, took clips from the film and masterfully created a short reel. Sandoval captioned the video, "Coming to a theater near you…" and even Schwartz was surprised and amazed by how realistic the video appeared.
Tom and Tom lean into the 'Brokeback Mountain' deepfake
The Vanderpump Rules cast reacted, loving the video. "The greatest bromance of our time," Ariana Madix replied in the thread along with laughing/crying emojis. Schwartz, clearly in awe added, "WHAT I love it." Sandoval replied, "I wish I could quit you!"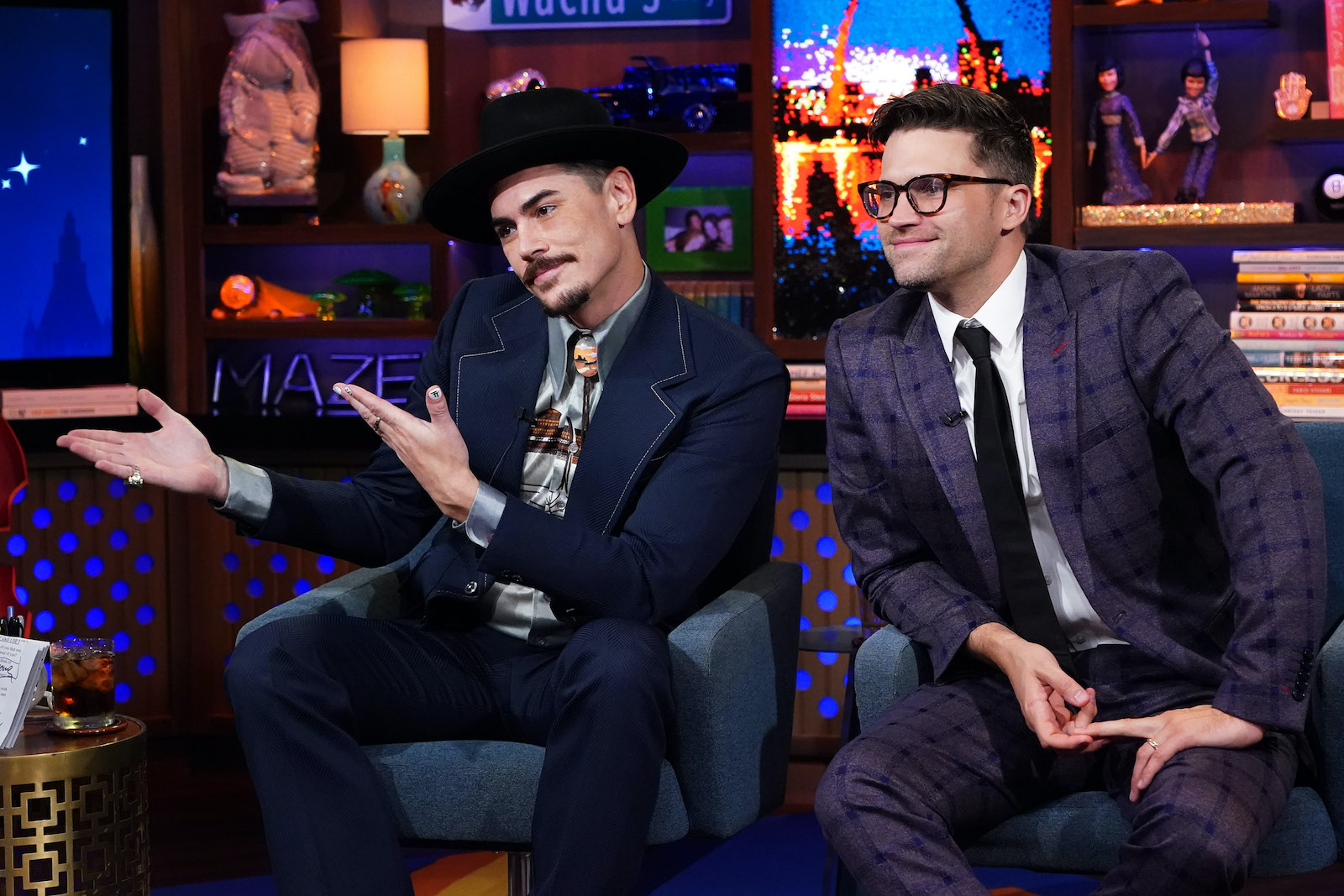 The film Brokeback Mountain chronicled the friendship turned romance between cowboys Ennis and Jack. Schwartz and Sandoval joked in the past about not being able to quit one another, even "breaking up" briefly last season. Sandoval and Schwartz's wife Katie Maloney constantly butted heads over the new restaurant. So the friends decided they should spend less time together (of course it was short-lived).
The 'Brokeback' deepfake inspired by the Tom and Tom bromance
The video was likely inspired by how close the twosome are on the show, often described as having a bromance.
Maloney-Schwartz laughed about Schwartz and Sandoval's big "break up" on Vanderpump Rules. "So melodramatic," she said during an appearance on Watch What Happens Live with Andy Cohen. "Like teenage, lovesick …[laughs]."
Brock Davies and Scheana Shay appeared alongside Maloney-Schwartz so host Andy Cohen wanted their opinion on the big breakup. "I was surprised by that as well," Shay said. "They're so inseparable. But I think they needed to focus on themselves individually. And Brock enjoyed the extra time he got with Sandoval."
"Tom and Tom have the same manager," Shay added when asked how she felt about Sandoval telling Maloney-Schwartz he's brought money into her house. "I feel like their mutual manager is the one who brings the money into both of their houses." Maloney-Schwartz agreed but added without her husband there would be no infamous "Tom and Tom." Adding, "So you can't take credit when there's two people."
What is deep fake technology?
The Brokeback Mountain video is a great example of the power of deepfake.
Deepfake technology is the ability to swap faces in a video, which was seen in a series of wild Tom Cruise videos last year. Some videos showed Cruise with an expert golf swing or performing magic. None of the videos were actually Cruise, but they appeared so realistic people thought they were the actor.
The technology allows the user to create a video or moment – like adding Schwartz and Sandoval to Brokeback Mountain. While creating a deepfake takes patience and skill, anyone can create them with a computer and a high-end graphics card.
Even the audio in the Brokeback Mountain deepfake sounds vaguely like Sandoval.
And while this deepfake video is for fun, some videos can be dangerous because they seem so real. For instance, someone could create a video of a president or government official delivering a message they never recorded.