'Vanderpump Rules' Fans Label Jax Taylor a 'Coke Head' and Reddit Thinks Bravo Already Aired Evidence
Jax Taylor has made some questionable moves during his time on Vanderpump Rules. Cheating on Stassi Schroeder, sleeping with his best friend's girlfriend, cheating on Brittany Cartwright — and that's just his bedroom antics. Let us not forget his declaration that he is the number one guy in the group. While many VPR fans thought that getting married would finally make him calm down, but a recent episode proved it is not going to be that easy. In fact, the episode left many fans wondering if Taylor has a drug problem and that is what is at the root of his behavior.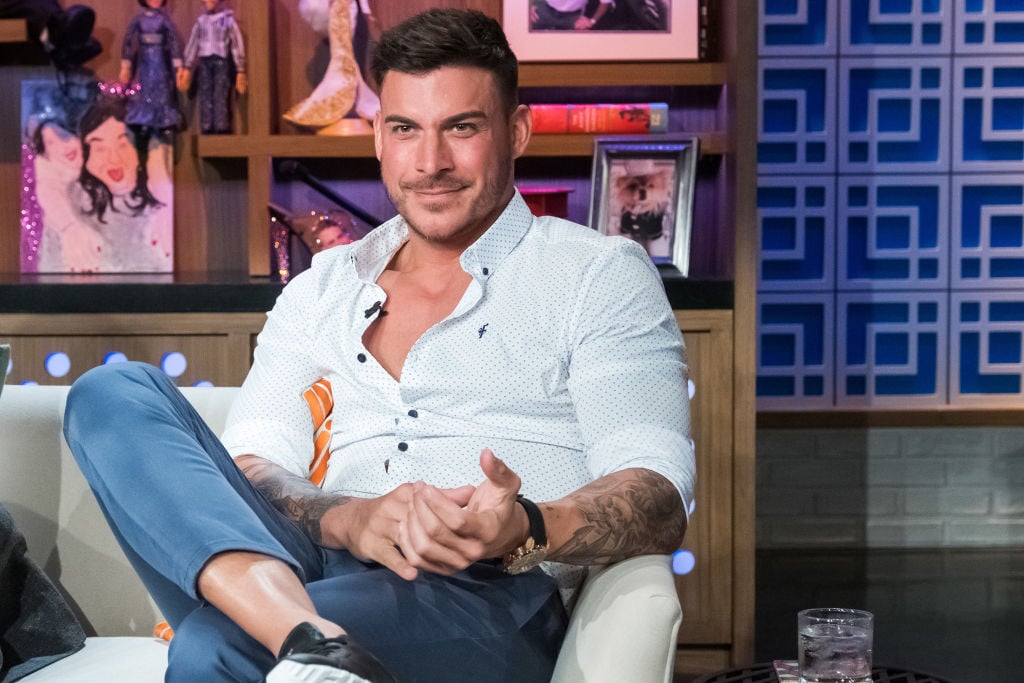 Taylor dismisses Madix's mental health struggle
Taylor's Vanderpump Rules co-star Ariana Madix has been open with the fact that she has struggled with depression. She even opened up to Lisa Vanderpump about it earlier this season. In a recent episode, Taylor completely dismisses Madix's struggles with mental health and even goes so far as to claim she just uses it as an excuse to get out of uncomfortable situations.
Later in the episode, Taylor started rage texting Max Boyens because he had the gall to suggest the group take part in a beach cleanup.
So, what was his reasoning behind the rage texts? Well, Taylor told Madix's boyfriend, Tom Sandoval, that he sometimes gets so angry and that he may struggle with "mental health" issues. This, of course, enraged Vanderpump Rules fans who immediately took to social media.
One fan wrote: "Jax Taylor spewing out relationship advice, judging people's depression & his general hypocrisy for 8 years is no longer cute. #PumpRules."
"Jax is an a****le, Ariana has depression and she's being (honest) about her condition. How about you admit to being an egotistical, selfish jack***. #PumpRules," shared another fan.
Sandoval thinks the 'Vanderpump Rules' star is just looking for attention
Long-suffering Sandoval has had his fair share of issues with Jax Taylor over the years — case in point, Taylor sleeping with his then-girlfriend Kristen Doute. While Sandoval can be a bit extra, he might be the only Vanderpump Rules star speaking the truth when it comes to Taylor's strange and uncontrollable behavior.
During a confessional Sandoval broke down Taylor's behavior as just his way of seeking "attention." As VPR fans are well aware, the beginning of the season focused largely on Taylor's wedding to Brittany Cartwright. But, now that the whole thing is over, the focus is no longer on Taylor so he is just looking for ways to create drama and bring the cameras back his way.
Taylor spoke to E! News about this season of Vanderpump Rules and chalked his behavior up to simple mistakes and that no one has ever really been "extremely hurt" by his actions — although Cartwright might disagree with that one.
"With our group that's been tough. I tend to make the same mistake more than two or three times, but it's always good fun. Like I said, nobody has really gotten extremely hurt from anything," he added. "Sometimes we, we do malicious things, but we have good intentions, and it's just the way our group works. We fight hard, but we love hard."
Despite his claims that he just simply makes mistakes, Vanderpump Rules fans think that Taylor may have a drug issue and claims that Bravo accidentally aired the evidence.
'Vanderpump Rules' fans label Taylor a 'coke head'
After Taylor dismissed Madix's mental health struggles, fans quickly came to her defense and even accused Taylor of having a drug problem.
"Jax has been coked out of his mind the entire season. Bravo, give this clown the boot," wrote one fan.
"What Jax is explaining is bipolar disorder. And you don't take Adderall for that. Yikes!," wrote another after the Vanderpump Rules star admitted to taking the medication which is used to treat ADHD.
Fans also took to Reddit to show a clip from the show that they claim is evidence that Taylor may have a bigger drug problem than just taking Adderall.
After watching the clip, one fan wrote: "I am by no means an expert, but his body language and the paraphernalia in front of him definitely look like he's doing the booger sugar. Also, hard to tell, but is he doing it off of his iPhone screen? That's a new level of nasty, even for Jax."
This is not the first time Taylor has been accused of drug use
Back in 2017, the Vanderpump Rules star was roasted for his birthday, and Sandoval even told a cocaine joke. Taylor didn't really deny the accusations, but instead just said he didn't know anything about it.
Taylor also got into a heated online war with Perez Hilton, which led the blogger to accuse him of having a drug and alcohol problem and possibly even being bisexual.
It all started when the Vanderpump Rules star called out Hilton over one of his Tik Tok videos and claimed, "This should be the last man on earth ever making fun of someone's looks, honestly…," he tweeted.
"Telling people they look ugly and do drugs when you look like the way he does' I mean how can you not just laugh at this complete idiot. Is he serious?" Taylor asked. "People pay him for that? I don't even know who he is?"
"[Jax Taylor] from Vanderpump Rules didn't even have the balls to @ me! I haven't talked sh*t about people's physical appearance since 2010. I do have opinions, however, about sh*t people – like Jax," Hilton fired back.
"The hypocrisy of attacking my looks for the same thing he falsely accused me of is lost on him," he continued. "No one has ever accused Jax Taylor of being smart! I would sincerely like to thank him for promoting my TikTok. It's lit! Hopefully, he listens to my new song tonight and shares his thoughts!"
"In all seriousness: please don't send any hate to Jax Taylor. We should all have compassion for those struggling with drug and alcohol addiction," Hilton concluded.
Jax Taylor has not commented on the latest round of rumors.
New episodes of Vanderpump Rules air Tuesday nights on Bravo.