'Vanderpump Rules': How Much Money Could the Cast Lose If the Show Is Canceled?
Several Vanderpump Rules cast members are reportedly "distraught" over the firings of four cast members, an insider says. Their distress may stem from the prospect that the once highly regarded series may end up being canceled, which could result in a financial hit.
Stassi Schroeder, Kristen Doute, Max Boyens, and Brett Caprioni were fired from the series due to racist actions. Schroeder and Doute were original cast members. Boyens and Caprioni only joined the cast this season. While Schroeder and Doute are obviously upset, a source told ENews that several cast members are also anxiety-ridden, worried the show won't be the same.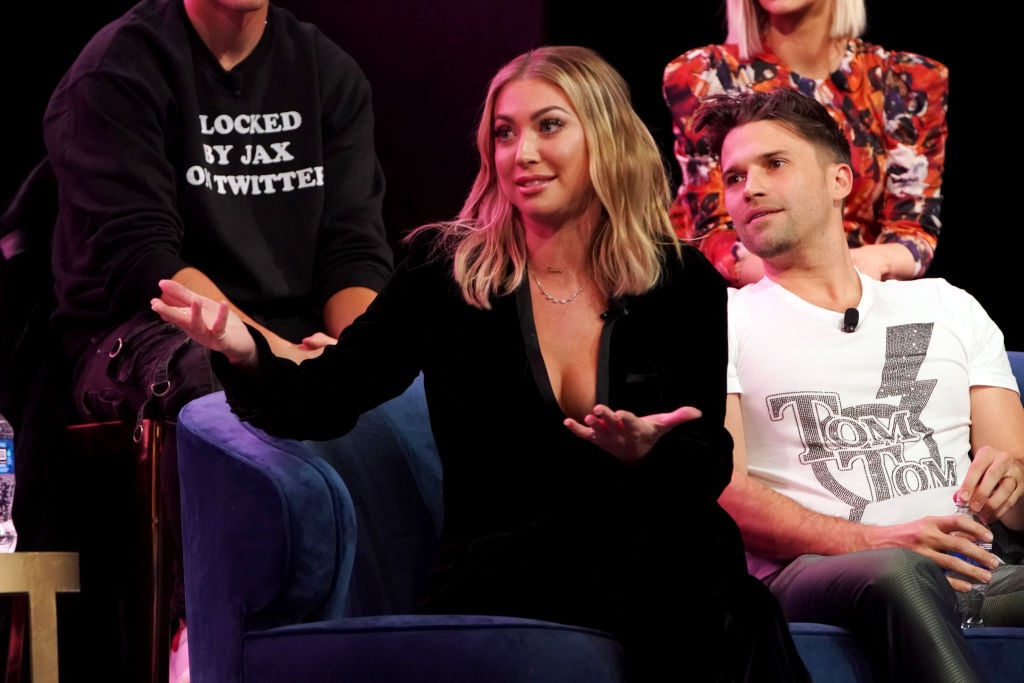 Certainly, the show won't be the same … if it returns next season. Prior to the cast firings, a growing number of viewers complained on social media that the season seemed disjointed as more cast members were added.
Scheana Shay joked on Dumb Gay Politics with Julie & Brandi podcast that the cast was way too big. "We've got 72 people on the show now," she joked. "There's literally 19 people doing interviews," she added. "Yeah, the show started with six and now there's 19." If Bravo abandons the show, what does that mean for the cast? And what kind of financial hit could they experience?
Some 'Vanderpump Rules' cast members were banking $25,000 per episode
After eight seasons, original cast members were making $25,000 per episode, according to The Hollywood Reporter. That is a significant jump from the early seasons when records show that Doute and Tom Sandoval made $1,400 per episode. The cast ended up making about $10,000 each for the first season.
At $25,000 per episode, some cast members ended up with a yearly windfall of $600,000. The Hollywood Reporter, however, did not have data on new cast member salaries.
The series only films for about six months a year, leaving cast members with plenty of free time to promote businesses and brands. Although most of the cast originally worked at SUR, which was the original basis for the show, only a few cast members still sling drinks and wait tables.
Schroeder and Doute will take a serious hit
Schroeder and Doute will likely suffer the biggest financial hit from being fired from Vanderpump Rules. Both cast members based their earnings on personal brands they built from the show. They each released a book, essentially driven by their personality on the show. Doute also has a clothing line and Schroeder hosts a podcast and was on a national tour.
Ronn Torossian, CEO of 5W Public Relations and crisis management told Showbiz Cheat Sheet Doute and Schroeder's careers are in serious trouble. "Everything that's happening now is being captured for both the near future and for history, and how people and brands respond could contribute to defining them for years to come," he said.
"Both Stassi and Kristen have lost the court of public opinion, probably forever, and their upcoming paychecks will never be the same," he added. "Issuing an apology was the right thing for Kristen and Stassi to do, but I don't think it will be enough to regain the public's trust," he said. "I believe they are both at a point of no return."
Doute is worth a reported $1 million and Schroeder about $2 million. Their net worth is likely comprised of show salaries but also their books and businesses created from the series. Schroeder's publicist also dropped her.
What about the rest of the cast?
Most of the original Vanderpump Rules cast has a net worth of around $400,000 to $4 million. At least seven cast members purchased homes over the past year, most paying at least $1 million or more for their new crib.
Some cast members are not completely brand-driven, which will likely provide a financial safety net if the show is canceled. Tom Schwartz and Tom Sandoval are worth a reported $4 million each, making them the wealthiest of the entire cast (with the exception of Lisa Vanderpump). Although they only have a 5% interest in their restaurant TomTom, both cast members will likely have a solid business they can continue to build. They both also seem to be unscathed by the fallout from the scandal involving Schroeder and Doute.
Ariana Madix and Sandoval also released a cocktail book in 2019. Plus, Shay continues to work at SUR and thinks it's time Vanderpump promotes her to management.
However, Jax Taylor, Brittany Cartwright, and Katie Maloney-Schwartz are mainly brand and endorsement driven, which means time will tell if fans will continue to show financial support if Vanderpump Rules ends.