'Vanderpump Rules': Katie Maloney-Schwartz Thinks Tom Sandoval Has Been Jealous of Stassi Schroeder for 'Years'
Is Tom Sandoval from 'Vanderpump Rules' jealous of Stassi Schroeder?
Vanderpump Rules season 8 kicked off with a bang as Tom Sandoval ended up with public repercussions from his drunken rage text messages to Stassi Schroeder.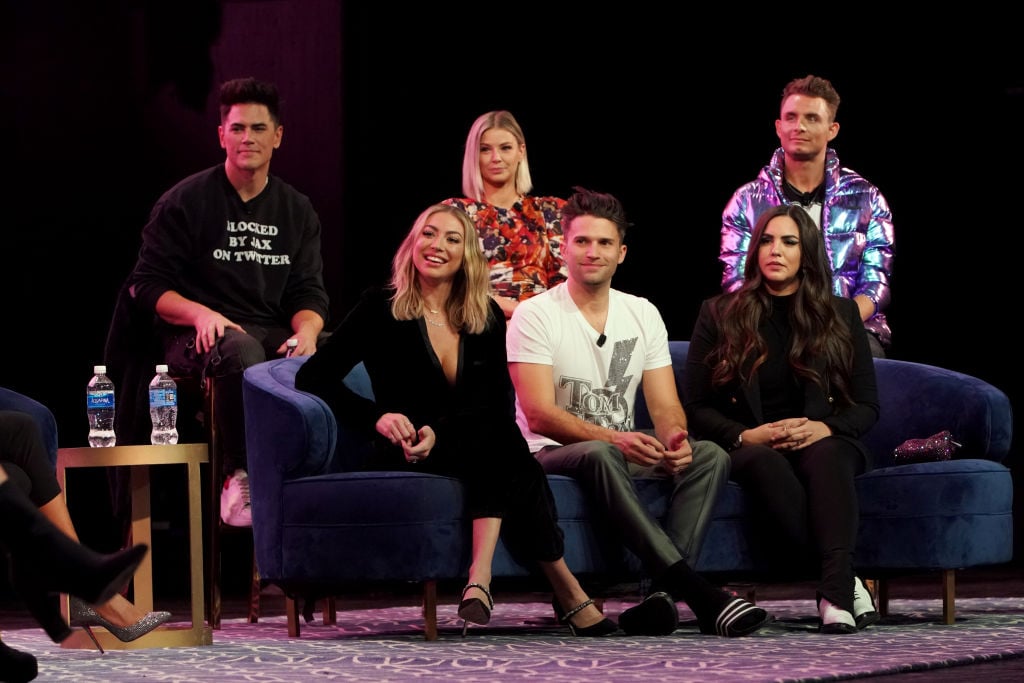 Sandoval sent the message to Schroeder about the book launch party she was planning to hold at TomTom. He was angry that she appeared to be making unreasonable demands and was taking advantage of their friendship. She later confronted him during the party and aggressively laid into him about the messages. He was clearly embarrassed as onlookers witnessed the entire exchange.
So why did he send the angry messages? He claims it was out of frustration. However, Katie Maloney-Schwartz insists Sandoval is jealous of Schroeder and has been for years.
Katie Maloney-Schwartz says Tom Sandoval has been jealous for years
Katie Maloney-Schwartz insists Sandoval was in the wrong for sending the messages. "It was entirely his fault," she says in a Vanderpump Rules After Show. "This has been your issue with Stassi for years and years and years. It's a jealousy thing."
"That has been my feelings about him toward her and the issues for years now coming out," she remarks.
Maloney-Schwartz's husband, Tom Schwartz disagrees. "That was not fair to say," he says about her opinion. "I was upset with Tom, clearly. But to say he was doing it out of jealousy is not cool."
Sandoval says it is a dig at him
Sandoval adds, "It's also like a dig because they know me. They know that would be like my biggest fear. To be that way."
Schwartz thinks the context of the message was so personal. "That's why I think people started going in that direction. Like speculating." Sandoval added that he felt like he was in the dark about the event and there were several mixups and miscommunications about how it would be executed.
"Basically I'm freaking out, like do not put this on me, like I'm just finding out these details," Sandoval recalls. "Otherwise, it was the ending everyone remembers. I will kick you the f**k out and all your wristbands." As he talks Schwartz starts laughing.
Sandoval does take ownership of the messages. "I know I totally screwed up sending the text. Thousand percent misdirected." He then pivots away from admitting it was a rage text. "It was a drunken stress text and scare text," he rationalizes. "There's been things in the past that have happened. That have not necessarily been Stassi's fault, 100%. That have bothered me that I haven't let go. When things like this come about, it's reminiscent of earlier things. And I was offended."
Sandoval admits the moment was truly embarrassing
Sandoval says the confrontation was one of the most "embarrassing and catastrophic" experiences he's had in his life. "And I still think about it on a daily basis," he adds. Sandoval still looks traumatized by the moment. Meanwhile, Schwartz laughs about it, explaining that the event ended up being a success.
"She was one of five people that came and yelled at me that day at TomTom in the middle of customers," Sandoval adds.