'Vanderpump Rules': Kristen Doute Hopes She Can Repair Her Friendship With Stassi Schroeder and Katie Maloney-Schwartz
Despite what feels like a true end to their friendship, Kristen Doute from Vanderpump Rules hopes she can reconcile with Katie Maloney-Schwartz and Stassi Schroeder.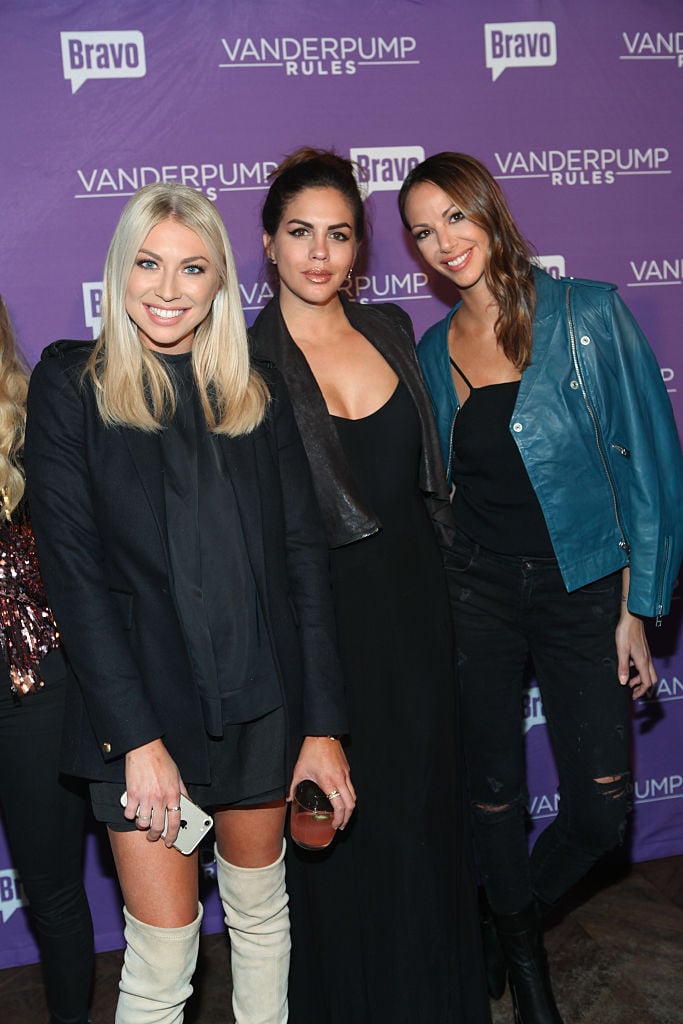 Viewers watched Schroeder and Maloney-Schwartz tell Doute they were both finished with her as a friend and walked away from her during the season finale. The season built up to this moment. Schroeder and Maloney-Schwartz began the season lending an empathetic ear to Doute when she was upset about her split from Brian Carter.
But as the season dragged on Schroeder and Maloney-Schwartz started to feel played. Doute would go from being tearful and needing support, to then going back to Carter. Schroeder and Maloney-Schwartz explained in the Vanderpump Rules After Show there is no going back. But Doute is hoping there is room for reconciliation.
Kristen Doute would like to reconcile … maybe?
While she hopes the friendship can return, she has her concerns. "I think my issue is that it feels like two against one all the time," she explains. "And when I don't have the answers that I've been asking for, like why did this happen, I'm making up things in my head. Because I don't know what else to do."
RELATED: 'Vanderpump Rules': Is Kristen Doute Invited to Stassi Schroeder's Wedding?
Doute insists she doesn't understand why the friendship was cut. She's only left to wonder if it's because she doesn't have a boyfriend or a "pregnancy pact." Also, she wonders if she wants to pursue a friendship with people who don't want a friendship with her.
"It's been so many months now, I want to care still," she says. "I don't know how much I do. I don't know if I want to be friends with someone who doesn't want me." She adds that she's done significant soul searching, so she's not sure if these are relationships she wants any more either.
Stassi Schroeder and Katie Maloney-Schwartz insist they can never go back
While Doute seems to be a little more open minded, Maloney-Schwartz and Schroeder appear to be completely finished with their longstanding friendship with Doute.
"It's not like [Doute] made a mistake and lied about it," Schroeder said thinking back to when Doute lied about having sex with her (then) boyfriend Jax Taylor. "Which is already something hard to get over. It was years of Katie and I dealing with this constant cycle of every other day."
RELATED: 'Vanderpump Rules': Stassi Schroeder and Kristen Doute Take Their Feud To Twitter
"Kristen is crying or depressed or sad and wants to leave Carter and always hearing sh*t about Carter," Schroeder continues. "And then the next day saying 'Can he come with us to happy hour?' After a few years, [it's] like, 'No. He can't come to f**king happy hour.' I don't want to be around this anymore." She adds that Doute's all-consuming issues would then spill over into her relationship with Beau Carter.
"It was really hard because she'd say she'd be really upset and then she'd say like 'I want him to be nice to me' … it was the same conversation," Maloney-Schwartz recounts. Schroeder and Maloney-Schwartz added that Doute got scared and threw them under the bus the minute they put their foot down on camera. "It's not about us losing our patience with her or abandoning her, it's about her taking advantage of our friendship," Maloney-Schwartz says. "And taking it for granted."