'Vanderpump Rules': Lisa Vanderpump Reveals if She Thinks Stassi Schroeder Is 'a Thousand Percent Racist'
Last year, Bravo cleaned house at Vanderpump Rules. They fired Stassi Schroeder, Kristen Doute, Brett Caprioni, and Max Boyens for racially charged incidents from their pasts. Though Lisa Vanderpump is one of the executive producers of the show, she didn't get the final word on whether to fire her beloved cast members. Now, she is revealing her thoughts on the whole thing.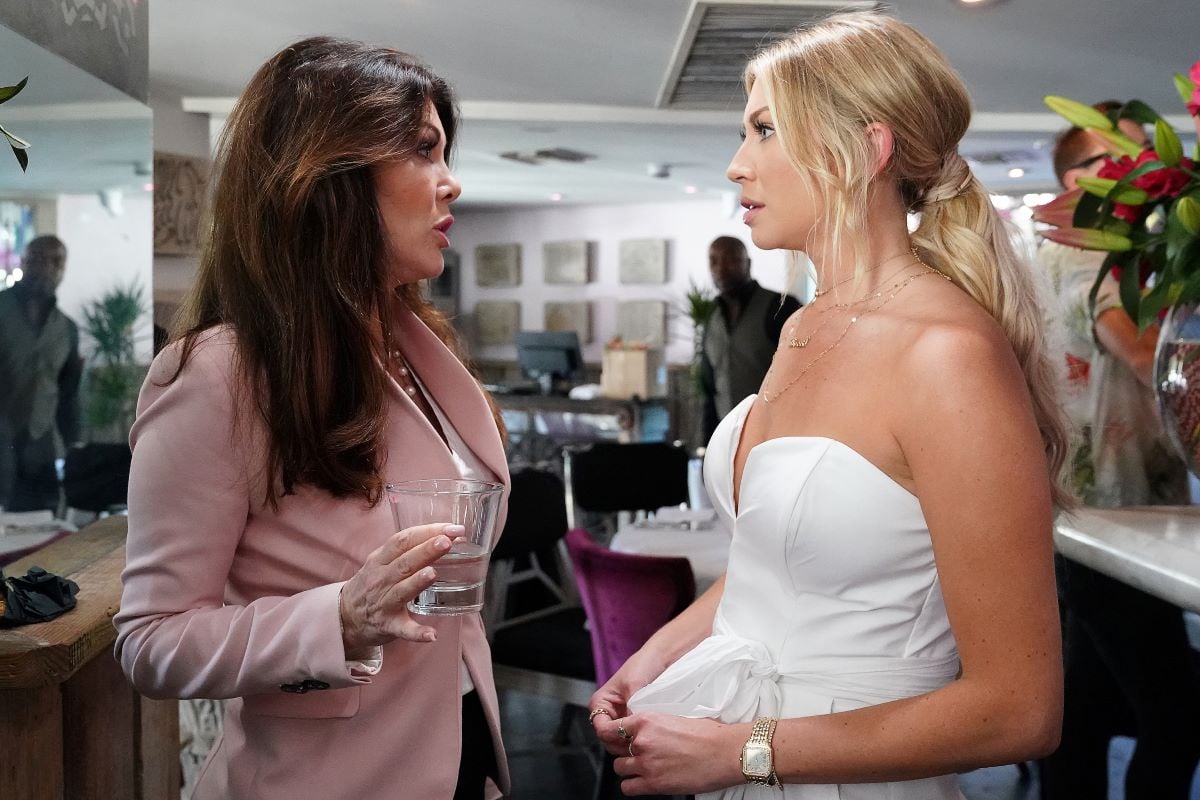 Why did Stassi Schroeder and Kristen Doute get fired?
Schroeder and Doute were two of the original cast members on Vanderpump Rules. But when an Instagram Live of former Vanderpump Rules castmember Faith Stowers and Floribama Shore's Candace Rice started going viral, both Schroeder and Doute found themselves in hot water.
During the chat, Stower recalled an incident between her, Schroeder, and Doute.
"There was this article on Daily Mail where there was an African American lady," Stowers said. "They showcased her, and I guess this woman was robbing people. And they called the cops and said it was me. This is like, a true story. I heard this from actually Stassi during an interview. It was just funny, because they thought it was me because it was a Black woman with a weave. So they just assumed it would be me, and they called the cops on me."
Stassi's apology
Of course, after the video started gaining traction, Schroeder took to Instagram to apologize for her past actions.
"Racially insensitive comments from my past have resurfaced," Schroeder wrote. "It is important that I continue to take accountability for what I have said and done, while pushing myself to do better. I have grown significantly from the person I was then, and I am still filled with remorse and regret for the hurt I caused. I am grateful for the people in my life that continue to check me and push me to evolve into a more educated person."
She also publicly apologized to Stowers in her post, however reports have since come out that Schroeder never apologized to Stowers privately.
Does Lisa Vanderpump think Stassi Schroeder is racist?
Vanderpump has been known to give her cast members multiple chances. Every time they mess up, they are allowed back into her good graces. But this time, Schroeder had to pay a big price for her actions.
Recently, Vanderpump spoke about Schroeder, Doute, and the incident on The Skinny Confidential Him & Her podcast.
"It wasn't right what they did at all. But do I think they're racist a thousand percent? No, because I have a lot of diverse people working for me that they were very close to over the years," she said. "So do I think it was a racist action? Not at all. I think it was just awful timing and stupid and ignorant. It is what it is."
Vanderpump still believes in giving people second and third chances.
"I don't like this cancel culture either," she continued. "Of course, I do think, sometimes people should be punished and they should be punitive, reciprocate, ramifications…. but I think people can grow from their mistakes. I really do. And I think reality television is quite a good place to learn."