'Vanderpump Rules' Reunion: Scheana Shay Said James and Raquel's Breakup Was a 'Fricken Shock'
Raquel Leviss and James Kennedy's breakup at the Vanderpump Rules reunion came as a total shock to Scheana Shay, but she could tell something was wrong when they arrived.
Kennedy and Leviss announced their split shortly after filming the Vanderpump Rules reunion after a season that included their elaborate engagement. They shared a joint statement on their individual Instagram accounts and later offered updates about what was next.
Scheana Shay could tell something was wrong before the 'Vanderpump Rules' reunion
Shay said she did not see the breakup coming. "It is public knowledge and it was a fricken shock," Shay said on her Scheananigans with Scheana Shay podcast. Brock Davies piped in, "Bombshell."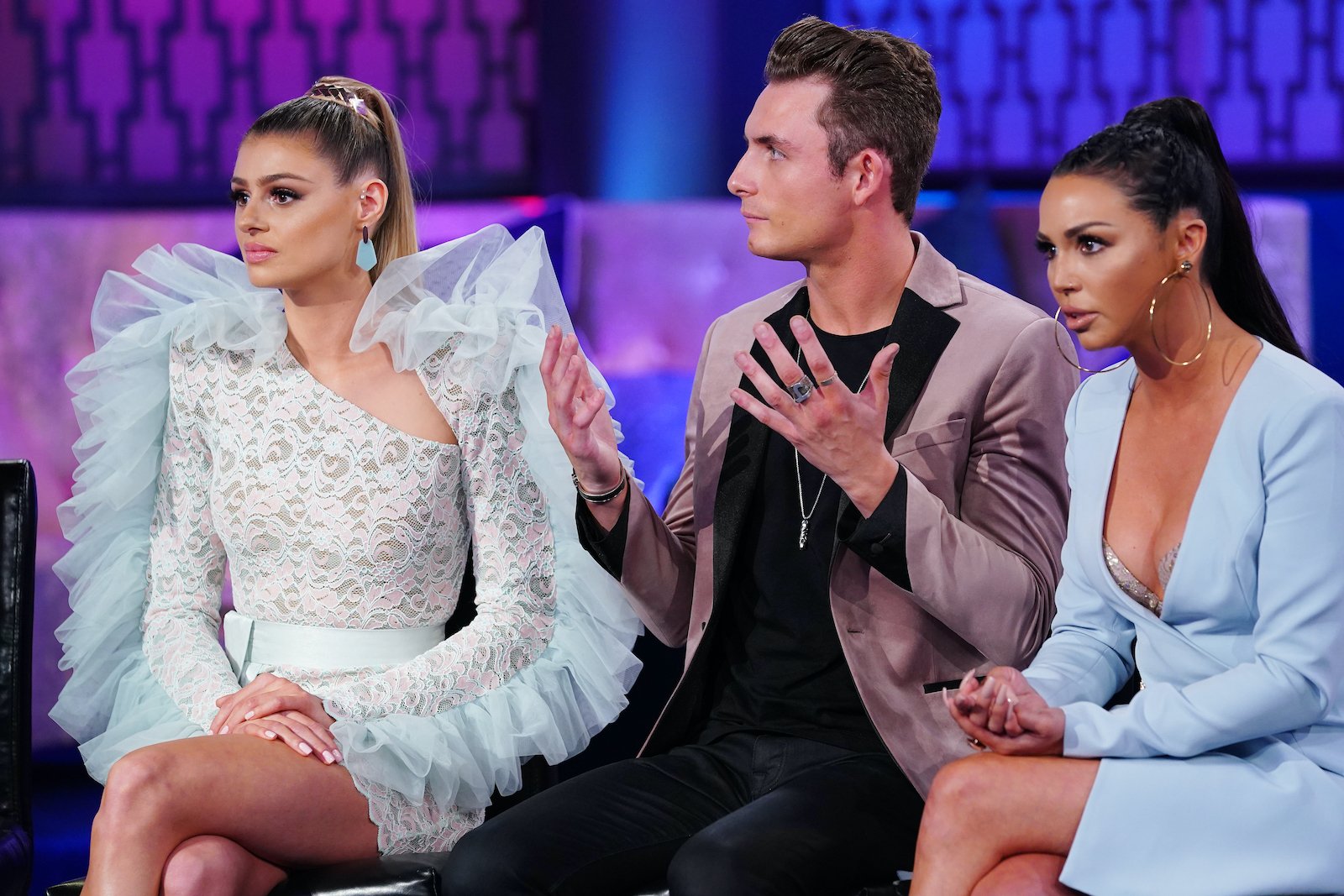 "I had a feeling something was up because I could tell something was bothering both of them when they arrived," Shay said. She also teased that someone storms off the set during the reunion too.
"So it's like when you're getting makeup commercial breaks, when someone, as you know, it happened, stormed off the cameras, follow them like, yeah," Shay said. "There was a time when Jax [Taylor] and I really got into it and I was yelling at him and I was like, 'I'm going to walk away like, I just need a minute.' And then boom, the camera's follow you. So, you know, when you get your minute."
Ariana Madix said the red flags were there in Raquel Levis and James Kennedy's relationship
Ariana Madix addressed the breakup when she appeared on Watch What Happens Live with Andy Cohen.  "I say this with nothing but love in my heart for James," she said during the WWHL After Show. "But I think when he stopped drinking and became sober. But there were other issues that he was not going to … His kind of refusal to go to real therapy honestly is a huge red flag for me."
WWHL host Andy Cohen added, "Rage and pot?" as being his big red flag. Madix laughed, "Yeah, sure." One of Kennedy's ongoing storylines was his sobriety. He revealed that he completely quit drinking alcohol but admitted he still smoked marijuana.
James Kennedy and Raquel Leviss share that they are moving on
Kennedy shared that as one chapter ends, a new one begins. "Last day of filming today and what a year it has been (to say the least) today one chapter ends and a new chapter truly begins for me," he posted on Instagram along with a photo. "Not sure what I'm going to do but I do know one thing, I will continue my journey without alcohol, I will find my true self and the music never dies. Thank you to all my friends that have reached out I appreciate you all so much."
Leviss seemingly went home after her father arrived to help her pack. She shared an Instagram photo looking cozy with her pup and one of her friends. "Thank you all for the kind words of encouragement," Leviss wrote. "I feel so grateful to have such supportive family and friends during this time. I have been surrounded by so much love and been enjoying my girls night in with my dear friend @jennytingting and her adorable cuddle big fur baby Lexi."
Vanderpump Rules fans wondered where was Leviss and Kennedy's dog. Leviss said he is currently staying with her parents. "Graham is with my parents temporarily in Arizona," she shared.  
RELATED: Charli From 'Vanderpump Rules' Sides With Katie Maloney-Schwartz: 'I Don't Love It' About Schwartz and Sandy's Name