'Vanderpump Rules': Scheana Shay Reveals Brock Davies Is at the Center of the Season 9 Drama – 'We're Solid' (Exclusive)
Scheana Shay set the record straight about a fan rumor that Vanderpump Rules Season 9 will show couple drama with fiancé Brock Davies. A fan tweeted that the season may show a "strain" in Davies and Shay's relationship, which she said was totally false.
Scheana Shay and Brock Davies are solid on 'Vanderpump Rules'
Shay replied to the tweet, "No one said that. They said Brock is at the center of a lot of drama, which he is. Lol. We are solid. Stay tuned!!" But she and Davies also further explained to Showbiz Cheat Sheet what happens this season with Davies.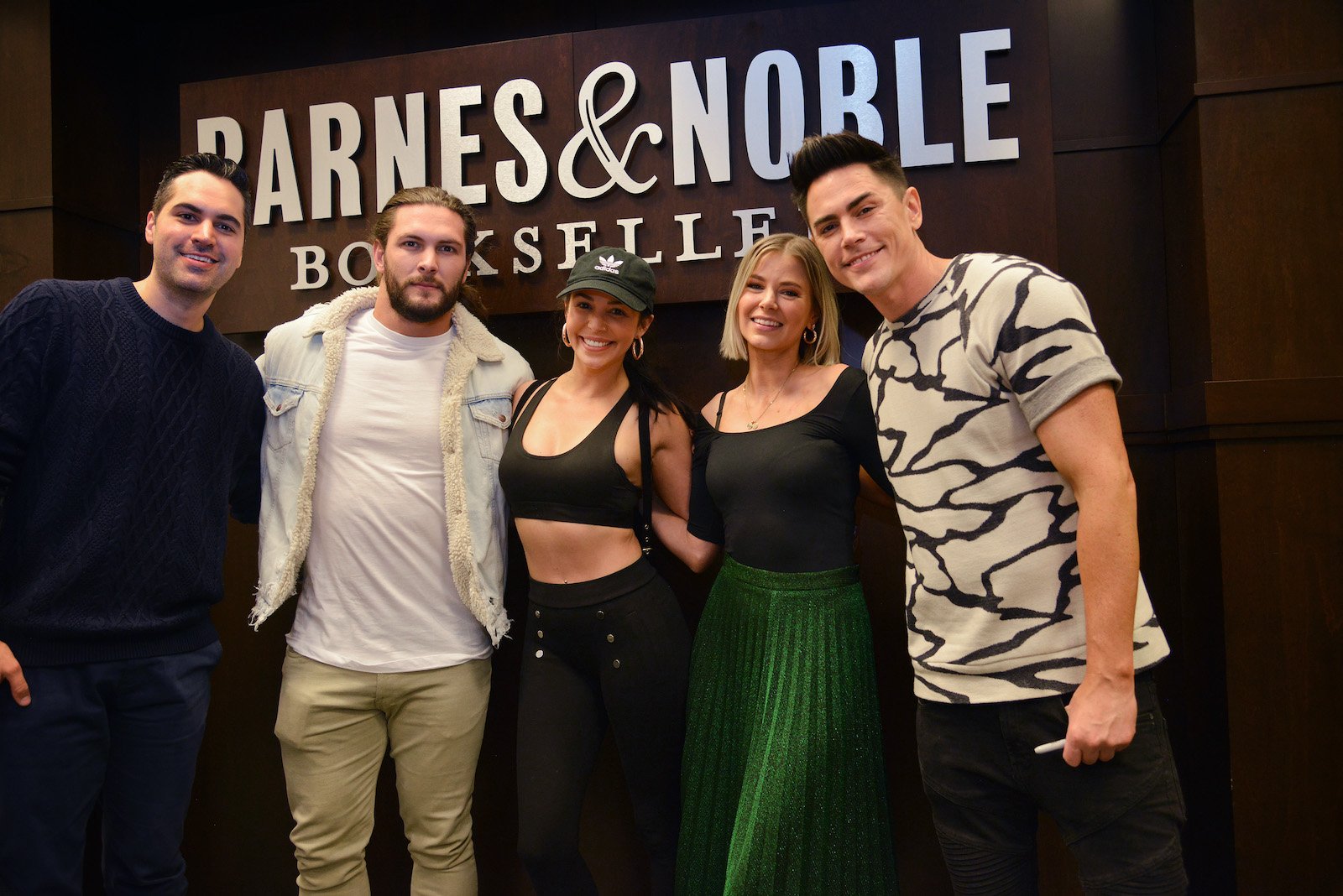 "He is at the center of more drama this season than myself with my friend group," she said. "Like it was to the point where I'm like, OK, you got to handle your own sh*t with her, like we're going to be friends. Like, you got to figure this out. So he definitely has a lot with a few cast members. And it's not our relationship. And I don't know if that was just like shock value. People just assume that relationship going to blow up in my face. But I'm like, no, no, no, we're solid. If you watch the year and a half of YouTube blogs, we've done that shows through. So we're good."
Brock Davies hints at his drama this season on 'Vanderpump Rules'
The person Shay was referring to was Lala Kent who gets into an altercation with Shay during the first episode. And while their argument was over Shay feeling abandoned by Kent after her miscarriage, Kent later started dishing about Davies.
"Brock has two kids," Kent said to Katie Maloney-Schwartz in the season 9 trailer. "He hasn't spoken to them in four years." Kent seems to clash with more than one cast member this season, which Davies recognized too. "When we came into this friendship and from episode 1 we're coming back from a where there was a miscommunication, it was time for the friends and all of miscommunicated with each other," Davies explained.
"And all I saw was Scheana getting upset with her friends," he added. "And the beginning of the season that was you can see our relationship unfold. We would try to make amends, but every time I come in it goes to sh*t again."
"But that's our friend group," Shay laughed. "And that's why people keep watching."
Did Brock Davies bond with the 'Vanderpump Rules' cast?
Despite the clash, Davies said he bonded with everyone in the friend group. "You get put into this situation with a new friend group where you don't get to have a thought in your head," he remarked. "You've say it out loud. If you don't say it out loud, someone else will say it out loud. And you've got to speak your mind. And from that, you get genuine, deeper connections with people because you kind of get a deeper understanding of how they operate, what they're thinking."
He added that some friction stemmed from the fact many cast members were starting new businesses. Maloney-Schwartz becomes heated when husband Tom Schwartz and partner Tom Sandoval aren't exactly listening to her new restaurant ideas. "You guys had watched these guys go through the restaurant and all of that," Davies remarked. "And now they're stepping out going into business for themselves. But they still have the support of Lisa [Vanderpump]. Who, I can tell you right now I had the biggest one on one with. That was a life-changing moment for me."