'Vanderpump Rules': Scheana Shay Reveals the Sweet Meaning Behind Her Daughter's Name
Scheana Shay from Vanderpump Rules recently shared the meaning behind her daughter's name Summer Moon Honey. After an emotional pregnancy and scary delivery, Shay put considerable thought into naming her child and revealed how she arrived at the name Summer. Plus she shared why her daughter has two middle names.
How did Scheana Shay's daugther end up with 2 middle names?
"So Honey is [fiancé Brock Davies] mom's maiden name," Shay shared on Hannah Ferrier's Dear Diary, You're Effed podcast. "And so all of the family on his mom's side, they all use Honey for the middle name. We didn't know if we were going to drop Davies and just change his name legally to Honey. Or if we were going to do Honey Davies."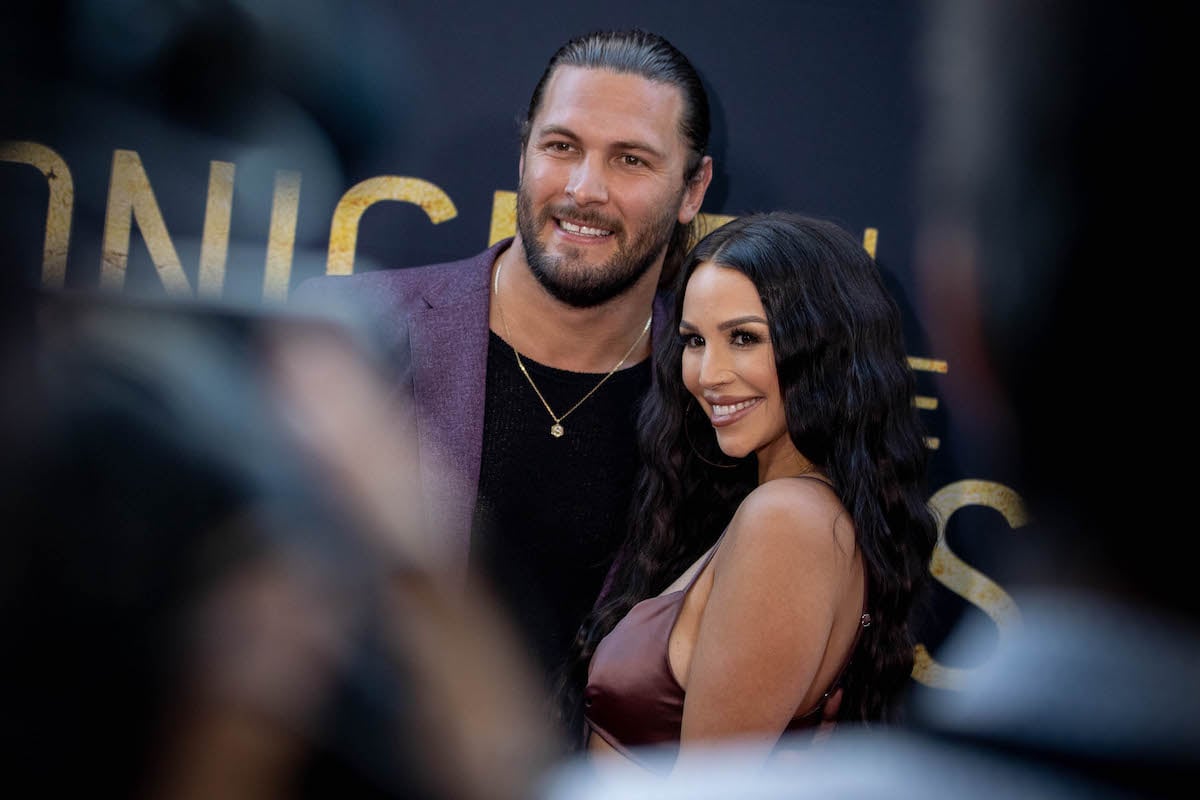 "And I was like look until we figure that out let's just give it to her as the second middle name," Shay explained. "And then Moon, she was born on a pink super full moon." Shay and fiance Brock Davies welcomed their daughter on April 26.
'Vanderpump Rules' baby was born during a full pink moon
She added, "And the whole time I was pregnant, every time there was a full moon, I would put my crystals out. Charge them. And just the ones that promoted fertility. I would always say a prayer under the full moon. And that was like something that resonated with me a lot during my pregnancy, to just have a healthy pregnancy."
RELATED: 'Vanderpump Rules': Scheana Shay Shuts Down Rumor of Strain in Her Relationship With Brock Davies
"So it was just the perfect name," she said. Some astrologers believe that a full moon induces labor. Penny Thornton, Princess Diana's former astrologer told People that a full moon can play a role. "There are a lot of babies born on a full moon," she said. "It s believed that because we are 90 percent water the gravitational pull of the moon on the tides and the oceans has the same effect on our bodies in labor." She added, that full moon babies are usually "highly sensitive and emotional."
Scheana and Brock had different reasons for naming their daughter Summer
"Summer is actually, so we had our own reasons for naming her Summer," she said. "So mine comes from a show called The OC. Back in like the early 2000s. Like Rachel Bilson is my favorite TV actress ever and I loved the first thing I ever saw her in. And I loved her character. Her name was Summer. And so I always loved that name. Even when I would go out to clubs when I was like 18 with a fake ID. I told everyone my name was Summer. I thought it was the cutest name. So that was where I got it from."
"And then Brock has a daughter named Winter," Shay shared. "So he felt like Summer for him was like naming her after his other daughter."
RELATED: 'Vanderpump Rules' Season 9: Lala Kent Says the 'Sh–t's Already Hit the Fan and It's Awesome'
Shay added that Davies' daughter is in Australia and they have been unable to see family due to the country being in lockdown. But she said the minute the family is allowed to travel, they plan to visit Australia.
"We can't even get out there because the rules keep changing," Shay said. "Even if we go and quarantine for two weeks, now we couldn't leave for three months? We can't chance it." She added she and Davies both have work in the US so they need to wait until restrictions are lifted.