'Vanderpump Rules': Scheana Shay's 12.97-Carat Pink Morganite Engagement Ring Is Worth $25,000
Vanderpump Rules jeweler Kyle Chan revealed on Vanderpump Rules that Scheana Shay's 12.74-carat pink morganite engagement ring was valued at about $25,000.
During the latest episode, Shay's fiancé, Brock Davies and Tom Sandoval visited the jeweler to pick up the ring, which had Sandoval's jaw on the ground. Davies admitted the ring size grew as he worked with Chan on the design. "I've been working with Kyle on the engagement ring," Davies said in a confessional. "I think we started at like an eight carat. And then went to a 12.97. There's a lot of carats."
'Vanderpump' jeweler Kyle Chan said the ring is worth $25,000
Chan presented the ring with significant ceremony. Sandoval looked surprised and said, "Whoa! I was not expecting that!" Chan described the stone. "This is very rare, pink morganite," he explained. "This one looks like a pink diamond." Davies marveled at how the stone was bigger than his fingers.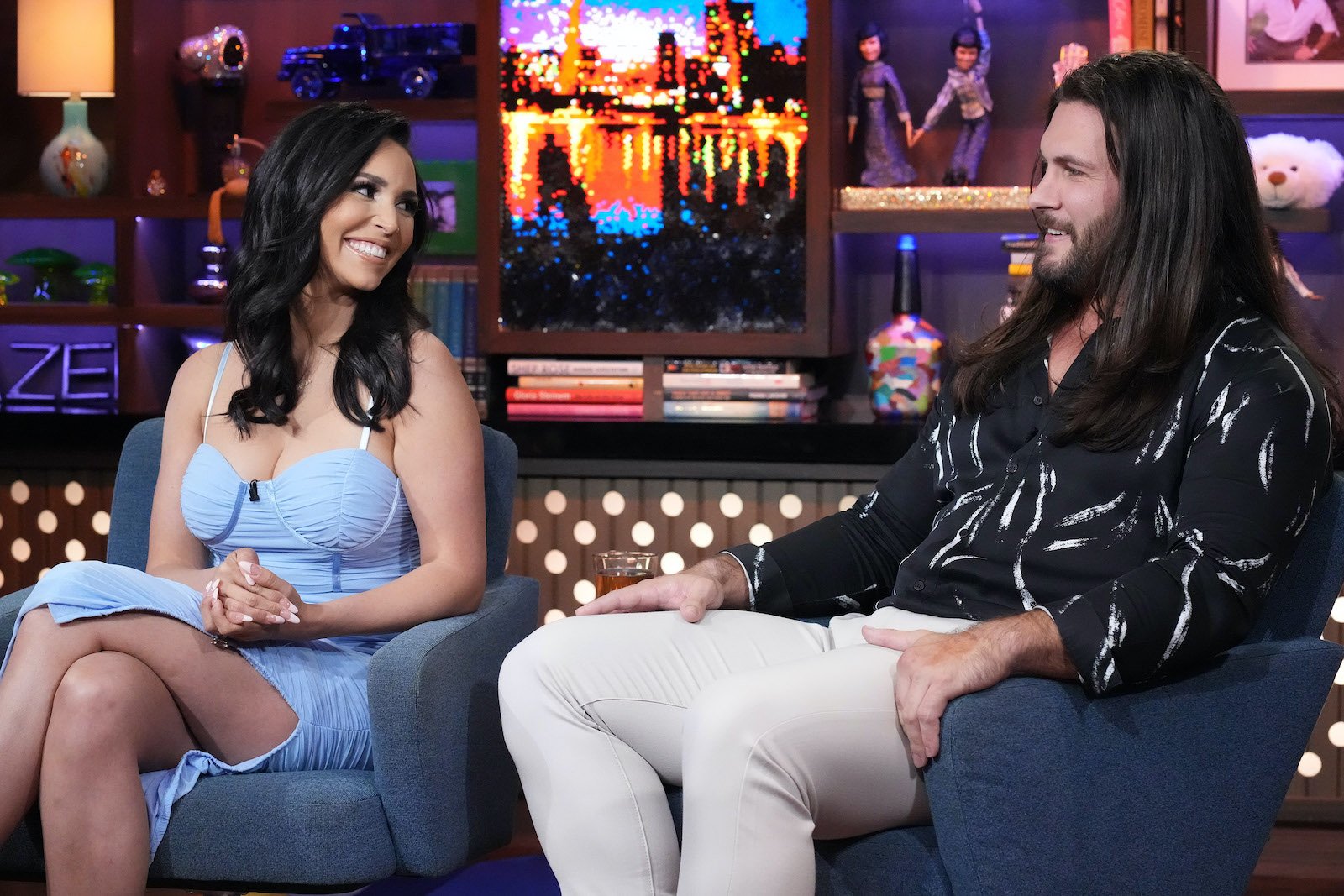 Sandoval asked Chan what "something like this" is worth. "25k," Chan replied. Meanwhile, Davies got choked up. "I'm the biggest softie, I'm about to cry looking at a ring," he said. He then decided to "put it on three cards" to pay for it. "My credit in America is not that good yet," Davies added.
"So four on each one of them," Davies said handing the plastic to Chan. "And then two on that should work." Davies then added, "Between that and child support, I'm broke for the next six months."
Tom Sandoval says $25,000 on an engagment ring is worth it
Davies was excited to propose to Shay. "I never got on one knee before," he said in a confessional. "Even in my past relationship we just got married beause we were having kids. This is the first time that I realize I am making a commitment based on love." Davies then looked shocked that his credit cards weren't rejected.
Sandoval felt that the ring was priced for forever. "Look, if this was a $25,000 vacation I would be like absolutely not," he said in a confessional. "But this is an engagement ring. This is gonna be for the rest of your life. I'm for it!"
Sandoval has proved to be a true romantic in the past. He helped James Kennedy propose to Raquel Leviss both emotionally and financially. He revealed to Tom Schwartz that he personally spent $25,000 on Kennedy's proposal. Kennedy and Leviss have since called off the engagement.
'Vanderpump Rules' cast spents big money on engagment rings
While spending $25,000 on an engagment ring would be a hefty amount for most couples, other Vanderpump Rules cast members have spent even more. Tom Schwartz purchased a 15-carat heart-shaped tanzanite, designed by Chan for wife Katie Maloney-Schwartz. He paid $35,000.
"Schwartz went with me to my yearly gem hunting in the desert last year," Chan told Page Six. "And he picked out this beautiful supersize tanzanite for Katie. Schwartz did well. He went all out to find her the heart from the ocean."
The engagement ring Randall Emmett gave to Lala Kent, which she referred to as "brown" came in at $150,000. Kent and Emmett have since broken up. Jax Taylor reportedly dropped $70,000 on wife Brittany Cartwright's 3-carat diamond engagement ring.
Taylor – like the rest of the cast – went to Chan for the ring. "Jax was very adamant on getting Brittany the perfect ring," Chan told E! "I showed him a few rings, a few diamond gradings and he wouldn't settle for less… He wanted to spend more money to get a nicer quality diamond instead of a medium quality."