'Vanderpump Rules': Season 8 Ends With Fractured Friendships
The 'Vanderpump Rules' reunion is likely to be crazy after what is to come during the season finale.
The cast appears to have dug into their divided sides as Vanderpump Rules season 8 ends with a number of fractured friendships.
Longstanding friendships have broken down this season in nearly every aspect of the OG group. Before season 8 began, the "Witches of Weho" were rumored to be in turmoil. Viewers finally saw the dissolution of Stassi Schroeder and Katie Maloney-Schwartz's friendship with Kristen Doute.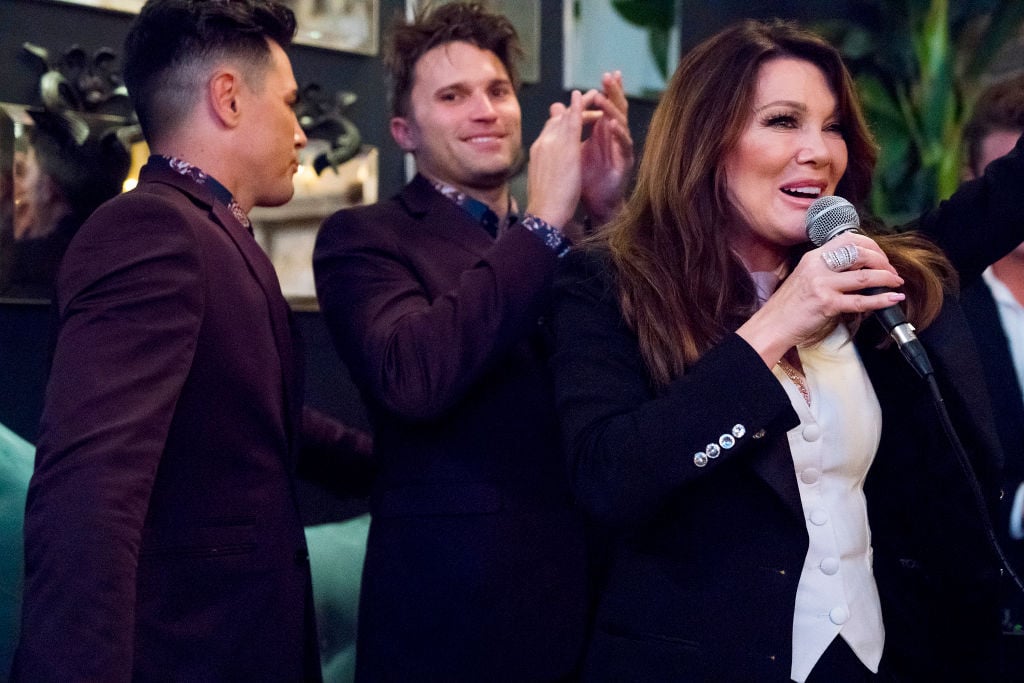 Doute broke up with boyfriend Brian Carter and cried on Schroeder and Maloney-Schwartz's shoulder. But when she hinted about being with him, Schroeder and Maloney-Schwartz became angry and felt as though Doute wasn't being truthful.
At the same time, Jax Taylor and Tom Sandoval seem like they are at the point of no return too. Taylor was agitated with Sandoval when the season kicked off, upset that Sandoval wasn't making Taylor's wedding his top priority.
He kicked Sandoval out of the wedding when Sandoval questioned the homophobic pastor he had chosen to officiate the ceremony. Later, he begrudgingly asked Sandoval back to be part of the nuptials. But now, after the dueling pool parties, it appears they may no longer be speaking.
The season ends 'Unfriended'
The season finale looks grim as the final episode is titled, "Unfriended." The episode synopsis doesn't look promising and only flicks at what could end up being an explosive reunion.
"In the eighth season finale, Lisa Vanderpump throws a party to celebrate TomTom's one-year anniversary, but relationships are tested when Kristen confronts Katie and Stassi for abandoning her, and Jax and Sandoval face off over the future of their friendship," according to the episode description.
"Meanwhile, Dayna calls out Max's womanizing ways, Brett confronts Scheana for stirring the pot, and Danica gets into a physical altercation. Finally, after years of hostility – Lala arranges for James and Randall to have a man-to-man talk."
This will lead to an emotional reunion
Sandoval and Taylor spoke separately about the reunion. Sandoval said the reunion, which was filmed virtually, was very emotional. "Definitely very emotional," he said on the Mention It All podcast. "People really sort of owning up to certain things. And being self-aware. A lot of people being self-aware."
But he added that some people still didn't own what they did. "Some not so much," he said. "Some just sort of continuing to not evolve as human beings. But what can you expect?" 
Taylor, who said last year's reunion was explosive said this one was even more intense. "It is what it is with our group, you know? I mean, there always is going to be drama. There's always going to be arguing whether there's a show or there's not a show," he told E! News. "I mean that's just the group I'm involved with, as we've known each other for many, many years."
"With our group that's been tough," he added. "I tend to make the same mistake more than two or three times, but it's always good fun. Like I said, nobody has really gotten extremely hurt from anything. Sometimes we, we do malicious things, but we have good intentions, and it's just the way our group works. We fight hard, but we love hard."