'Vanderpump Rules': Stassi Schroeder Reveals She Got Jax Taylor His Bartending Job at SUR … Which He Said Was Fake
Stassi Schroeder from Vanderpump Rules dished that Jax Taylor wasn't actually a bartender at SUR when the show started filming. But because they were dating, Schroeder got him the gig at the restaurant and the rest is history. But he wasn't actually working at the restaurant but just "fake working," he later told fans on Twitter.
Why did Stassi Schroeder got Jax Taylor a job at SUR?
Schroeder spilled on the first Give Them Lala … with Randall podcast about the cast. "He was not even supposed to be on Vanderpump Rules," she said. "He was not working at SUR and they cast the rest of us and they were like, 'Who are you dating?' And I was like, 'This guy Jax.'" Adding, "I own him!"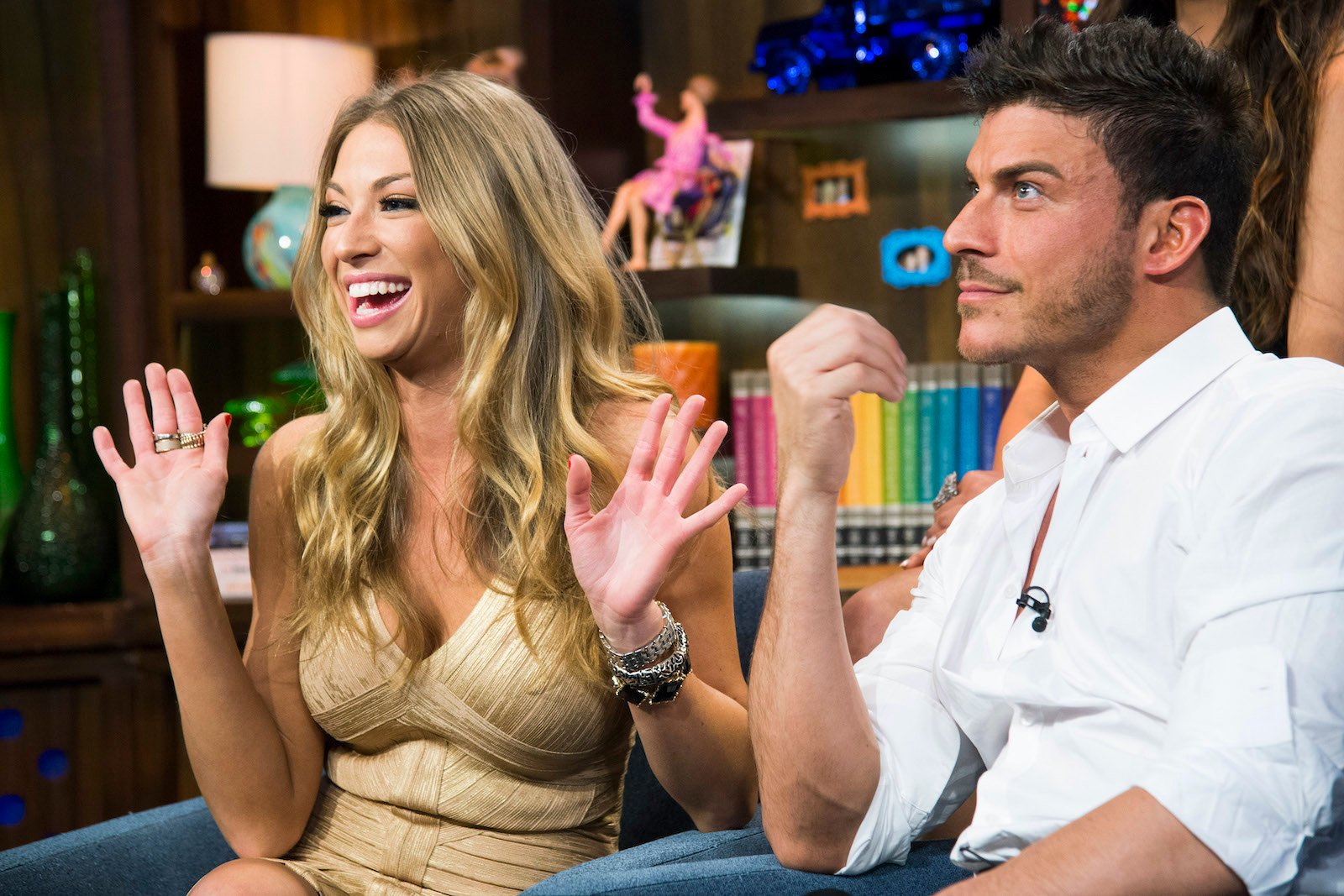 Kent met Schroeder the same day she met Taylor. "The day I met you is the day I met Jax," she recalled.
"So Stassi and I met when I was 18 years old for the first time," Kent shared. "I was modeling … at a magic show in Vegas and I met Stassi and I remember exactly what I was wearing and she was like, 'Oh my god.'"
Was Jax 'fake working' his bartending gig at SUR?
Taylor and wife Brittany Cartwright left the show in 2020, but that's when he admitted he wasn't an actual bartender. In fact, he insisted he faked the job for the show. Taylor had a Twitter exchange with a fan about his departure, which is when he said he faked the job.
"We are very happy, I can't fake work at SUR at 41 anymore done [it] for the past [five] years and have a baby it makes zero sense," he replied to a fan's tweet shortly after the couple left. He added, "Because it's time to move on … We had a good run. It doesn't make sense anymore."
Tayor later doubled down on his assertion. "I have zero interest in fake working at SUR for another year and making up excuses to fight kids half my age is tiring."
Did the show get too scripted in the end? Jax thinks it did
He later said the show leaned toward being scripted. "I was 100% checked out at the end," he said in an interview only a few months after he announced he would not return to the series. "I was just very irritable on the show. It was getting a little bit too scripted for me and I just couldn't do it anymore. It wasn't fun."
Taylor later shaded boss Lisa Vanderpump during an Instagram Live in March. "I don't talk to Lisa now, I haven't spoken to her," he said. "She's in her own world, and I don't really … she's another one that, eh, I could care less about." He then said again, "She's in her own world. Nothing mean against her. I just don't really care either way."
"The only people that I stayed in contact with on the regular like day to day … I still talk to everybody day to day. Like I talk to Stassi probably three to four times a week," he said. "And I talk to Beau [Cleark] every day." Taylor said that he speaks to Randall [Emmett] daily, plus Tom Schwartz. "I talk to Katie [Maloney-Schwartz]."
Stassi Schroeder says 'Vanderpump Rules' shows 'real friendships'
"I remember the first scene we ever filmed," Schroeder said on the podcast. "Which is when I said I'm the devil and don't you ever forget it. And I remember leaving that scene and was like, what the f*ck is this show gonna be about? It's gonna be so boring. What, is it gonna be about me and Jax fighting? Like this is ridiculous!"
Randall Emmett knew from the beginning the series was going to be a hit and he referred to it as a "unicorn." Meanwhile, Kent was with Schroeder and thought the show wouldn't work.
"The key to our show is real friendships," Schroeder said. "I can't think of any other shows that are about a real built-in group of friends. That's why we don't like … that's why it's really hard for new people."