'Vanderpump Rules': Tom Schwartz and Tom Sandoval Cringe at Throwback Episodes and Which Episode Did They Think Would End the Series?
Tom Sandoval and Tom Schwartz took Vanderpump Rules fans down memory lane when they re-watched epic throwback episodes leading up to the season 9 premiere. They kicked off their Watch Party With Tom & Tom on Bravo with a group of superfans and offered running commentary throughout the first installment of the series. A few throwback episodes, in particular, gave the guys a little anxiety and they opened up about what it was like to watch them.
Tom Schwartz worried the 'Vanderpump Rules' fight would end the show
Schwartz said viewing some of the earlier cast fights was wild. "That was so intense. I was in a state of disbelief, like, perpetual disbelief while it was happening. I had an out-of-body experience 'cause it erupted just so fast and out of the blue and it escalated so fast and all of a sudden people's shirts were off," Schwartz told US Weekly.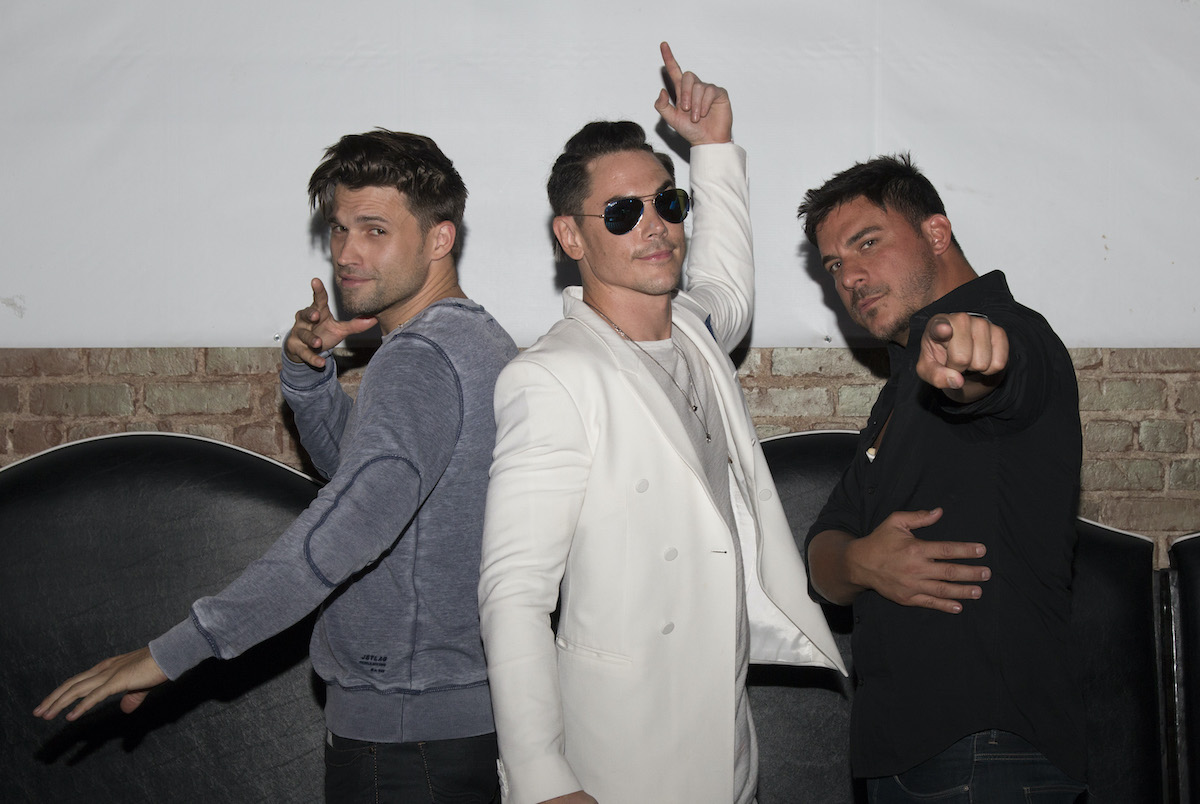 Schwartz also worried the fight would end the show. "It was just madness. It was just beautiful madness. We were worried that was going to be the end of the show. … It was a beautiful disaster."
A moment with Katie Maloney-Schwartz was hardest for Tom Schwartz to watch
Sandoval said he only recalls about "30%" the fistfight with Jax Taylor, whereas Schwartz has a full recollection.  "I think it's safe to say that was the drunkest Tom's ever been on Vanderpump Rules," Sandoval said. And while the fight with Taylor was tough for Sandoval to watch, seeing fights with wife Katie Maloney-Schwartz was toughest on Schwartz.
"I just cringe. I wince at the thought of that," he said recalling when he threw a drink in Maloney-Schwartz's face during season 2. At the time, the couple was dating and their relationship often hit some rocky patches.
RELATED: 'Vanderpump Rules' Fans React to News That Tom Tom and Pump Now Require Vaccine or Negative Test Proof
"There's a lot of shame," Schwartz reflected. "We've moved past that. … I'm at peace with it all. I don't recommend it and I'm not encouraging and I'm not defending it, but, you know, I got it out of my system."
Tom Schwartz offers more context to 'ring on a string'
Schwartz also recalled the "ring on a string" season 3 episode. Instead of proposing to Maloney-Schwartz, he gave her a ring on a necklace chain as a promise that they would someday get engaged. He made this ill-fated romantic gesture during Scheana Shay's wedding and Maloney-Schwartz was not amused.
RELATED: 'Below Deck': Bobby Giancola Had a 'Huge Crush' on Vanderpump Rules' Ariana Madix When They Met in High School
"I think my intentions were pure and I thought it was a cool concept. It had heart, but my timing — everyone who might be listening, for the love of God — do not give your significant other a ring at someone else's wedding," Schwartz said. "This is 101 stuff, you know, this is obvious, but I was so earnest about it. I think that's what makes it a good moment." He added, "I was so naive and so earnest. … I stand by the ring on the string."
What does Tom Sandoval regret?
While Sandoval had hardly any regrets, he wished he never would have engaged in the whole "Miami girl" storyline cooked up by ex-girlfriend Kristen Doute. "If I can do anything over again, I just would have never even filmed with [her]," he remarked. " I just don't think it's really fair. Like, so I can, like, make up something about anybody and then end up on our show? I wish I would have just never even engaged in that at all."