How a Vanity Fair Reporter Accidentally Discovered That Grimes and Elon Musk Had a 2nd Baby: 'I'm Mortified'
A reporter made a startling discovery during his visit to Grimes' house in Austin, Texas. The Canadian singer had tried to hide the birth of her second baby but finally came clean.
Grimes is known as one of the world's most fearless solo artists. The unconventional artist has tirelessly thrown herself into the world with her combustion art to make her mark. But since she's become involved with SpaceX entrepreneur and Tesla CEO Elon Musk, and had a child with him, Grimes has had to adjust to the fact that the world sees her as his girlfriend now.
During a recent interview, a Vanity Fair reporter made a startling discovery on his first visit to Grimes' house in Austin, Texas. He heard a baby crying, but Grimes' child with Musk was born in May 2020. Did the 34-year-old have a second baby?
Grimes tried to hide the birth of her second child
Devin Gordon for Vanity Fair arrived at Grimes' house for the interview. She explained that the son she had with Musk, named X Æ A-Xii but they call him X, was with his father. She told Gordon she'd just moved into the home, which was owned by friends of hers. 
Within just a few minutes of settling in to discuss her new music, a "space opera" called Book 1 that will be out in Spring 2022, Gordon heard a cry from upstairs. When it didn't continue and Grimes said nothing, he decided to continue on. It could be anything, he concluded.
A few minutes later, Gordon was about to ask about "Sci-Fi," one of the highlights from her upcoming album co-written with The Weeknd and Illangelo, his longtime producer. Then, the reporter heard multiple cries. As a parent, Gordon was familiar with the sound of a crying baby.  He could tell from his host's reaction that she heard it, too.
Gordon asked if there was another child in her life. The reporter was "mortified" that he was "accidentally making a woman — a new mother, no less — feel exposed and vulnerable." Grimes was evasive in her answer. She explained that kids "need to stay out of it" and that Musk saw X as a protégé. However, as more baby cries rang out from upstairs, both Grimes and Gordon started laughing.
The singer acknowledged, "She's a little colicky too. I don't know. I don't know what I was thinking." And that's how the world found out about Musk and Grimes' baby daughter.
Elon Musk and Grimes' daughter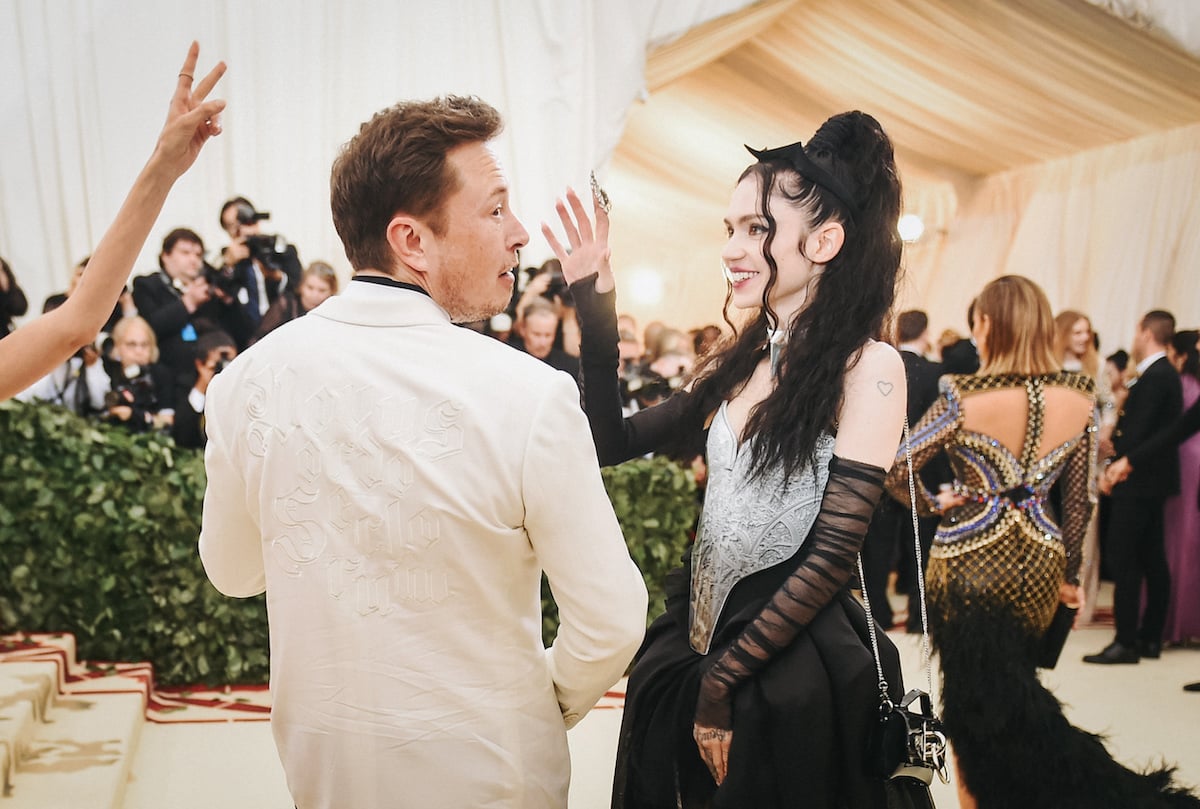 Grimes and Musk do in fact have a second child together, a daughter. Fans might recall that Musk seemed to confirm the couple had parted ways last fall. At least he said they were "semi-separated" to Time, which named him 2021's Person of the Year. Having relocated SpaceX to Texas, Musk spent much of his time there. Grimes was in Los Angeles with X and working on Book 1. 
But the Canadian singer relocated to Austin, Texas by December, the month their daughter was born. Her fans can tell you that the artist certainly didn't look pregnant on social media. The reason: The couple used a surrogate. Between that and the coronavirus pandemic, they were able to keep their daughter's arrival a secret.
Grimes and Musk call her Y. She explained that when she was pregnant with X, in her eighth month, the baby was pressing on her nerves, causing her to collapse when she wasn't expecting it — not a good thing, particularly later in pregnancy. 
Grimes explains her daughter's name and her dream baby name
Grimes told Gordon she'd been considering whether to disclose her daughter's full name since a recent date night with Musk. The Vancouver native realized it would eventually be known and she was proud of it, texting "it's fire" to Gordon. Then Grimes sent another text message, saying it was Exa Dark Sideræl Musk.
Exa stands for the supercomputing term exaFLOPS, which is the capability to process 1 quintillion floating-point operations per second. Dark is for the unknown that people are afraid of, but in truth, it's the absence of photons she said. Grimes explained that dark matter is one of the universe's beautiful mysteries.
She sent a voice message to the Vanity Fair reporter with the pronunciation of Sideræl: "sigh-deer-ee-el." For Grimes, it's a "more elven" spelling of sidereal. She explained it was in reference to the "true time of the universe, star time, deep space time, not our relative earth time." It's also an homage to her favorite character from Lord of the Rings, Galadriel. The powerful elf who "chooses to abdicate the ring."
She actually fought with Musk for an entirely different name: Odysseus Musk. She explained with great enthusiasm that "a girl named Odysseus is my dream."