Victoria and David Beckham Had the Closest Thing to a Royal Wedding With an 18-Carat Diamond Crown and Golden Thrones
As much as Victoria Beckham has poked fun at herself in the past, the overly expensive wedding she had to David Beckham was far from a joke. If everyone thought the Beckhams once thought a little too much about themselves, perhaps that theory holds true, at least on their wedding day.
Reports were their wedding was as expensive as one seen by the royals. When seeing the details of how much they spent for their nuptials, some will either gawk in amazement or cringe.
On one hand, the effort they put in seemed to indicate a stronger, devoted love they had for one another. Perhaps this is the real reason they stuck together all this time later.
A look back to the Beckham wedding in 1999
RELATED: David Beckham Once Gifted Victoria a $1.8 Million Platinum-Covered Sex Toy Encrusted With a 10-Carat Diamond
Married 21 years now, Victoria and David Beckham seem to live a little differently today from how they were perceived two decades ago. In 1999, Victoria Beckham was still churning out hit records with The Spice Girls. David Beckham was also the biggest soccer star in the world then with Manchester United.
Having them join forces in marriage created a huge empire that was worth a combined fortune. No wonder they figured they could go all out on their wedding, occurring in Dublin, Ireland. Even today, they still are worth a combined 355 million pounds.
Back in 1999, their net worth was just as huge, allowing them to think big for the wedding. In fact, they managed to think even bigger…as in trying to outdo any royal wedding of prior memory.
When the ceremony occurred, Victoria Beckham sported a crown that made many a jaw drop. Where that crown is today is anyone's guess.
What did Victoria Beckham wear on her head?
This was not normal wedding headwear and instead became an 18-carat golden crown of all things. As if not extravagant enough, Beckham adorned the crown further with diamonds.
She did not make this crown herself and came from an interesting source. According to People reporting on the wedding back then, the crown was made by Slim Barrett, a jeweler who also worked for Princess Diana.
Yes, there was a bit of a tangential royal connection there. And, one has to guess Beckham really flaunted it because 250 famous people attended the wedding. Everyone from Elton John to George Michael were there, or basically the royals of the U.K. music industry.
Of note: The Beckhams spent a little more for one other item at their wedding some might still roll their eyes over.
The Beckhams sat on golden thrones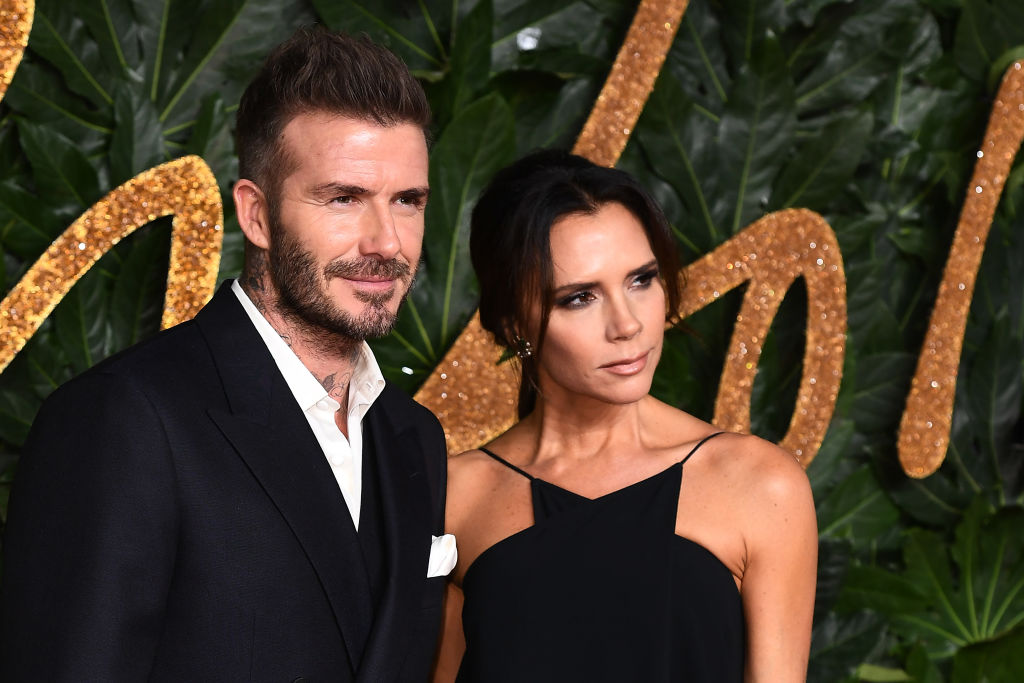 Even David Beckham commented in later years during a BBC interview how over the top his wedding was. The His and Her golden thrones for the two were most definitely a little much, not including all the other details like cutting their wedding cake with a sword.
Regardless, it was a different time. Looking back at it provides a bit of mythical nostalgia about perhaps the tail end of a truly golden era for the world pre-9/11. What makes looking at the Beckham wedding so interesting is how they are today and how they managed to stay together through all their turbulent paths.
After all the money they put into their wedding, maybe they realized it was like capital spend and a divorce would cost more than the wedding. Turning their marriage into a business has apparently helped them, leading to them being far more down to earth as they become middle-age parents.
Said Beckham to Vanity Fair above about his wedding: "That was pretty bold. Victoria's [reception outfit by Antonio Berardi] was pretty nice. Mine, I'm like what was I thinking? I look like the guys out of Dumb & Dumber when they went to that party and wore those ridiculous outfits. I even had a top hat in purple. Unbelievable. What was I thinking?" Comments like this show 21 years can be like going from one universe to another in the blink of an eye.