VIDEO: BTS' Jin and J-Hope Wear Baby 'Sprout' Ponytails in 1 Birthday Post
He's the artist behind songs like "Epiphany," "Moon," and, most recently, "Abyss." BTS fans and members shared birthday wishes with Jin and that includes a new video from a rapper of the group, J-Hope. 
Here's what the BTS members posted to Twitter for Worldwide Handsome Jin's birthday. 
The BTS members shared their birthday wishes for Jin
He's Worldwide Handsome and he's also the oldest member of the K-pop group, BTS. Recently, this singer celebrated a birthday, even releasing a surprise song titled "Abyss." Jin also earned well wishes from fans and the other members. 
"Our hyung sings very well, happy birthday to you, please live a long and healthy life," Jimin said in his Twitter post, sharing a picture of the two of them. RM posted a few pictures, captioning it, "Jin Hyung happy birthday and congratulations on release of 'Abyss' It was an honor to add at least a little piece to it. Let's be happy."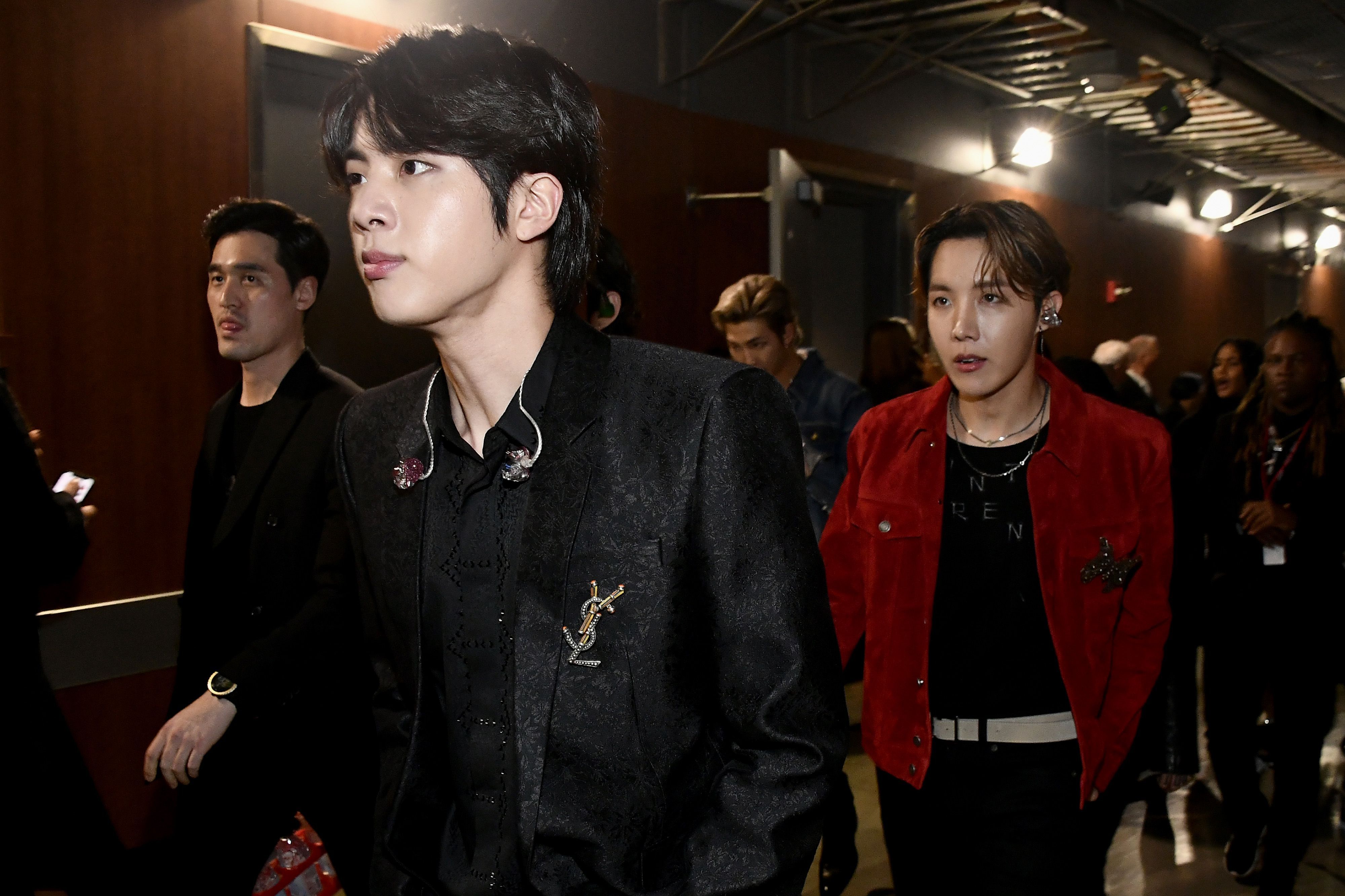 Jin and J-Hope had little 'sprout' hairstyles in one video
When it came to J-Hope's post for Jin's birthday, the artist shared a video of the two of them standing on a stage with the other members. Both J-Hope and the Worldwide Handsome singer sported little ponytails, nicknamed the "sprout" by BTS fans. 
"#HAPPYJINDAY #OurMoonJinDay," J-Hope captioned the video, along with a bunch of sprout emojis. Within a day, the post earned over 1.5 million likes from BTS fans. There were also plenty of comments, most of them sharing their love for these performers.  
This, of course, wouldn't be the first time Jin had a sprout-esque hairstyle. In fact, this unique 'do caused fans to associate Jin with the sprout plant emoji, as well as the purple heart that became an important symbol of the ARMY.
Sometimes Jungkook sports a ponytail or man bun hairstyle 
The BTS members aren't afraid to be creative with their hairstyles and colors. For each era, the boys often change their hair to reflect the music. For the "Boy With Luv" music video, V had blue hair. For "Dynamite," RM sported a white-gray color. 
For one video with Buzzfeed, Jin shared that even though his hair was brown, his favorite hair color in the past was pink. When it comes to the man bun, sprout situation, Jungkook has been wearing his hair long in recent videos, including the performance of "Idol" for The Late Show Starring Jimmy Fallon. 
This wouldn't be the first time that he had long enough hair for a sprout, either, as he sported a similar hairstyle in 2019. When he posted a video to Twitter of himself singing "Savage Love," he had the same pulled back hair.
The "Life Goes On" music video, featuring Jin, is now available on YouTube. Music by BTS, including their recently released album, Map of the Soul: 7, is available for streaming on Spotify, Apple Music, and most major platforms.