VIDEO: BTS Fans Held Their Breath as This Member Cut His Own Hair (and Posted the Video on Twitter)
He's Mr. Worldwide Handsome, even though sometimes he's a little quirky and unique. That includes one time when he cut his own hair and posted the video to Twitter.
Here's what we know about this member in BTS, and the singer behind songs like "Epiphany" and "Moon," Jin. 
Jin is the oldest member of BTS 
V hates wearing shoes. RM lost over 30 AirPods. Jungkook is, reportedly, afraid of microwaves. Each of the BTS members are unique in their own way. Even though Jin is the oldest member of this K-pop group, he still acts young at heart from time to time. 
"As the oldest member, I think I experienced the world a little sooner than many people my age, so I think I am a grown-up," Jin said of his age, according to South China Morning Post. "I just act like a kid on purpose. But I feel like a grown-up when I talk to my friends and they ask for advice."
One time, Jin cut his hair and posted the video to social media 
Sometimes, hair just gets too long. In 2018, Jin posted a video to Twitter with the translated caption being "my bangs." In it, he takes a pair of scissors and cuts off chunks of his hair in front of a mirror. Don't worry, though, Jin can rock any look.
According to one translation, during the video, Jin said while snipping away, "because I can't see the front I will be cutting my hair. Oh, this is good! Oh, this is good! But something." Even though this video is from 2018, it earned almost a million likes from the BTS ARMY. 
This wouldn't be the only time Jin surprised fans. During BTS' 7-second interviews in conjunction with Map of the Soul: 7, Jin shared the one thing that he always has in his bag. Spoiler alert: it's a utensil. 
"In my bag is a spoon always. I don't know why. I never use it so it's just there," Jin said.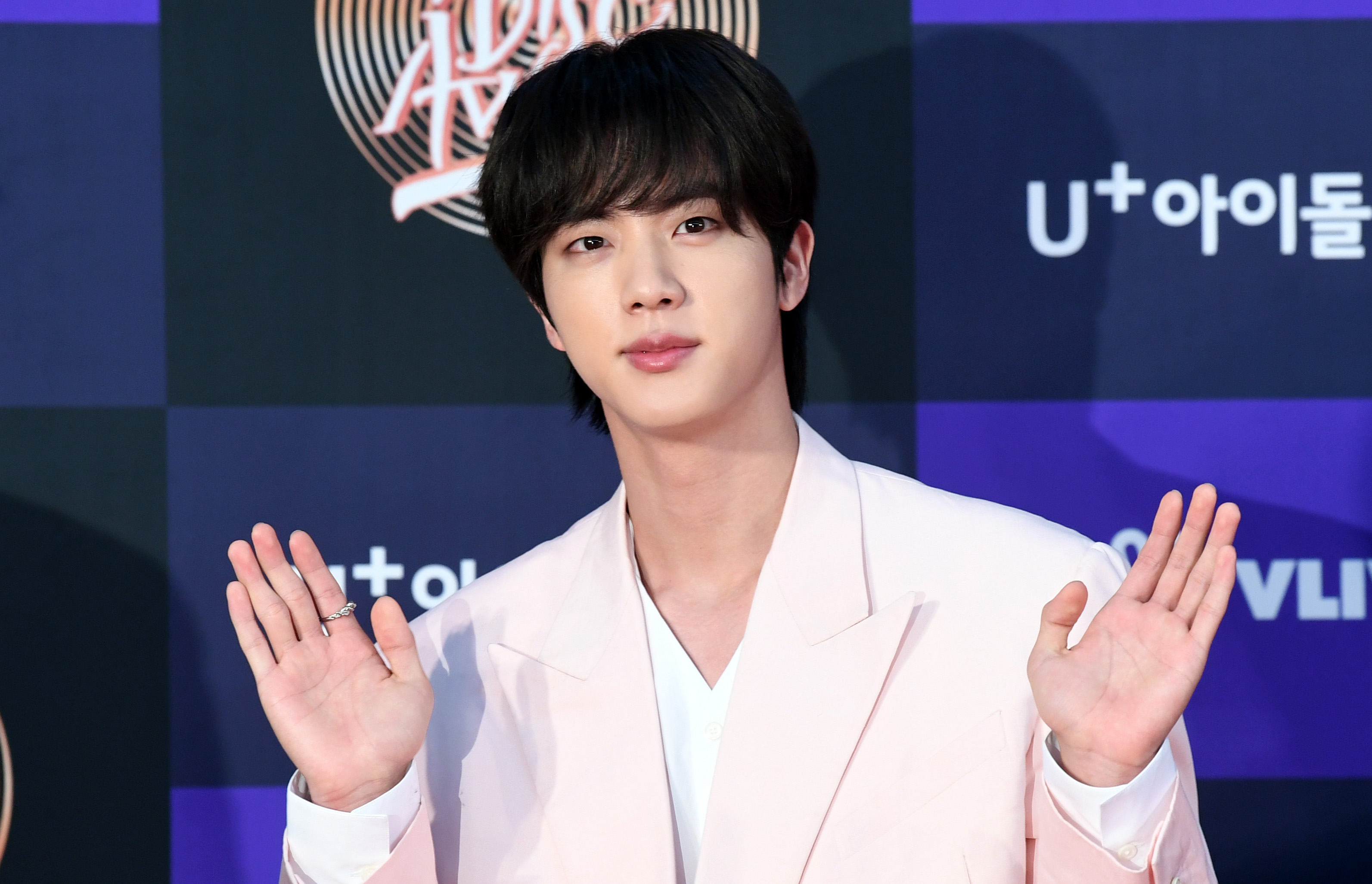 Fans can see Jin perform alongside the other BTS members
Aside from his iconic and slightly stressful haircut video, fans can see Jin in a number of BTS videos, alongside performers RM, J-Hope, Suga, V, Jimin, and Jungkook.
Jin sings a number of solo songs that appear on BTS albums, including "Epiphany" off of Love Yourself: Answer and "Moon" off of Map of the Soul: 7.
Fans can also see this performer on his beloved mukbang live stream series, nicknamed "Eat Jin." The "Dynamite" music video is now available on YouTube. 
Music by BTS, including their recently released album, Map of the Soul: 7, is available for streaming on Spotify, Apple Music, and most major platforms.