'Vikings': Bjorn's Goodbye to His Mother Is Heart-Wrenching
In the hit series Vikings, Bjorn Ironside's (Alexander Ludwig) goodbye to his mother in season 6, episode 7 is more than heart-wrenching to hear. We have all the details about what he says and how her funeral plays out.
How did Lagertha die in 'Vikings'?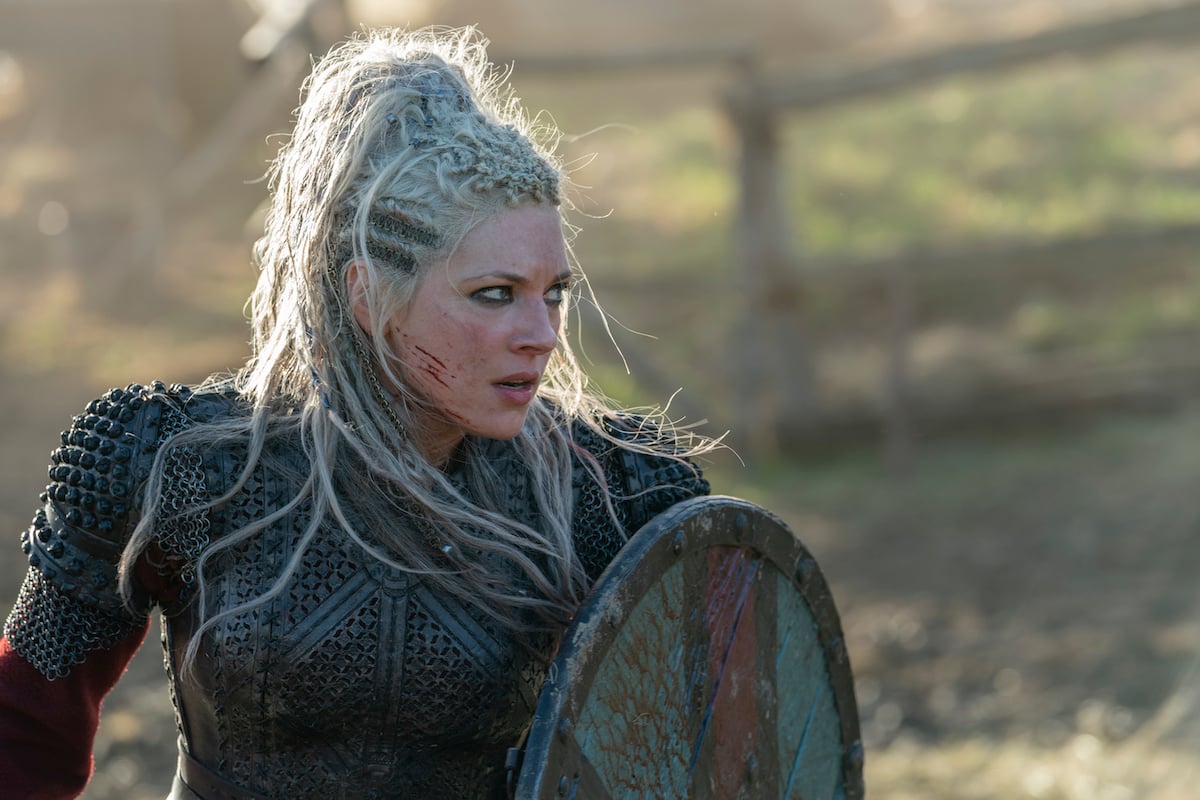 Lagertha (Katheryn Winnick) is a shield-maiden whose legend has traveled far and wide. As the first wife of Ragnar Lothbrok (Travis Fimmel) and the mother of Bjorn, she's also a fierce warrior and once the Queen of Kattegat. She carved a place out for herself after being betrayed time and time again. But it hasn't stopped her from living her life, and in season 6, she just wants a quiet life away from society. With her son the King of Kattegat, Lagertha finds land to start a farm and live in seclusion.
However, bandits that her son let go free start attacking nearby, and Lagertha gets involved. She helps fight them, eventually taking on the bandit leader, White Hair (Kieran O'Reilly), killing him. She is seriously hurt in the process, and Lagertha decides after they win the battle to go and tell everyone what happened, and she also hopes Bjorn is there, as she needs to see him.
But Lagertha is hurt, and just barely makes it back to the city on her horse before falling off. Hvitserk (Marco Ilsø) sees Lagertha and hallucinates that she's a giant snake and his brother, Ivar (Alex Høgh Andersen). He ends up stabbing Lagertha multiple times, and she dies at the hands of a son of Ragnar, fulfilling the prophecy once told to her by the Seer (John Kavanagh) that one of Ragnar's sons would kill her.
Lagertha is given a lavish funeral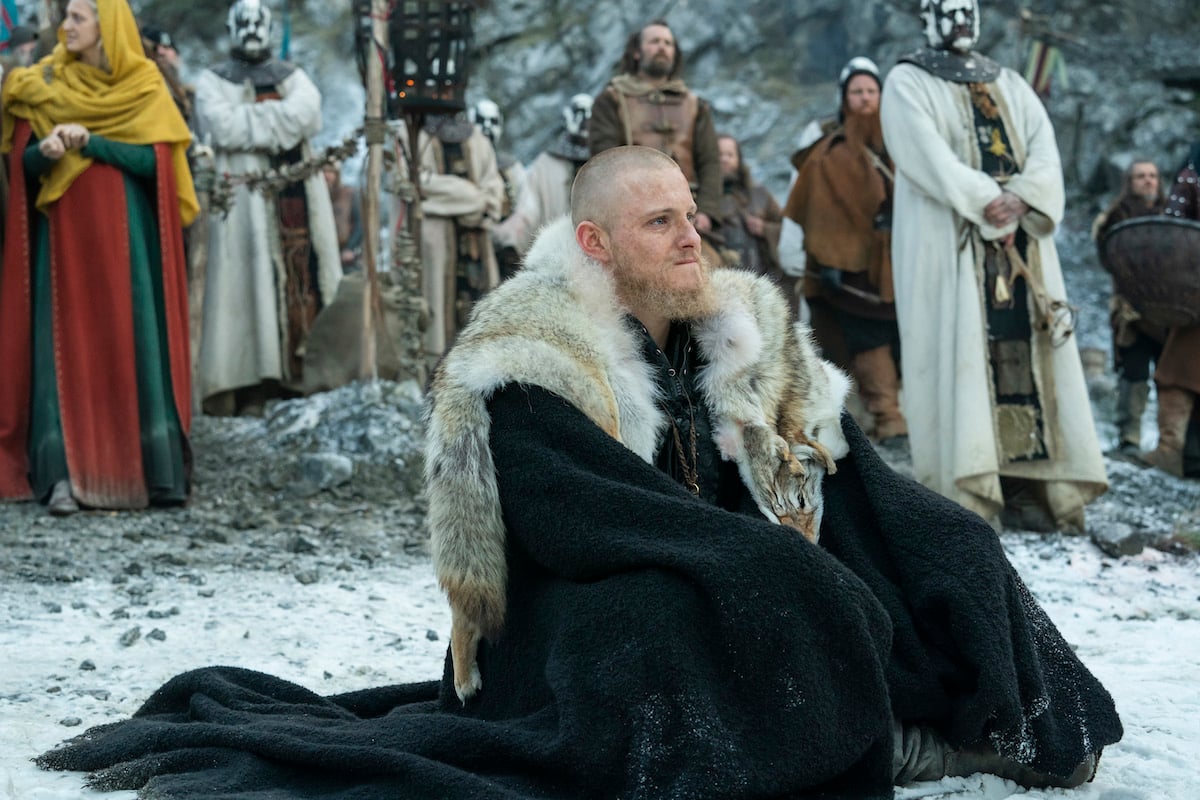 RELATED: 'Vikings': Katheryn Winnick Reveals What It Was Really Like Working With Travis Fimmel
Lagertha is greatly mourned by everyone in Kattegat, as she was a great and important person. There is a lavish funeral for her, and she's placed atop an enormous ship in the ice-filled water. Her shield and other items lay around her with flowers included on the ship as well, and the people congregate on the shores to watch it all take place. Bjorn just barely makes it in time.
Bjorn's goodbye to his mother is heart-wrenching
Bjorn has no idea until he gets to Kattegat that his mother is dead, and he figures it out when no one is left in the town. He's been gone after trying to rescue King Harald (Peter Franzén) from King Olaf (Steven Berkoff). However, Harald ends up scheming his way to be voted in as King of all Norway over Bjorn when things conclude. Bjorn barely escapes with his life when Harald tries to have him killed.
Now home, Bjorn sits on the icy shore as he says goodbye to his mother one final time. Everyone gives him the time he needs to say a few words for the woman that meant so much to him. He expresses his love for her during the tense scene, and it's truly an emotional moment. Bjorn never wanted to say goodbye to his mother, the person he loved more than anyone.
"I hoped the day would never come when I had to bid you farewell," Bjorn says. "You were always my strength, my guide. You taught me to go on no matter what. You taught me not to be afraid. And now I see that like me, the earth itself is unwilling to let you go," he refers to the icy water that traps the ship. "But the gods call you home. They eagerly await your arrival in Valhalla, as does my father. I wish I could be there, at your reunion, secretly, in Odin's glittering gold-shielded hall, surrounded by all the gods."
Bjorn continues saying goodbye to his mother, calling her a "legend." "The greatest shield-maiden of all time," he continues. "A hero to thousands of women. But to me you will always be my mother, who bore me, who raised me, who protected and fought for me, and I swear I will fight for you now." Bjorn relays that he will "punish" her "murderer."
One sentence seemingly says it all. "I have loved you more than I have loved any other," Bjorn admits. Warriors shoot fiery bows at the ice to break it apart so the ship, which is already ablaze, can go out to sea as it's pulled by more warriors and horses.
Bjorn says he will "avenge" Lagertha, but when Hvitserk is going to be killed by being burned alive for the crime, Bjorn decides to let Ubbe (Jordan Patrick Smith) save him, banishing Hvitserk from Kattegat and letting his brother keep his life.
Bjorn clearly loved and appreciated his mother, and it's evident in his goodbye to her.