'Vikings': Fans Reveal the 'Most Legendary Villain'
Fans of the show 'Vikings' recently revealed in a poll who the 'most legendary villain' in the series is. Ivar won the poll.
In the history of the hit series Vikings, there have been a few characters that can be considered villains. Fans of the series, who have been known to discuss the show on social media, including Reddit, weighed in on a poll when it comes to the "most legendary villain" in the show.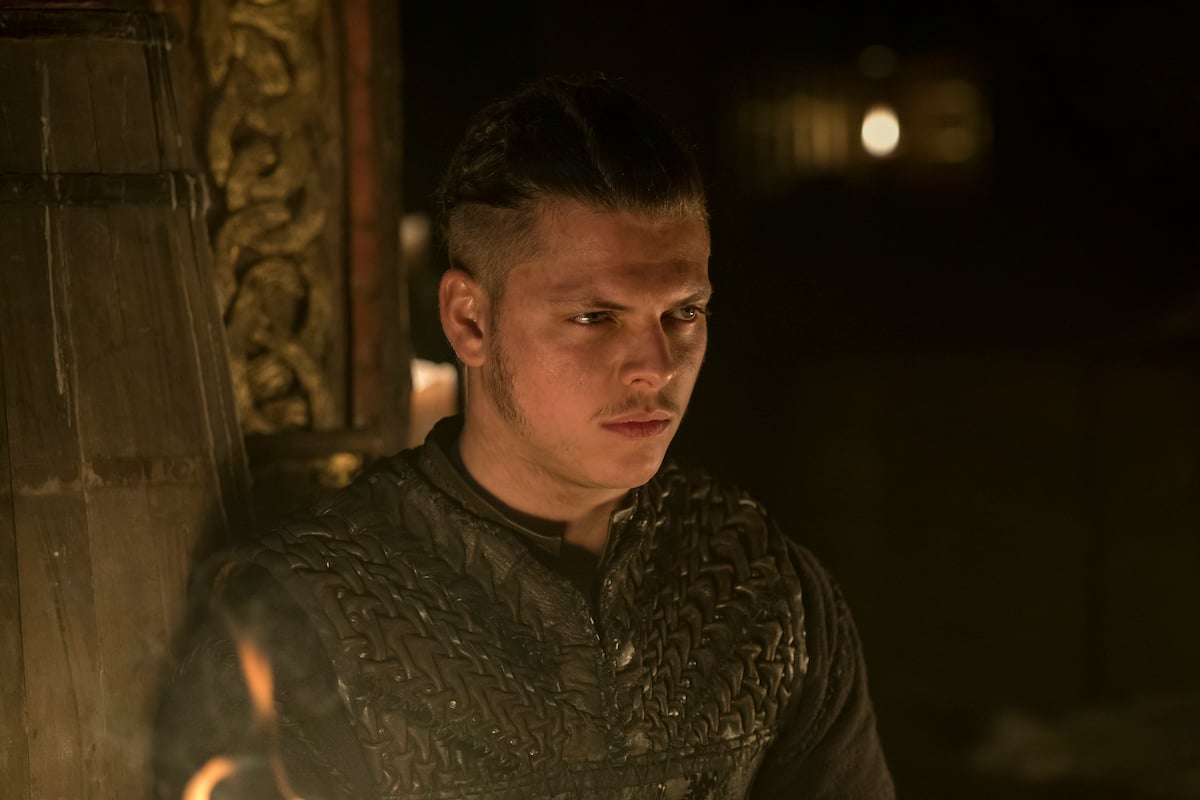 'Vikings' fans participated in a poll
On September 1, 2021, a fan on Reddit made a poll titled, "[Spoilers] most legendary villain." The options include Earl Haraldson (Gabriel Byrne), Jarl Borg (Thorbjørn Harr), King Horik (Donal Logue), King Aelle (Ivan Kaye), and Ivar (Alex Høgh Andersen). 84 people took part in the poll, and Ivar was the clear winner with 52 votes. From there, we have Borg with 18 votes, Aelle with six votes, and Haraldson and Horik are tied with four votes.
Some fans left comments as well. A fan thinks Borg "was the most memorable and interesting villain." The continue, "Ivar I just couldn't take seriously anymore after he declared himself a god."
One fan says Ivar "isn't exactly a villain." "OK Ivar isn't exactly a villain, he was… the main focus after Ragnar died," the fan said.
Information about the character options from 'Vikings'
Fans will recall that Earl Haraldson was the Earl of Kattegat in season 1. He recognizes the main character, Ragnar Lothbrok (Travis Fimmel), as a threat after he sails west and finds land. He even sends his men to destroy Ragnar's farm and himself. Ragnar manages to get away wounded, and he eventually challenges Haraldson to a fight. Ragnar wins, and Haraldson dies after Ragnar severely wounds him in battle and then kills him. Ragnar is then proclaimed the Earl of Kattegat.
Jarl Borg is a Jarl from Götaland whom Ragnar goes to on behalf of King Horik involving some disputed land. Borg and Horik eventually come to an agreement after fighting, but when the time comes to raid together, Horik changes his mind and makes Ragnar be the messenger. Borg decides to take Kattegat when Ragnar and Horik are raiding to get revenge on Ragnar. It also has to do with opportunity as Kattegat is left undefended. Ragnar's family is forced to flee. Ragnar gets word and returns, finding his family. Teaming up with his ex-wife, Lagertha (Katheryn Winnick), and his son, Bjorn (Alexander Ludwig), they defeat Borg in battle, taking Kattegat back. Ragnar kills Borg by blood eagle when Borg comes to Kattegat after Horik changes his mind about raiding with him. 
King Horik, who rules Denmark, is an ally of Ragnar's at first. Horik starts putting a plan together to kill Ragnar and his family. But Ragnar is a step ahead of him. Horik speaks to Floki (Gustaf Skarsgård) and Siggy (Jessalyn Gilsig), who are close to Ragnar and his family, trying to get them to kill members of Ragnar's family, but they warn Ragnar about it. When the time comes, Ragnar and Horik's soldiers fight each other, but Ragnar is victorious. In the great hall, the main characters meet when Horik thinks he's going to kill Ragnar, but it doesn't happen. His soldiers are killed, and Lagertha, Bjorn, and Torstein (Jefferson Hall) take shots at Horik. But Ragnar is the one to kill him. From then on, he's considered the King of Kattegat. 
King Aelle is the King of Northumbria in England. From Ragnar's first raid on England at Lindisfarne, Aelle has considered him an enemy. When Ragnar puts a plan in place to be killed in England to prompt his sons to seek revenge, he gets King Ecbert of Wessex (Linus Roache) to give him over to Aelle, knowing he will kill him. He's treated terribly and beaten. Aelle carves a cross into Ragnar's head, and he has him thrown into a pit of snakes, where he dies from their venom. Ragnar's sons learn of his death, bringing the Great Heathen Army over to England. Both the kings of England lose their lives, and Aelle is blood eagled.
Ivar is the last of Ragnar's sons, and he is an angry individual. He takes Kattegat from Lagertha, who was the Queen, along with the help of King Harald (Peter Franzén) and Ivar's uncle Rollo's (Clive Standen) forces from Francia. He declares himself a god, and he kills innocent people. He gets away when Bjorn takes Kattegat back with King Olaf (Steven Berkoff), becoming King himself. Ivar goes through a metamorphosis after this, running for his life until he allies himself with the Rus Vikings and Prince Oleg (Danila Kozlovskiy), who tries to take Scandinavia with Ivar's help, but fails against Bjorn, who dies in the process.
According to the poll, Ivar is considered the "most legendary villain" in the series Vikings among fans who participated.