'Vikings': Fans Weigh in on Which of Ragnar Lothbrok's Looks They 'Like Better'
Over the course of the hit series Vikings, the main character, Ragnar Lothbrok (Travis Fimmel), changes during his time on the show. He is a farmer who becomes an earl, who becomes a king. His name turns to legend with his exploits and his first-ever raid on England. His name is solidified in Viking history long after his murder. Even more, his sons carry on his legacy, as well as his legend. 
Fans of the compelling drama recently weighed in on which of Ragnar Lothbrok's looks they "like better." We have all the details as to what fans are saying.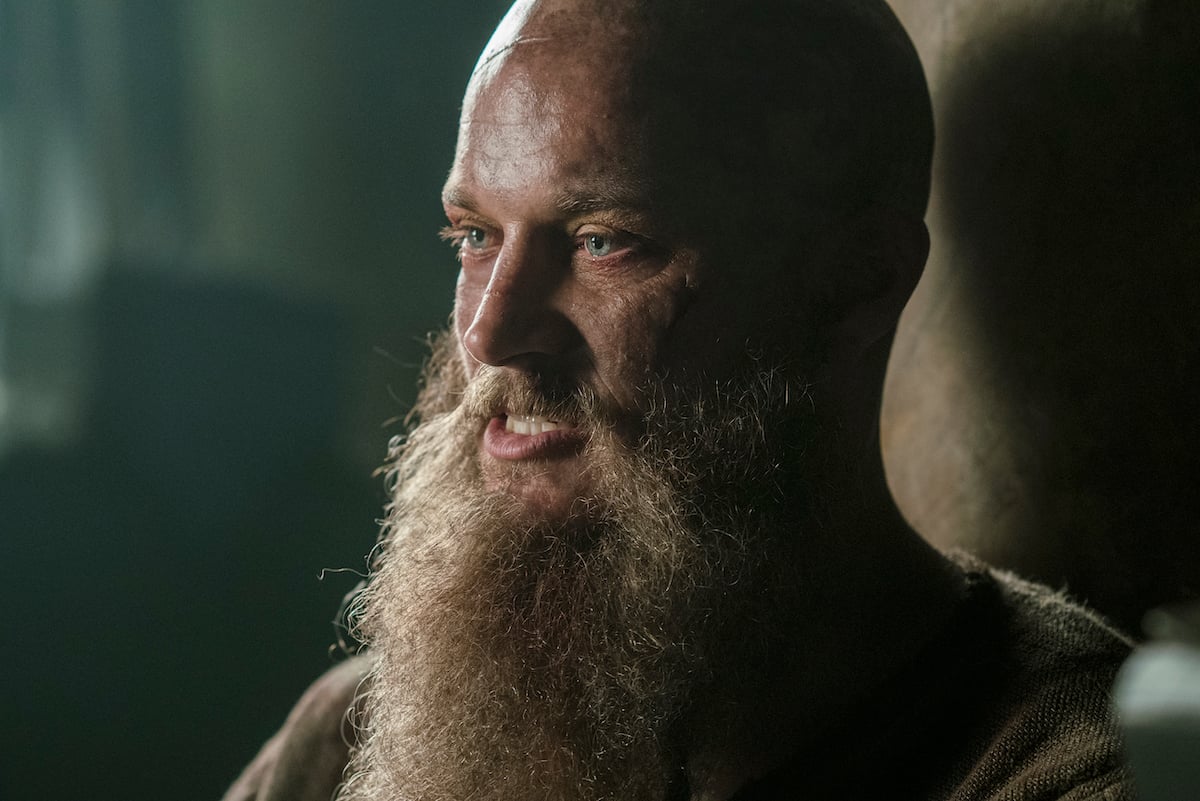 5 of Ragnar Lothbrok's looks were shared on Reddit
Over the years, Ragnar's look has changed, which makes sense. Over time everyone's looks change slightly. A fan on Reddit posted a title, "[no spoilers] which Ragnar look do you like better?" The thread shared a number of images of Ragnar.
In the beginning of the first season, Ragnar wears regular-looking clothes (before becoming earl), and styles his hair short on top, and pulled in a ponytail that goes down his back. It's also shaved on the sides with a short beard. This is how he looks in the first image shared in which he holds a shield and looks off with other warriors around him, but his ponytail goes unseen.
In season 2, he has his hair pulled all the way back in his ponytail, which goes down his back a little further. His shaved head reveals a tattoo. Plus, his beard is longer. He also is known to wear armor with a raven on it, as seen in the second image.
In season 3, his hair looked short on top and shaved on the sides showing his tattoo, visible in the third image in which he looks off while wearing furs with his beard still.
In season 4A, Ragnar has a shaved head with his head tattoo with his beard. He wears a black leather ensemble in the image shared.
We see Ragnar in season 4B, older with a shaved head and long grey beard in the final image. His tattoo is still there as well.
'Vikings' fans weigh in on which of Ragnar Lothbrok's looks they 'like better'
As can be expected, fans' opinions are all over the place. Some fans would be fine with any of the options of Ragnar, and we can understand why.
"All of them, twice!" a fan said.
Another will take all of them as well. "I will take one of each please," a fan said. "Seriously though, Ragnar is my favorite character on any show or movie."
Ragnar's second look was chosen the most
The most chosen look, though goes to the second image, which features Ragnar in season 2. "Ragnar always looks great, but imo season 2 is the best," a fan said. "He's rocking the long hair and has the sick tattoos."
"2nd one for sure," a fan agreed.
Some fans chose the looks from the first and second images shared. They are similar yet different, encompassing Ragnar's time from farmer to Earl of Kattegat. 
"Always one and two!!" a fan said. "That's always how Ragnar will be in my mind. Iconic as hell and it works so good."
Some fans prefer Ragnar's look when he's older in the fifth image shared. "Five – This captures so well a man that has seen a lot of s—! Perfect casting!" a fan said.
Other options chosen by fans include looks number one, three, and four, as well as two and three together and two and four together.
Fans have varying opinions when it comes to which of Ragnar Lothbrok's looks over the years they "like better" in Vikings. But fans mentioned season 2's look more than any other.