'Vikings': What Happens to Lagertha After She Divorces Ragnar Lothbrok?
In the series Vikings, Lagertha (Katheryn Winnick) chooses to divorce her husband, Ragnar Lothbrok (Travis Fimmel), in season 2, episode 1 after he gets another woman pregnant and takes her in. But what happens after Lagertha moves on?
Lagertha and Ragnar Lothbrok in 'Vikings'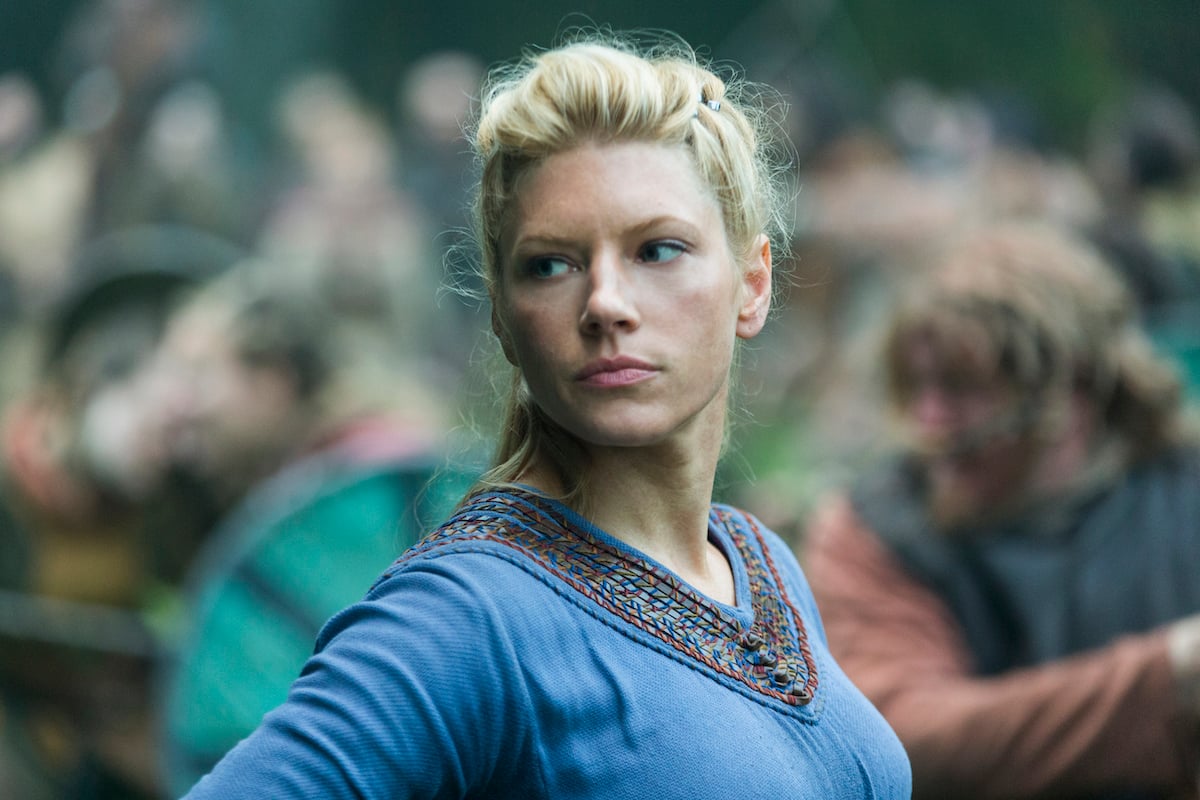 Lagertha is married to Ragnar throughout season 1 of the series, and when he becomes the Earl of Kattegat, she follows him to their new home. They clearly love each other and have been together for many years. They have two children named Bjorn (Nathan O'Toole) and Gyda (Ruby O'Leary), although Gyda dies when a plague hits Kattegat in the first season. 
Things seem steady between the couple, that is until Lagertha has a miscarriage. Ragnar starts to wonder who will give him the many sons he was promised by the Seer (John Kavanagh), a man who can supposedly see things.
Lagertha divorces Ragnar
Ragnar cheats on his wife while on business for King Horik (Donal Logue). He meets Aslaug (Alyssa Sutherland), a princess from Götaland, and they sleep together. Ragnar ends up getting Aslaug pregnant.
Bjorn, who accompanied his father on the journey, tells his mother enough to where she realizes something happened and Ragnar cheated. He admits it to her though and promises never to see Aslaug again. 
But when she comes calling months later and heavily pregnant, Ragnar refuses to turn her away because she's having his child. He mentions having them both as wives, which Aslaug pretends she's cool with. Ragnar also tells his wife that she must "accept" Aslaug, which Lagertha can't do. Although she's cool and level-headed during this tense time, it's clear she's trying to figure out what she's going to do. 
Lagertha leaves Kattegat, divorcing Ragnar. He meets her out on the road, as she wasn't going to say goodbye, and she admits she had "no choice" but to divorce him. Although he says that he doesn't want her to leave, Lagertha insists "it's fate." Bjorn decides to go with his mother, and they aren't seen by Ragnar until four years later. He's clearly upset about it, but he doesn't try and stop Lagertha further. Ragnar makes a life with Aslaug, marrying her and having four sons.
What happens to Lagertha after she divorces Ragnar?
Lagertha makes a life for herself away from Kattegat. Fast forward to four years later in season 2, episode 3, and she has married Earl Sigvard (Morten Suurballe), the Earl of Hedeby. But he's abusive, and he insults Bjorn. Lagertha's son doesn't like him at all, threatening to kill him for the way he treats his mother. Sigvard even tries to sexually assault her at one point. 
After Bjorn convinces Lagertha to help Ragnar take back Kattegat when it's usurped by Jarl Borg (Thorbjørn Harr), she takes warriors from Hedeby to assist him in winning back his home. But she chooses to return to Hedeby after that, and the abuse continues. Sigvard even has men come in the dead of night to attack Lagertha.
The next evening, Lagertha has visible cuts and a black eye, and just as Sigvard is about to expose her chest in front of everyone, she stabs him in the eye. Then, Sigvard's nephew, who desires Lagertha, kills him, and Lagertha is made the Earl of Hedeby. 
She remains in power and influence until Kalf (Ben Robson), someone she trusted as her ally, usurps the earldom from her in season 3 when she's away in Wessex with the help of Einar, who grows to hate Lagertha but also loves her. Lagertha eventually gets it back after becoming Kalf's lover, getting pregnant with his child. On the day of their wedding, she stabs him, killing him as she promised she would one day for taking Hedeby from her. But she has a miscarriage as well.
Lagertha gains even more power when she eventually usurps Kattegat from Aslaug years later after Ragnar, who is now King, returns from abandoning his people. He comes back and dies in Wessex, but it's all part of his plan. Lagertha becomes the Queen for a time after killing Aslaug, taking back her home.
Lagertha comes a long way after Ragnar Lothbrok cheats on her and she's forced to divorce him.