'Vikings': How Ragnar Lothbrok Really Betrays His Wife, Lagertha
When fans first meet Ragnar Lothbrok (Travis Fimmel) in Vikings, he's a farmer along with his wife, Lagertha (Katheryn Winnick). They live their lives as a happy family together along with their two children, Gyda (Ruby O'Leary) and Bjorn (Nathan O'Toole). But the good times don't last because greatness finds Ragnar. He becomes the Earl of Kattegat after going head-to-head against Earl Haraldson (Gabriel Byrne), killing him. Ragnar takes the power for himself, and everything changes for both him and his family.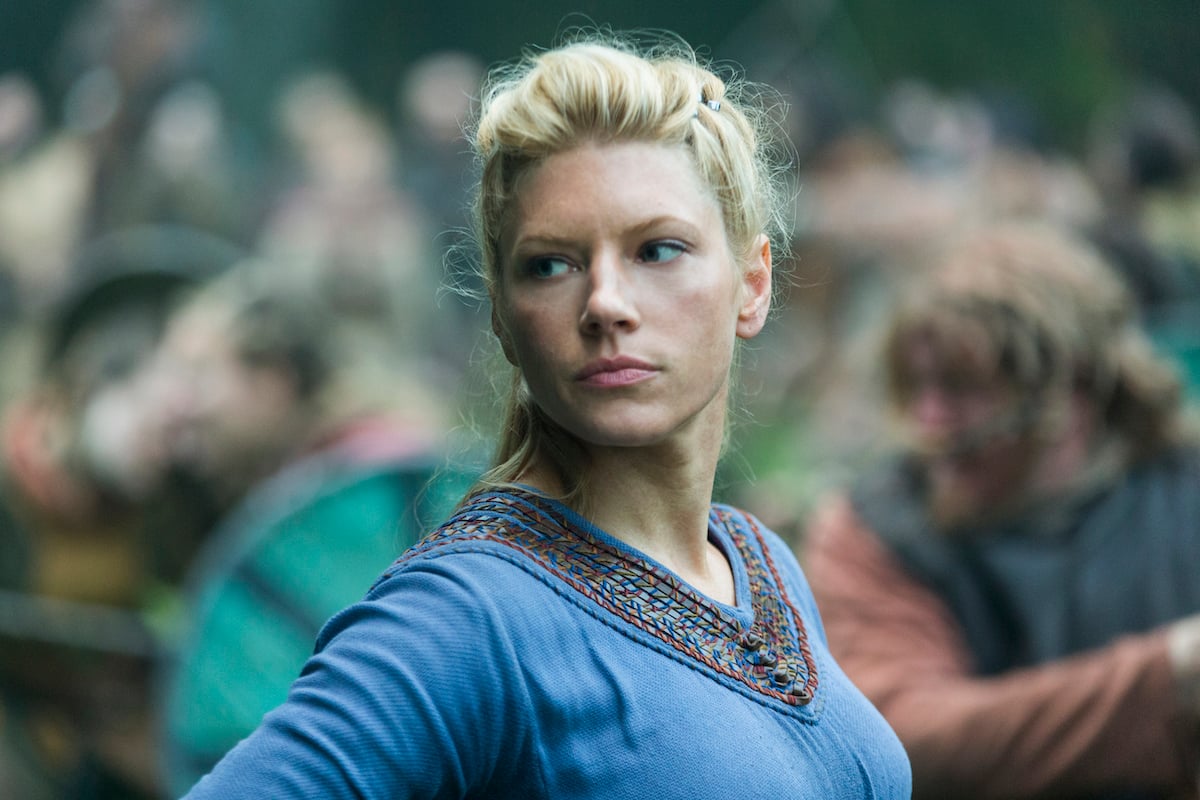 Ragnar eventually betrays his wife in the worst way. What happens? We have all the details about the situation in the hit series.
Ragnar Lothbrok believes he will have numerous sons
The Seer (John Kavanagh) once told Ragnar that he would have many sons, and he does. In season 1, he's still married to Lagertha and they have a son and a girl. After Lagertha becomes pregnant, she has a miscarriage, which greatly affects them both. When another child doesn't come quickly enough for Ragnar, he prays to the gods he believes in at Uppsala asking who will have his children for him. During the same trip, Lagertha prays asking help with getting pregnant.
How Ragnar really betrays his wife, Lagertha
But everything is about to change for Ragnar and Lagertha. On a diplomatic mission for King Horik (Donal Logue) over a land dispute with Jarl Borg (Thorbjørn Harr), Ragnar meets Aslaug (Alyssa Sutherland), a princess from Götaland, whom he cheats on his wife with. He betrays Lagertha by having relations with another woman, and it just gets worse for her months later. 
When Ragnar returns to Kattegat, Bjorn tells his mother a little about the situation, and Lagertha is furious with her husband. Ragnar admits to sleeping with Aslaug, but he says he doesn't love her, and promises that he won't see her again.
However, Aslaug is pregnant, and she's already told Ragnar about it. Months later, Aslaug arrives in Kattegat, and she's pretty far along in her pregnancy. Of course, it's all news to Lagertha. Ragnar brings up to both of them the possibility of living together and having two marriages, one with Lagertha and one with Aslaug. 
He also tells Lagertha that he won't turn Aslaug away. "I'm sorry, but this woman is carrying my child," Ragnar says. "I must take care of her. You must accept her. When we lost our unborn son, it broke my heart. I had failed, and I will not fail again. I cannot turn this woman away."
Lagertha makes a choice
Lagertha is understandably hurt, and after her husband says those words to her, Lagertha makes a choice. The very next day, she decides to leave her husband and her home. She rides off on a wagon with her belongings after saying goodbye to Bjorn and the other people she's close to. Ragnar rides out to meet her, since she wasn't even going to say goodbye. He asks if she's "really going to abandon" him, which are surprising words coming from him.
"You insult and humiliate me," Lagertha tells him. "I have no choice but to leave you and divorce you."
"I don't want you to go," he tells her.
"It's fate," Lagertha says holding back tears. Bjorn decides at the last second to go with his mother, which devastates his father. Ragnar tells him to "look after" his mom, and it's a truly heart-wrenching moment. Ragnar watches them leave, unsure of when he'll see them again.
He goes on to have four sons by Aslaug. Years later, he sees Bjorn again when he and Lagertha come to help him get Kattegat back from Jarl Borg, who usurps it.
Ragnar completely betrays his wife, Lagertha, cheating on her with Aslaug. But it's even worse because Lagertha is forced to either stay and accept things, or leave when Ragnar gets Aslaug pregnant. She keeps her dignity and moves on from the situation, and she never gets back with him despite the love they both share with each other for the rest of their lives.