'Vikings': Michael Hirst Wasn't Afraid to Kill off Ragnar Lothbrok — 'I Wanted the Death to Be Monumental'
History's Vikings is a show unlike any other, and fans still can't get enough of it. With only season 6B left to go before the series concludes, some fans have been rewatching the show all over again to relive every moment. Many fans were heartbroken when Ragnar Lothbrok (Travis Fimmel) meets his end at the hands of King Alle (Ivan Kaye).
'Vikings' follows the life of Ragnar Lothbrok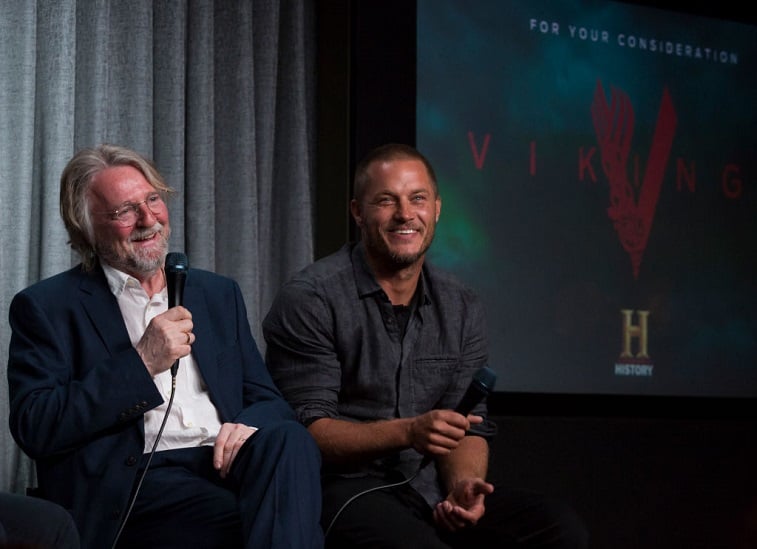 Ragnar is a farmer when fans are first introduced to the man who becomes a legend. He works his way up to become an earl, and then king before he's done. Even with his final breath, he has a purpose to what he does in every single action.
Ragnar is an intelligent, reserved man who is very unlike everyone else around him. He makes a name for himself not just at home, but abroad as well. His adventures are still talked about when his children are fully grown and have their own families.
How does Ragnar die?
Ragnar takes a skeleton crew of men along with his son, Ivar (Alex Høgh Andersen) to England. He wants to get revenge on the kings of England, but it doesn't work out exactly as Ragnar planned. When he realizes he is no match with the small number of men he has, he quickly changes tactics.
Ragnar convinces King Ecbert (Linus Roache) to give him over to King Aelle to be killed. He knows that with his dying breath, his sons will come to avenge him, fulfilling his ultimate goal of revenge on the kings of England. He is thrown in a pit full of snakes and he dies alone.
Michael Hirst wasn't afraid to kill off Ragnar Lothbrok
The creator of the hit series, Michael Hirst, spoke with Entertainment Weekly about Ragnar's end. Hirst says he was never afraid to have Ragnar killed off, but he wanted it done right. "Ragnar is now a part of history, a part of our history. I was never afraid of killing him off, but I wanted the death to be monumental," Hirst said.
Aelle has Ragnar put in a cage in the air for a while before having him dropped into the snake pit to meet his end. Filming that scene couldn't have been a fun experience, and it turns out it was far from it. Fimmel, who plays Ragnar, had to be suspended in a cage while "freezing rain" was falling in the winter.
"It was shot in the deepest winter, in the harshest conditions, with Travis absolutely suspended in this cage, above a muddy field, in torrential freezing rain," Hirst revealed.
Ragnar's sons get revenge for him after his death
After Ragnar is killed, his sons bring the Great Heathen Army over to England and nothing is ever the same after that. They get revenge for their father and have both Ecbert and Aelle killed. The sons of Ragnar have their revenge, but it still doesn't bring back Ragnar Lothbrok. The series now follows the lives of Ragnar's sons who are also making themselves into legends.
After the death of Ragnar Lothbrok, his sons try to pick up the pieces in the series Vikings.