'Vikings': Peter Franzén (King Harald) Shares Must-See Behind-the-Scenes Images From Season 6B
The hit series Vikings has come to a close now that the final episodes dropped on Amazon Prime Video on December 30. Fans can also watch the series on History when it premieres on June 5, 2021, at 8 p.m. EST.
Peter Franzén, who plays King Harald Finehair, recently shared some must-see behind-the-scenes images from season 6B. We have all the details.
Who is King Harald Finehair in 'Vikings'?
King Harald is first seen in season 4 of Vikings when King Ragnar Lothbrok (Travis Fimmel) is still alive. Harald has ulterior motives since he wants to be the King of Norway, and he has a rivalry with Ragnar. He finally gets his wish when he manages to manipulate the election for the kingship of Norway in favor of himself. He takes the position, getting what he's always wanted and outdoing Ragnar's son who has become his rival, Bjorn Ironside (Alexander Ludwig), even trying to kill him.
But they put their differences aside to fight against a common enemy, the Rus Vikings. Harald is injured during the fighting, and in season 6B, he's been captured by them, but he manages to escape. He returns to Kattegat after the final battle between the Vikings and the Rus Vikings has been fought, and Bjorn has already died after coming up with a plan to save his country.
Harald plans to marry both of Bjorn's widows, Gunnhild (Ragga Ragnars) and Ingrid (Lucy Martin). He sexually assaulted Ingrid before the first battle with the Rus, and she's now pregnant. She actually agrees to marry him, but Gunnhild dies by suicide believing she'll go to Valhalla to be with Bjorn.
When Ivar (Alex Høgh Andersen) and Hvitserk (Marco Ilsø) return to Kattegat, Harald actually lets them stay. But Ivar wants to go back to Wessex, and Harald goes as well. He's killed in the first major battle between the Vikings and the Saxons by a lone soldier. However, he kills the man as well, and while he dies, he sees his brother, Halfdan (Jasper Pääkkönen) again. Harald dies in Wessex after becoming King of Norway.
Peter Franzén shares must-see behind-the-scenes images from season 6B of 'Vikings'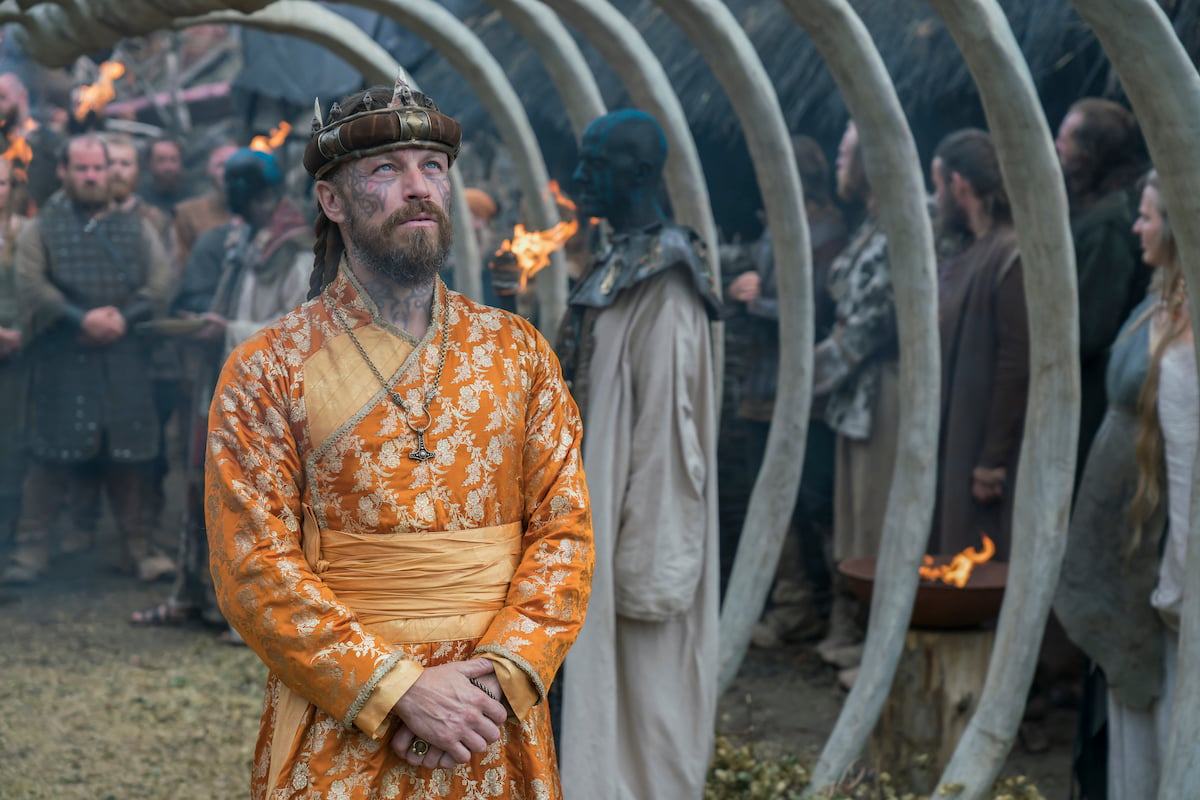 RELATED: 'Vikings': Fans Weigh in When It Comes to the Ancestor Ragnar Lothbrok Claimed
Peter Franzén is the actor who plays King Harald, and he recently shared some behind-the-scenes photos of Harald's wedding from season 6B on Instagram. In the first image, a woman is making a touchup on the priests fans will recall were there at Harald's wedding to Ingrid. There is another person doing more of the same in the background as three priests with black and white face paint can be seen. Flags flap in the breeze, and the priests wear memorable looks with collars.
In the second image, Harald is seen wearing a crown with some hair to his sides in small braids. He has what looks like blood spatter on his face, and some of his iconic face tattoos can also be seen. The actors playing the priests stand near him looking at the camera. There are other people in the background as well. 
Franzén tagged the woman making the touchup, calling her "skillful and patient," and adding she's, "dolling up Harald's priests for a 'special' occasion on a lovely day by a lake. 🏖."
It's always nice to see behind-the-scenes moments like this from the hit series Vikings.