'Vikings': Peter Franzén Shared a Behind-the-Scenes Image of King Harald, Fans React
The hit series Vikings premiered its final season on Amazon Prime Video on December 30, 2020. Fans also had the opportunity to see the episodes on History channel starting on June 5, 2021.
Peter Franzén, who plays King Harald Finehair, recently shared a must-see behind-the-scenes image from season 5A, and fans reacted to it.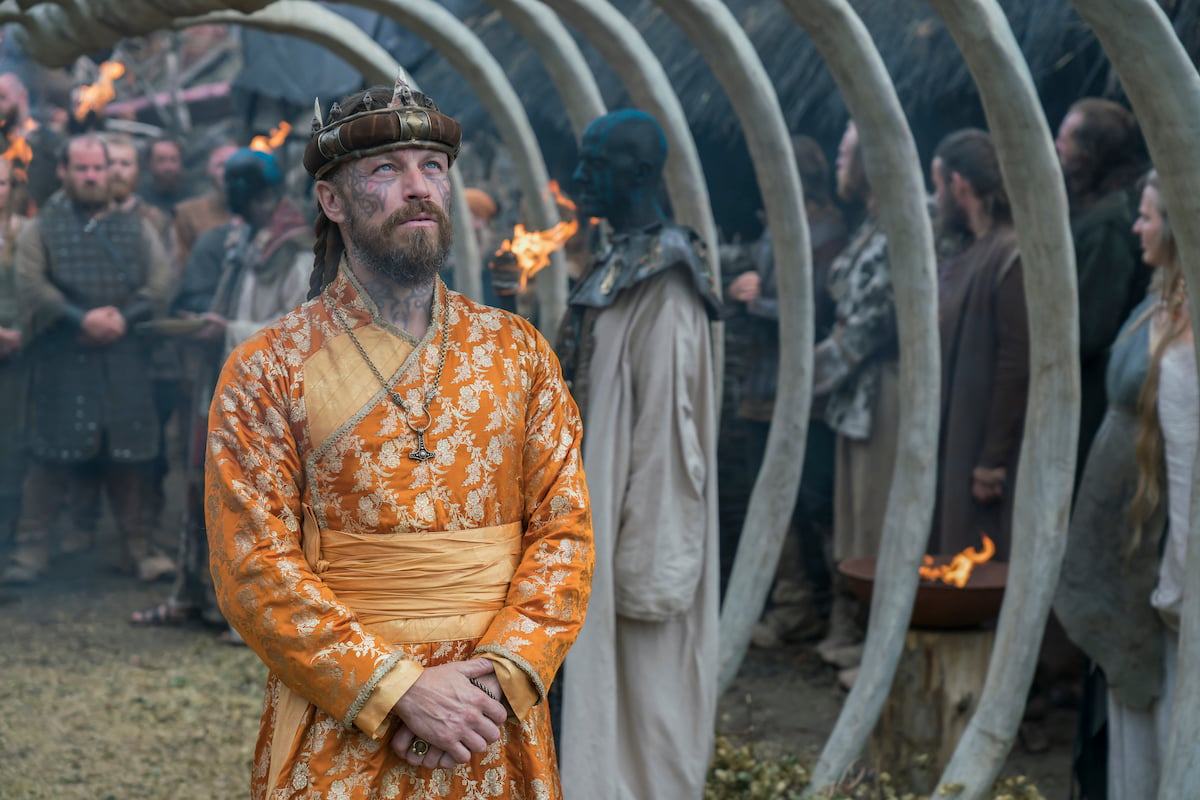 King Harald and Astrid in 'Vikings'
King Harald has been in the series since season 4 to season 6B when he finally meets his end. He's done some pretty heinous stuff in his time, including abducting Astrid (Josefin Asplund), Queen Lagertha's (Katheryn Winnick) partner. He convinces her to marry him in a shocking turn of events, although she really has no choice given the circumstances. 
Astrid gets word to Lagertha about Harald's plans to attack Kattegat, which he does with Ivar (Alex Høgh Andersen). She is sexually assaulted, and eventually tells Harald that she's pregnant, although it isn't clear who the father is. During battle, Astrid sees Lagertha, and she asks her to kill her, which she does after Astrid comes at Lagertha. Harald, Ivar, and the soldiers of Francia that have come to their aid take Kattegat, and Ivar is made the king, at least for a time.
Peter Franzén shared a behind-the-scenes image of King Harald
RELATED: 'Vikings': Bjorn's Goodbye to His Mother Is Heart-Wrenching
On July 18, 2021, Franzén shared an image on Instagram of himself dressed for the wedding between Harald and Astrid in season 5A. He wears a yellow and orange ensemble with a yellow sash wrapped around his waist with his crown on his head. He also has on a necklace with his facial tattoos on his face and neck on full display. He carries a cheetah print umbrella in one hand as he looks at the camera. Behind him are other people in the background as well.
Franzén captioned the post: "My 'every Tuesday's shoutout to the amazing #historyvikings #art & #people' hasn't been on a Tuesday in months, but it's been every week, though." He gives a shoutout to the costume designer as well. "The photo by Astrid (the umbrella was probably one of @asplundjosefin 's sick jokes❤️ :)," he concludes the post.
Clive Standen, who plays Rollo, wrote, "This picture is everything🔥."
Josefin Asplund, who plays Astrid, joked, "Just so everyone knows, Peter asked production to make that umbrella for him." Franzén replied by tagging her and adding, "😄."
Fans react
Over 40,000 people liked the post, and over 300 people commented on it. But what are fans saying? They seem pretty positive about the post.
"Amazing King🔥❤️ amazing actor🙌🙌🙌👏👏👏," one fan said in the comments.
Other fans had comments like, "😍😍 MY KING," and "My favorite King 😍."
One fan says he's "looking great 😍."
While some fans used emojis to express themselves with, "❤️," and "❤️❤️🔥🔥😍😍."
"Beautiful wedding, beautiful umbrella," another added. "You are amazing 😂👏👏👏❤️❤️."
Another fan mentioned the umbrella he holds as well. "The umbrella 🙌," they said.
A fan calls him the "king of all kings."
One fan misses the character. "I miss King Harald," they said.
It's always great to see behind-the-scenes content from our favorite shows, especially Vikings.