'Vikings' Season 6B: There Is Finally a Premiere Date
Fans of the hit series 'Vikings' have been waiting to hear news of the final season, and we now know when it's dropping.
Fans of the hit series Vikings have been waiting to hear news of the final season, and we now know when it's dropping. There's also a new trailer, and it's explosive to say the least. Read on to learn when you can expect to see season 6B.
What happened in the mid-season finale of season 6?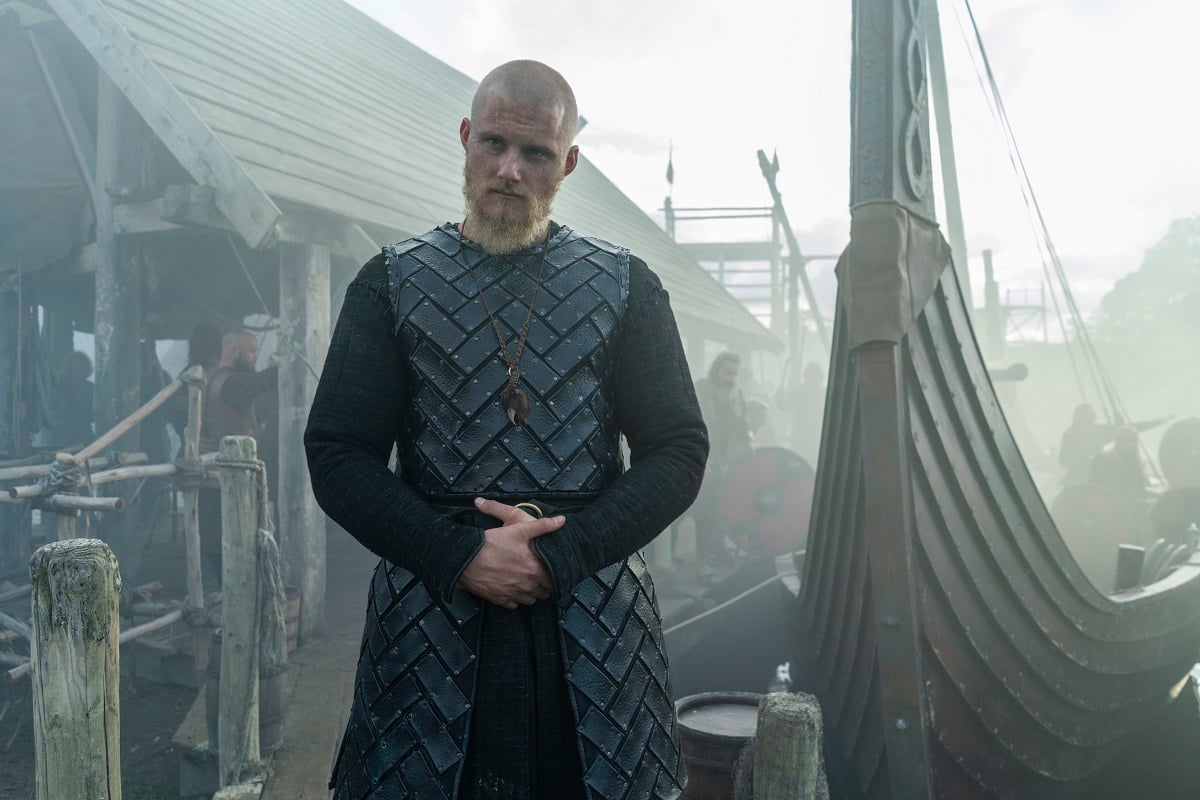 In the mid-season finale, the Rus Vikings descend on Scandinavia with Prince Oleg (Danila Kozlovsky) at the helm. Two of the sons of Ragnar – Ivar (Alex Høgh Andersen) and Hvitserk (Marco Ilsø) have allied themselves with the Rus against their brother, Bjorn Ironside (Alexander Ludwig). Fans will recall that Bjorn let Hvitserk go free even though he killed his mother, Lagertha (Katheryn Winnick). He's gone on to fight on the opposing side and consequently against his brother.
In the massive battle that follows, it appears that Ivar stabs Bjorn on the beach, even though he's supposed to be somewhere else entirely when it happens. Some fans thought it might have all been in Bjorn's head in preparation for battle, but a new clip shown at San Diego Comic-Con@Home 2020 proves that Bjorn somehow is still alive from the wound, and he rides out on his horse looking hurt.
There is finally a premiere date
News of the upcoming season broke on December 2, and fans will be seeing the new season before the year is over. Vikings season 6B will premiere on Amazon Prime Video on December 30. It will be available in the United States, Germany, Austria, and Ireland. Instead of premiering on History first, all 10 episodes will drop at once on the streaming platform. It will also head to History as well after its premiere on Amazon Prime Video.
What will the new season be about?
Fans will finally get to see how things play out for the battle of Scandinavia, and consequently Kattegat. Ubbe is set on his dream to find the Golden Land, and we'll see England again before It's all over. The story of the sons of Ragnar isn't concluded just yet.
According to the press release for the upcoming season, here's what to expect from the new episodes: "As we approach the end of our epic saga, the tumultuous conflict between the Rus and Vikings comes to a conclusion with grave consequences. While in Iceland, Ubbe is determined to fulfill his father Ragnar's dream and sail further west than any Viking has traveled before. And there is unfinished business in England. The Vikings have established settlements there, and over-run most of the country – except for Wessex. The King of Wessex, Alfred the Great, is the only Saxon ruler to seriously challenge their complete domination. Ivar the Boneless must again face, in battle, the King he only knew as a boy for a final reckoning."
There is a new trailer
There is also a brand-new trailer of season 6B, and it holds a lot of shocking details. We see Bjorn laying in bed from his wound, and it's unsure if he's going to make it at this point.
"My darling Bjorn, we lost Ragnar, we lost Lagertha," Bjorn's wife, Gunnhild (Ragga Ragnars), says. "Perhaps the golden age of the Vikings is gone."
Ubbe (Jordan Patrick Smith) is set on finding the Golden Land, and he encounters an enormous monster, Jormungandr the sea serpent, while sailing. He tells his wife, Torvi (Georgia Hirst) that he'd "rather die than return with failure."
Hvitserk does some soul-searching about his choices. Ivar will make it back to England and face King Alfred (Ferdia Walsh-Peelo), who we get to see in the trailer. Hvitserk is still with him, and the trailer shows the two fighting side by side.
At the end, someone leads his horse toward Oleg's army as Ivar says, "It's impossible." Fans already know the rider is Bjorn, but it's unclear what happens next.
It looks like there is a lot of action to come in the final episodes of Vikings. Luckily, there isn't much longer to wait to see how things end.