'Vikings' Season 6B: Why a Recent Photo of a 'Vikings' Actor Has Fans Talking About the New Season
Fans of Vikings are looking for any information they can get on the rest of season 6. Season 6B still doesn't have a release date, but fans are hopeful they will see the show again very soon. Luckily an actor from the series recently posted an image that has fans talking about the upcoming season.
Season 6 of 'Vikings' is about the sons of Ragnar Lothbrok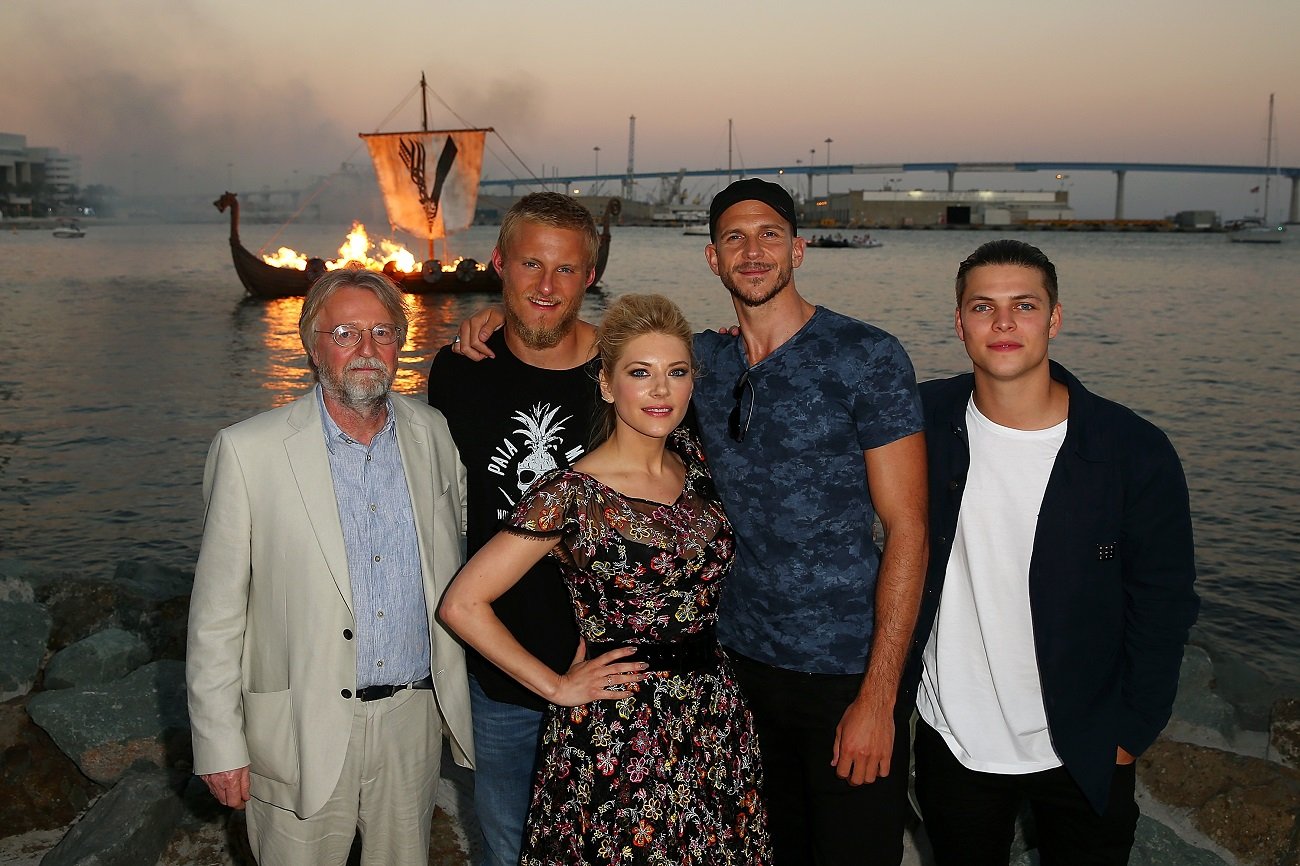 Ragnar Lothbrok (Travis Fimmel) lives on in his sons. In season 6, they are all trying to find their place in the Viking Age. Ivar (Alex Høgh Andersen) has allied himself with the Rus Vikings as they come to take Scandinavia and Kattegat with it. Hvitserk (Marco Ilsø) finds Ivar and fights alongside him against his older brother Bjorn Ironside (Alexander Ludwig). Ubbe (Jordan Patrick Smith) has long since sailed away to find the Golden Land.
Why a recent photo of a 'Vikings' actor has fans talking about the new season
Marco Ilsø, who plays Hvitserk, recently posted a new image of his character and people can't stop talking about it. It's an image of Hvitserk sitting on the side of a ship as he looks off in contemplation. He's dressed to impress, though it's unclear if this image is from season 6B or not. Fans are hoping so considering the caption.
"Hvitserk looking forward to next season 📸@alexhoeghandersen," the post is captioned. Alex Høgh Andersen, who plays Ivar, took the photo and he even commented on it. "Let me have your children," Anderson wrote.
The caption has many fans thinking this could be a new image of the upcoming season, though it isn't confirmed if that's the case or not. Numerous fans commented with their thoughts on the image and the hope for season 6B.
Fans react to the image and what it could mean
RELATED: 'Vikings' Season 6: Fans Predict What's Next for Hvitserk
In season 6A, Hvitserk drowns his sorrows in alcohol as he fights his inner demons. It's sad to watch him go through it, but it leads him to Ivar in the end and to actually kill Lagertha (Katheryn Winnick). It was always the destiny of a son of Ragnar to do the deed, and Hvitserk was under the influence at the time.
Fans are hoping this image could mean better things ahead for Hvitserk. "Can't wait to see how Hvitserk's journey is going to continue. 🔥❤️ I really hope he'll get a happy ending," a fan wrote about the future of the series.
Fans are looking forward to the final episodes of the series. Hopefully things will be concluded in the best way possible. "Looking forward to next season too! Vikings is one of my favorite shows," a fan said.
Hvitserk seems to be cleaned up and looking ready for anything. Another fan on Instagram says they miss Hvitserk. "We miss him!!! he's looking mighty dapper 👏🏻," a fan admitted.
One fan is encouraged that this means Hvitserk has turned over a new leaf. They hope he gets the help he needs with alcohol and it will lead to a better path in the long run. "Hope he gets the help he needs and looking good there," a fan said about Hvitserk.
Fans can't stop talking about season 6B of Vikings. It's not clear if this image is of the new season, but fans are hopeful for the future and what it will bring for Hvitserk.