Villanelle's Relationship With Music Has Changed Throughout 'Killing Eve'; What Does It Mean?
Villanelle is a distinct character with a lot of interesting preferences. And her music taste has changed on 'Killing Eve'; Here's what that might mean.
Villanelle is one of the most entertaining characters in Killing Eve, and maybe even on television, in general, right now. She's also someone on the show who's had a ton of development. She started off by fitting into the "psychopathic assassin" mold very easily; she was devoid of emotion and didn't seem to really hone in on regular human empathy or relationships. 
But as the series progressed, she's broken out of that mold and developed notable feelings and genuine care for someone (it seems). Interestingly enough, her taste and habits in regards to music is a great indicator of that shift too. [Spoiler alert: Spoilers ahead for Killing Eve].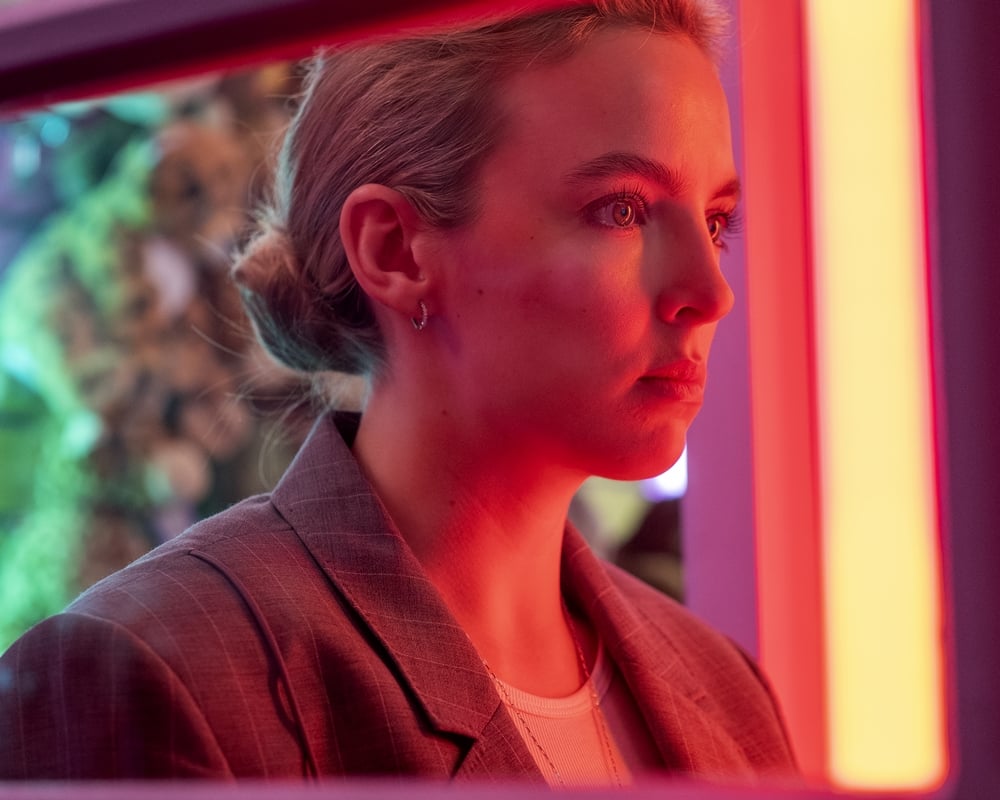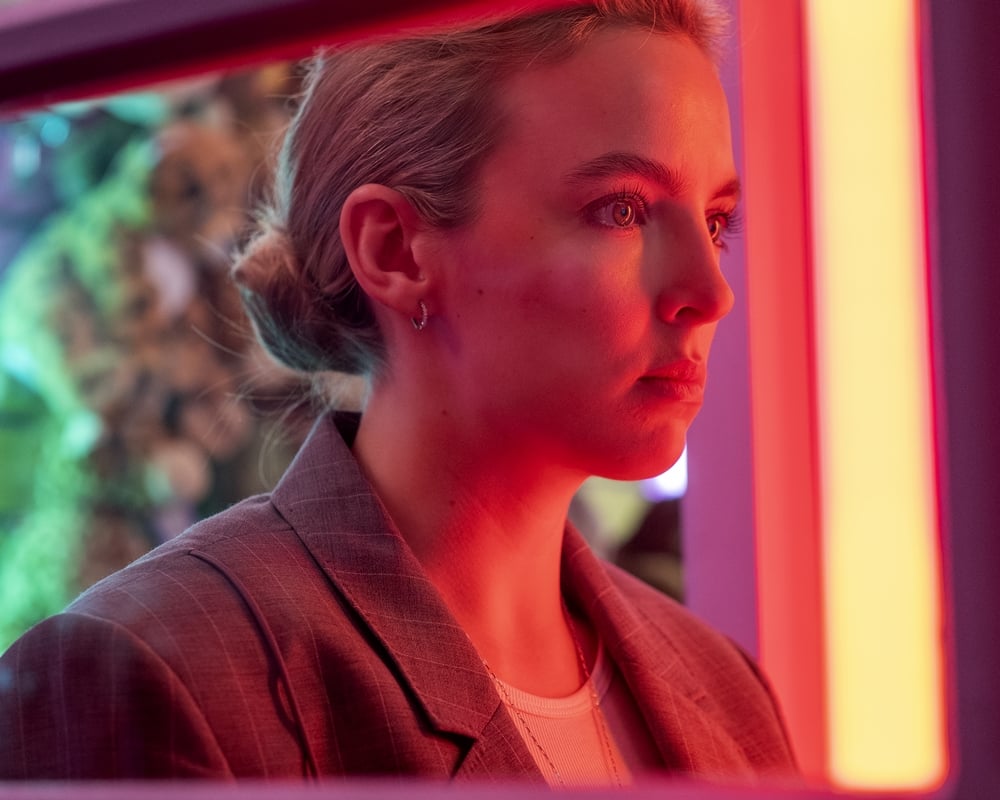 Villanelle's music taste was very specific and minimal in Season 1
Villanelle's apathy and lack of remorse is something that is very prevalent in Seasons 1 and 2. And when audiences first meet her, she's trying to learn how to smile properly while also, later, thinking nothing of shoving a poison needle into a guy's eye. Villanelle's killing in Season 1 brings her joy and she really loves to dramatize it all. 
Her music choices in the first season are also very specific: she likes and prefers, classical music. At one point in that season, Villanelle comes back to her apartment in Paris and switches the radio from a pop song to the classic piece,  Gnossienne No.3 by Erik Satie, according to Reddit.
Another notable mention of music in the first few episodes is when Villanelle meets a local named Sebastian. He takes a great interest in her, of course, and she entertains it. It seems like she wants a little human connection, even though it doesn't seem like she's immensely physically into him. 
Regardless, in one of their conversations, she tells him that she likes national anthems. It's a bit of a weird preference, but he shows he's attentive and gifts her a flash drive with a playlist of anthems. Even though he dies fairly soon after she meets him, she's seen listening to the playlist at the end of one of the episodes, signifying that she wasn't lying about liking these types of songs. She actually enjoys them. 
In Season 2, Villanelle is voluntarily listening to very different music
And with a season change, Villanelle's taste in music changes too. Despite skipping a pop song on the radio in Season 1, one of the first hints that she listens to something other than classical music was a Soundgarden poster in her apartment, according to one Reddit user. They're a grunge, alternative rock band; their most famous song is "Black Hole Sun," which is pretty angsty and sad.
Even more intriguing is that Villanelle dives into new genres this season, and they're mostly 1980s hits. 
Before Villanelle meets up with Eve again in Season 2, she's in the car with Konstantin after her stint in the hospital and getting a new handler, Raymond. "Listen To Your Heart" by Roxette comes on the radio and Villanelle sings along. With her gazing out the window of the car, it definitely takes on a daydreamy quality, like she's singing the song and thinking of Eve (which is most definitely the case). Konstantin notices this and turns it off, which annoys Villanelle. The scene ends with the assassin peeved even more because Konstantin teases her about Eve's new interest in the Ghost assassin.
Moving on, near the end of the season, when Villanelle is disguised as Billie in Italy as a guest of Aaron Peel, she sings "One Way or Another" by Blondie. It's right after Eve gives her another earpiece so Eve and Hugo can listen in. That's why Eve excitedly says, "I knew she wouldn't let me down." The song choice is definitely aimed at Eve, but probably not in a menacing way. 
The last time Villanelle listened to music, it had a significant meaning
Bringing us to Season 3, and the most significant music moment for Villanelle happens. First off, she's actively listening to songs and even has headphones this season. A notable moment is in Episode 4, when Villanelle is baking a cake in honor of Eve's birthday. She's jamming out to "Heidi" by Fireflies in her apartment. While it's not from the '70s or '80s like her previous musical jaunts, it definitely sounds like it's in that vein of music. She's seen in the headphones in Episode 5, again, when she visits Russia and her family, but the actual song she's listening to isn't heard. 
The most pivotal music scenes for Villanelle also happen when she's in Russia. The first is when her family breaks out in "Crocodile Rock" by Elton John, who plays a major role in her half-brother's life. She hesitantly takes part in her family's silliness but seems to be really intrigued by it all. 
And the last is after she's killed her mother and most of the family (minus Pyotr and Bor'ka). Villanelle is having a very emotional moment on the train home. She's tapping along to a song we can't hear and she's trying to get lost in it. However, through her tears and the increasing ferocity of her head bops, the song isn't working. She can't escape whatever she's thinking of, and it's a pretty haunting scene. 
The more Villanelle veers from her apathetic persona, the more music has an effect on her life
In an interview with W Magazine in May, Comer revealed the song that Villanelle was listening to on the train was "Crocodile Rock." She explained that there was also a debate on whether they'd play the song over the scene, which they ultimately decided against. Regardless, she was blasting that song, and Comer said Shannon Murphy, the director, "just kind of let me roll with it."
All of this is to say that Villanelle's relationship with music has evolved along with her character. As audiences have seen Villanelle branch out of her emotionless assassin persona, the more she actively wants to listen to music. Music that she can sing to and dance along with, not just classical. 
By Season 3, Eve has had an effect on Villanelle's compassion and remorse. But it's when she kills her mother that she fully wants to leave her assassin days behind. She wants to quit working for The Twelve and she finally shows remorse for killing, like with Rhian in London. Seeing Villanelle so affected by that song on the train is a perfect metaphor for how music now impacts her life. Fans will probably see more music directly in Villanelle's life in Season 4.