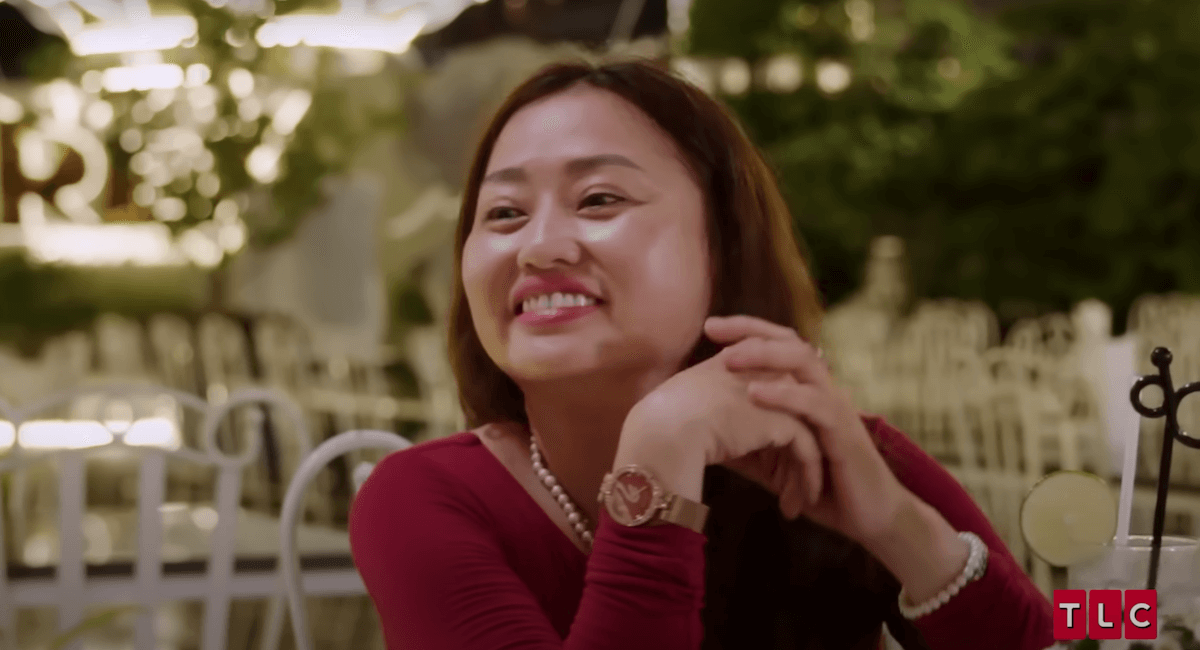 Violet From '90 Day Fiancé' Addresses Pregnancy Speculation During 'B90' Tell-All
Violet's bombshell pregnancy announcement on 'Before the 90 Days' left Riley reeling -- and wondering if he really was the father of her baby.
Was Violet really pregnant with her boyfriend Riley's baby? The 43-year-old from Vietnam, who appears on 90 Day Fiancé: Before the 90 Days Season 6, stunned her ex when she revealed she was expecting. He was so shocked that he doubted the pregnancy was real. But, as Violent explained during the Before the 90 Days tell-all, she was not spinning a story about expecting a baby with Riley. 
Violet drops a bombshell on Riley on '90 Day Fiancé: Before the 90 Days'
Violet and Riley's volatile relationship was featured in the latest season of the 90 Day spinoff Before the 90 Days. The two connected online, but Riley, 48, had issues trusting Violet. He even hired a PI to investigate his girlfriend's past and find out whether she was really divorced. 
When Riley and Violet finally met in person for the first time, things were awkward and tense. After his visit to Vietnam, it seemed their relationship was over. Then, Violet suddenly wanted to reconnect, much to Riley's surprise. Soon, he found out why. She was pregnant, and he was the father of the baby. But Riley wasn't convinced Violet was telling the truth.
Riley doubted he was the father of Violent's baby
​​"The reason why I have doubts right now is because Violet has lied to me in the past," Riley said. 
According to Riley, he was taking a medication that made it virtually impossible for him to get a woman pregnant. Naturally, he was skeptical that Violet's baby was his – or that she was pregnant at all. 
"So, I'm kind of like, how? But miracles do happen and life finds a way," he said. "So I don't know if she's actually pregnant. Or maybe she is and it's not mine. … But I don't want to be wrong and be a piece of crap." 
"This whole baby thing is not adding up," he said. 
During the '90 Day' tell-all, Violet reveals she had a miscarriage
So, was Violet really pregnant with Riley's baby? Or was she just trying to trick him into marriage (as his friend Tiffanie suspected) or con him into supporting another man's child? During her virtual appearance on the tell-all episode, which aired Oct. 1, she said she wasn't lying about the baby. She really was pregnant, but sadly experienced a miscarriage. 
"Because I am old and my health is not good, I could not keep the pregnancy," a tearful and emotional Violent said. "I really love my children, so that was a painful experience for me." 
Nonetheless, Riley still seemed somewhat skeptical of Violet's story. However, he did reveal that he and Violet planned to meet up in the near future, since she was planning a visit to the U.S. on a tourist visa. She said she hopes they could be friends going forward, while he seemed open to the idea of a romantic reconciliation. 
Follow Riley and Violet's story on 90 Day Fiancé: Before the 90 Days Season 6, now streaming on Max.
For more on the entertainment world and exclusive interviews, subscribe to Showbiz Cheat Sheet's YouTube channel.