'Virgin River': Charmaine Might Be Absent From Season 4
Netflix's Virgin River focuses on Mel Monroe (Alexandra Breckenridge), a midwife/nurse who leaves her life in Los Angeles for a fresh start in Virgin River. She finds herself falling for Jack Sheridan (Martin Henderson), a former Marine and the town's bar owner.
However, Jack has a past of his own. He's expecting twins with his ex-girlfriend, Charmaine (Lauren Hammersley). Charmaine's pregnancy has been a huge plot point on Virgin River, but fans are concerned the character might be absent from season 4.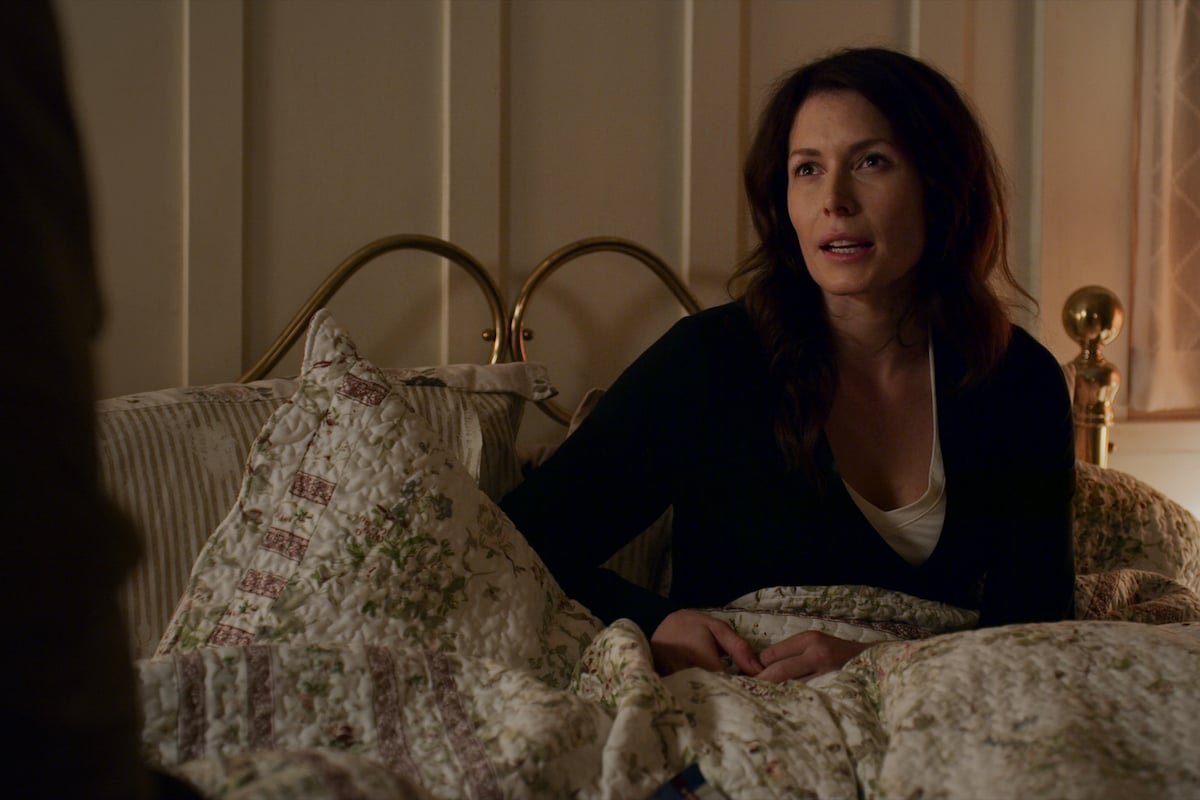 RELATED: 'Virgin River': Did Charmaine Go Through IVF to Get Pregnant?
Charmaine is one of the most controversial characters in 'Virgin River'
When we first were introduced to Charmaine she was nice enough but territorial even though she was in a very casual relationship with Jack. Unfortunately, she had developed deep feelings for him, ones that he did not return. When Mel showed up in town, Charmaine immediately sense Jack's interest and things went downhill from there. Complicating things even further was her revelation that she was pregnant with Jack's twins.
In season 3, fans thought Charmaine found her happily ever after with her new hot shot attorney husband Todd (Patrick Sabongui). Though the pair got married quickly, there was hope that things would work out for her and that Mel and Jack could focus on themselves.
However, Todd's manipulative ways soon revealed themselves. Now that Charmaine has been absent from the season 4 promo, fans are concerned.
Fans think Charmaine could be absent from 'Virgin River' Season 4
Following the announcement about the season 4 premiere date, Netflix released several photos from the upcoming season. Fans noticed that there were none of Charmaine or Todd.
"No Charmaine and more importantly no Todd!" one fan said via Celebrity Cover News. Another added, I think Charmaine is in season four (hopefully less screen time) but not sure about Todd. Not that I will miss him."
Other fans added that seeing Charmaine before the season debuted could have meant spoiling a plotline. Interestingly enough while the Virgin River cast was filming in Vancouver, Hammersly was on social media posting from her home in Nova Scotia.
We just hope that nothing bad has happened to the character at the hands of her creepy new husband.
Charmaine is going to have an explosive moment in season 4
Though she has not been seen in any of the promotions for the forthcoming season, Virgin River showrunner Sue Tenney has already promised a major Charmaine moment this season.
"Charmaine is such a wonderfully complex and relatable character," Virgin River showrunner Sue Tenney told Entertainment Weekly. "Everyone has loved somebody that didn't love them back. She's always going to be in love with [Jack], but she's doing her damnedest to move forward. And then, she got a husband. We have a pretty big bombshell for her coming in the following season, if we have a season 4, that's going to blow everybody away."
However, since her role in the show was so limited in season 3 and she hasn't been seen yet in season 4, this could be a way that Tenney and the writers are phasing the character out. If this is true, it could mean that either something terrible happens to the hairstylist, or the twin babies she's carrying aren't actually Jack's.
RELATED: 'Virgin River': Jack Might Not Be the Father of Charmaine's Babies