'Virgin River': Does Season 3 Have a Major Time Jump?
Season 3 of 'Virgin River' is set to premiere soon, but fans of the series believe that there is going to be a massive time jump that fans won't expect.
Robyn Carr's Virgin River books have been adapted into a Netflix series, and fans simply can't get enough of the picturesque drama. Set in the small town of Virgin River, California, the series follows Mel Monroe (Alexandra Breckenridge), a nurse who flees her hometown of LA after some heartbreaking trauma to settle into Virgin River.
Though Mel is thrilled to be turning over a new leaf, she does not expect the antics that come with living in such a small town, nor does she anticipate falling in love again. From the moment she rolls into town, Mel connects with Jack (Martin Henderson), a former Marine who owns the town's only bar.
When the pair first meet, Jack is in a relationship with a woman named Charmaine (Lauren Hammersley), and Mel isn't looking for anything romantic, but that quickly changes. In Season 2, the pair dealt with their burgeoning relationship and the revelation of Charmaine's pregnancy. It also ended with a shocking cliffhanger of Jack being found shot on the floor of his bar. So now that the third season has been announced, will there be a time jump?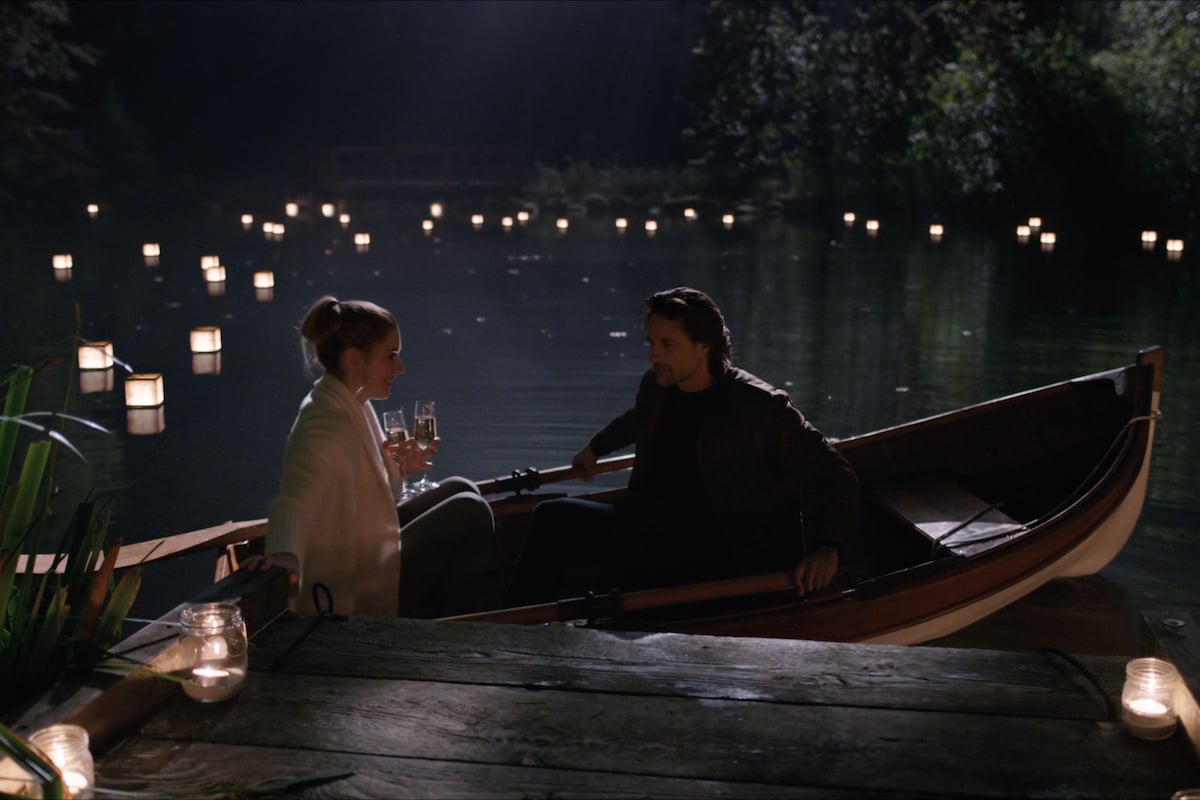 What is the release date for 'Virgin River' Season 3?
Netflix has announced the release date for the upcoming season for July 9. The description for the new season reads, "In Virgin River season three, we've got even more drama in store for our beloved characters. Highlights include a funeral, a fire, a divorce, a hurricane, and a new romance, in a twist-packed season that'll keep fans on the edge of their seats."
From what we've seen of the trailer, it looks like somebody has tried to burn Jack's house down, and he and Mel are at odds about starting a family of their own. Deadline is reporting that Grey's Anatomy's Zibby Allen will play Jack's sister Brie. Also, Stacey Farber has a recurring role as Tara, Lilly's (Linda Boyd) oldest daughter.
Thankfully, we won't have much longer to wait since Netflix will release all episodes at once.
Does 'Virgin River' Season 3 have a major time jump?
The last time fans saw Jack, he was bleeding out from his gunshot wound. Thankfully, he has seemingly recovered from that injury. However, it appears there has been a major time jump between the second and third seasons of Virgin River.
There was only a three-week time jump in the first two seasons, but there appears to be a much bigger one for this upcoming season.
"When Mel came back in season 2, it was what 2-3 weeks," one Redditor theorized via Express. "It's the exact same time. And the writers said it would be a larger jump. "I think the trailer only showed us the first 5 episodes, and we will see another jump halfway through. Just my guess. What does everyone else think?"
Virgin River showrunner Sue Tenney told TVLine there would be "a larger time jump than we had between season one and two."
Is Charmaine really pregnant with Jack's baby on 'Virgin River'?
It doesn't appear that Charmaine has a baby bump in the trailer, which means she's still early on in her pregnancy. However, some fans aren't convinced she's pregnant with Jack's babies at all. Instead, some fans believe Charmaine is pregnant by someone we might least expect, like Jack's former friend Brady (Benjamin Hollingsworth).
Meanwhile, there is another theory that Charmaine used IVF to "trap" Jack. We'll just have to wait and see how it all pans out.