'Virgin River': Fans Are Convinced Charmaine Is in Danger Because of Her New Husband Todd
Netflix's Virgin River is full of compelling characters. However, some are easier to like than others. Jack Sheridan's (Martin Henderson) former girlfriend, Charmaine Roberts (Lauren Hammersley) is on a list of people that fans go back and forth about. A hairstylist from the town of Clear Water, Charmaine seems nice enough until her relationship with Jack crashes and burns.
From then on, she appears to be out for revenge. Things are further complicated when after their breakup, Charmaine discovers that she's pregnant with Jack's twins. Things appear to take a turn for Charmaine in Virgin River Season 3 when she got engaged to a random new guy named Todd (Patrick Sabongui). However, fans think Todd is bad news.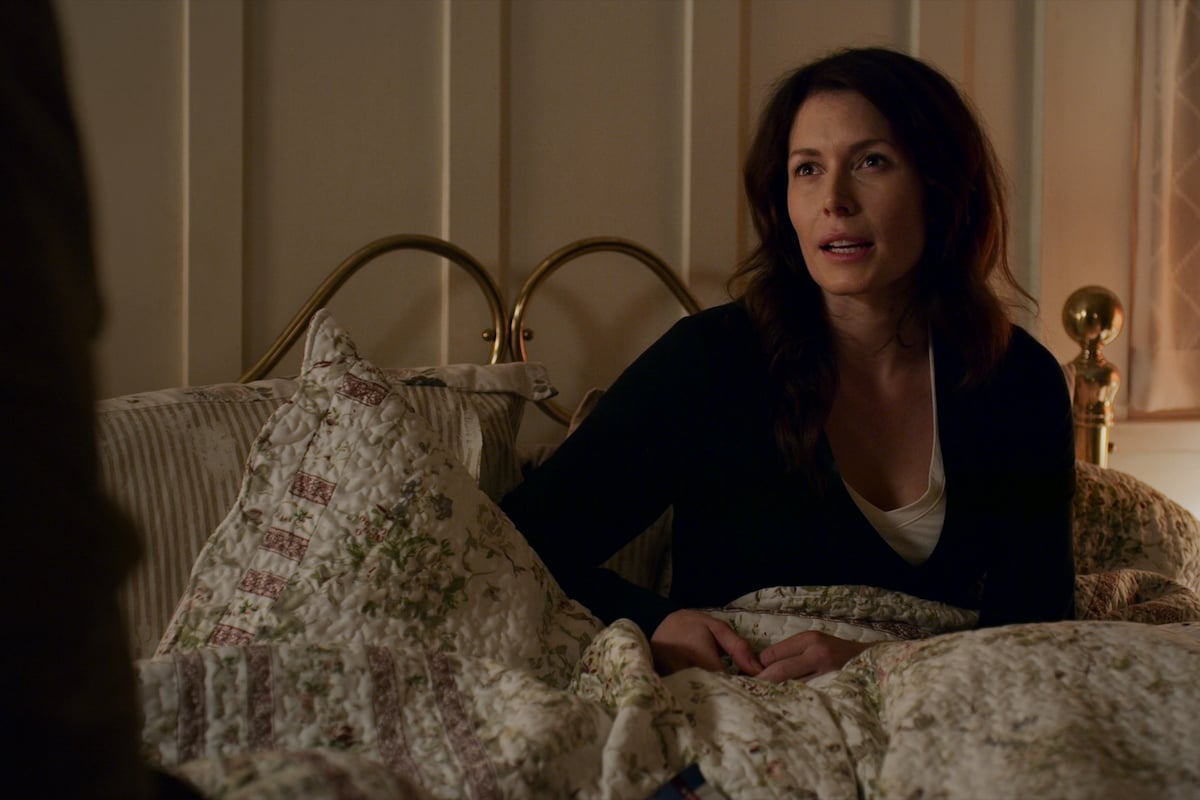 RELATED: 'Virgin River' Trailer: Mel's Ready to Start a Family, But Jack's Not So Sure
Who is Charmaine on 'Virgin River'?
When we first meet Charmaine in the first season of Virgin River, she and Jack have been casually dating for two years. However, Charmaine has clearly fallen for the stoic bar owner. When his friendship with Mel blossoms, Charmaine becomes increasingly jealous. Things take a turn for the worse when Jack breaks things off with her and discovers she's pregnant with twins.
It's horrible to watch anyone go through heartbreak, but Charmaine also doesn't have the greatest personality and just when she gets fans to sympathize with her she does something new to grate on our nerves. However, Virgin River Season 3 proved to be a turning point for the hairstylist. She shows up with a new man, Todd on her arm and it appears that she has her happily ever after.
However, Todd's shocking behavior in the third season of the show may suggest that Charmaine and her twins are in grave danger.
RELATED: 'Virgin River': Fans Are Convinced Paige Is Already Dead
Fans are convinced Charmaine is in danger because of her new husband Todd on 'Virgin River'
When we first meet Todd, he seems pompous and arrogant, but mostly harmless. However, things change quickly when it comes clear that he's starting to control every aspect of Charmine's life including convincing her to shut Jack out of his unborn twins' lives. Now Virgin River fans are fearing the worst.
"Does anyone else get the vibe that this new lawyer husband is going to end up being super abusive?" one Redditor ponder via Express. "This new guy is really controlling and manipulative already. He seems to be trying to isolate her as well by deciding they're moving to a town two hours away without consulting her. She seems conflicted at times, and it's the only time I truly feel bad for her. I think it's going to come out that after the babies arrive that he starts hitting her. Anyone else get that feeling?" 
Another added, "The guy is a classic abuser and they're in the love-bombing phase right now – things are moving too fast, he's lavishing money on her and she's feeling like she owes it to him to go along with what he wants. The next phases are going to get uglier."
RELATED: 'Virgin River': Fans Might Not Find out Who Shot Jack for a Long Time
Is Jack the father of Charmaine's babies on 'Virgin River'?
Things aren't looking too good for Charmaine, especially since she has seemingly disregarded her own feelings about moving away from Clear River and even given up her dog for Todd. Fans are also increasingly convinced that Jack is not the father of Charmaine's babies.
There is a rumor circling amongst Virgin River fans that suggests that Charmaine went through IVF in an attempt to get Jack to remain with her when he started showing interest in Mel. "Looking at Charmaine's age and her saying this is her last chance at motherhood, it seems like she would have been going through in vitro without telling Jack and once she got confirmation of her pregnancy is when she timed her encounter with Jack to play into the timeline," a Redditor theorized via Express.
Other fans have guessed that Jack's former friend, Dan Brady (Ben Hollingsworth) is the father of Charmaine's twins. "I don't think the babies are Jack's," a Redditor explained via Express. "Almost everything time there is a scene with Charmaine discussing her pregnancy, the immediate following scene is of Brady."
Both are very intriguing theories.