'Virgin River' Fans Are Fearful About Preacher's Death in Season 4 After a Cryptic Clue
Virgin River just wrapped filming for season 4, and already fans are terrified about the fate of some of our favorite characters. The Netflix drama series chronicles the romance between Mel Monroe (Alexandra Breckenridge) and Jack Sheridan (Martin Henderson). However, they aren't the only beloved characters in the series.  John "Preacher" Middleton (Colin Lawrence), Jack's best friend is also a fan favorite.
In fact, a recent cryptic Instagram post, has fans fearing for Preacher's life in Virgin River Season 4.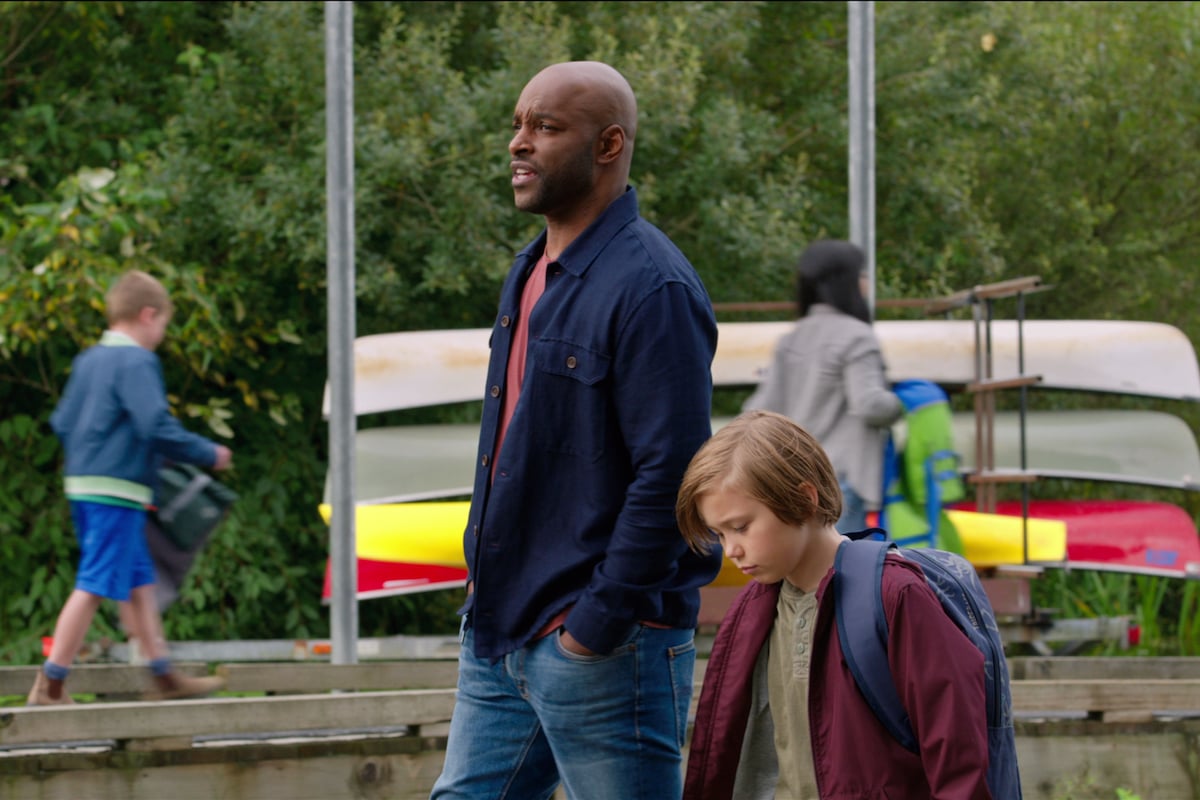 RELATED: 'Virgin River': Fans Might Not Find out Who Shot Jack for a Long Time
What happened to Preacher in 'Virgin River' Season 3?
Preacher has been a staple on Virgin River since season 1. A Marine buddy of Jack's, he's the chef and co-owner of Jack's Bar. In season 1, he found himself interested in Paige Lassiter (Lexa Doig), the owner of the town's bakery truck. As the pair grew closer, Paige eventually revealed to Preacher that she and her young son Christopher (Chase Petriw) were on the run from her abusive ex-husband, Wes (Steve Bacic).
In Virgin River Season 2, Wes tracked Paige down and she accidentally killed him during a violent fight. Paige called Preacher to help her hide the body. Fearing for her life, Paige eventually fled town, leaving Christopher in Wes' care. Now, Wes' twin brother Vince (Bacic) is on the hunt for Paige. He used a former friend of hers to drug Preacher and leave him stranded in the woods, which left Christopher vulnerable and without protection.
The last time fans saw Preacher, he was lying unconscious in the woods, now fans are fearing the worst.
RELATED: 'Virgin River': Did Brady Shoot Jack?
A cryptic clue has fans concerned about Preacher's death in season 4
Last season, Virgin River killed off fan-favorite Lilly (Lynda Boyd), so fans are increasingly concerned about Preacher's wellbeing. The Virgin River official Instagram shared a photo of Lawrence standing high upon a rocky cliff from the set of season 4. The actor wore a coat and had his script in his hand. The caption read, "Preacher rocks, doesn't he?#virginrivernetflix #virginriverseries #virginriverseriesnetflix #netflix #vitginriver."
Though the post seemed innocent enough it immediately alarmed fans. "Hang around for season 5!," one Instagram user said. Another added, "Stay Preach! You gotta be Jacks's best man, right?"
Unfortunately, from what we know so far things aren't looking too good.
RELATED: 'Virgin River': Martin Henderson Revealed That He Knows Who Shot Jack
Did Preacher shoot Jack on 'Virgin River'?
Since Lawrence just announced he has completed filming for Virgin River Season 4, we highly doubt the character is dead, even if he is gravely injured. However, there is also a rumor that Preacher was somehow involved with Jack's shooting.
As fans recall, Jack was shot in his bar at the end of season 2. Though his former friend and fellow Marine, Dan Brady (Ben Hollingsworth) has been arrested for the crime, no one is convinced that Brady is the true culprit. In fact, there is a theory swirling that Jack's best friend and business partner could have pulled the trigger.
One Redditor via Looper is convinced that Preacher shot Jack as a result of "sleepwalking with PTSD." Another fan is convinced that Preacher and Mike went in together to set Brady up and get him out of town. Whatever went down, Virgin River showrunner Sue Tenney said all will be made clear soon.
 "The audience will be genuinely surprised at who's behind all of it," Tenney told TV Insider. It would really break our heart if Preacher accidentally pulled the trigger.