'Virgin River' Fans Are so Confused by Paige's Actions
Virgin River centers on the romance between Mel Monroe (Alexandra Breckenridge) and Jack Sheridan (Martin Henderson). But the storylines of some other characters are just as compelling.  Paige Lassiter (Lexa Doig), ran the town's bakery truck. A single mom to her son, Christopher (Chase Petriw), she seemed to be on the verge of striking up a romance with John Preacher (Colin Lawrence) the town's chef. However, Preacher soon learned that Paige was in hiding from her abusive husband, Wes (Steve Bacic).
After a violent incident in season 2, Paige went on the run leaving Christopher in the care of Preacher. However, fans have never gotten over some of her confusing choices.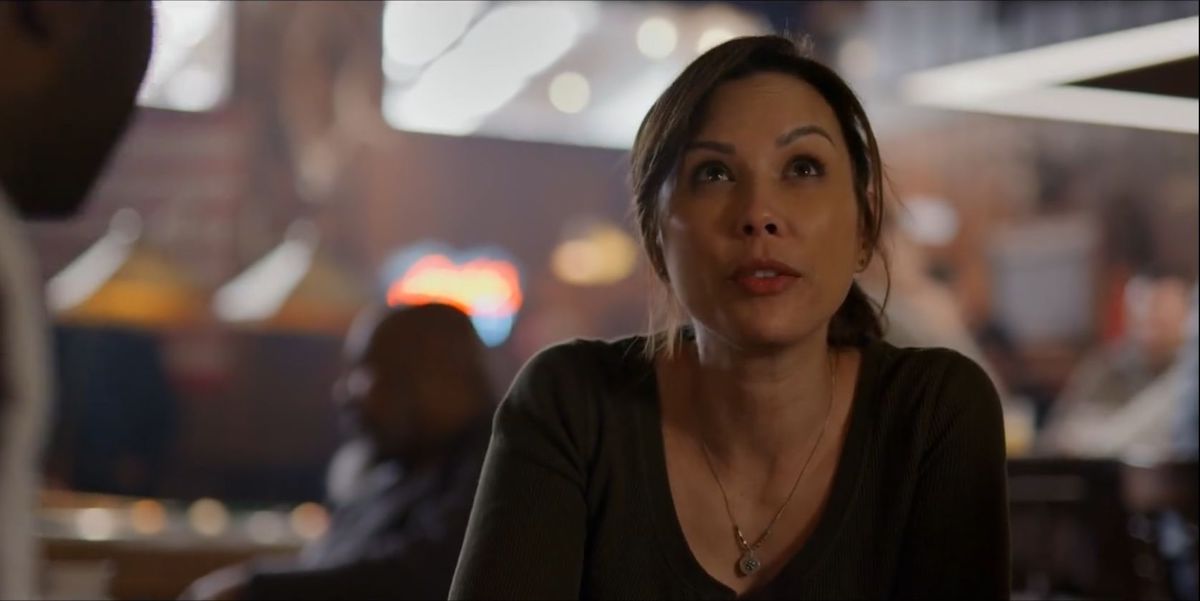 RELATED: 'Virgin River': Fans Might Not Find out Who Shot Jack for a Long Time
Why was Paige missing in 'Virgin River' Season 3?
At the end of the second season of Virgin River after finally revealing her true identity to Preacher, Paige's ex-husband Wes finally caught up to her in Virgin River. During a violent confrontation, she accidentally killed her ex and called on Preacher to help her hide the body. However, Wes' demise wasn't enough to soothe Paige's anxiety. When Wes' twin brother Vince (Bacic) came to town seeking out his brother, Paige fled leaving Christopher in Preacher's care.
Throughout the entire third season, fans watched Preacher and Christopher adjust to their new normal. However, at the end of the season, Preacher was lured into the woods by an alleged friend of Paige and drugged. Back in town, Vince was poised to kidnap Christopher who was in the care of Connie (Nicola Cavendish) the town's general store owner.
Fans don't understand why Paige dyed Christopher's hair
Fans liked and sympathized with Paige from the beginning. However, they were stunned that she chose to dye Christopher's hair as a part of his disguise while leaving her the same color. "I don't get it…Paige was coloring her son's hair to try to change his appearance, but she doesn't seem to do anything to make herself look different," one Redditor said via Express. "Her hair color and appearance look pretty much the same as her mug shot/driver's license. You'd think since she's on the run, she'd be wearing a wig and glasses."
However, another fan defended Paige's choice. "I always thought that she dyed Christopher's hair to protect him since they're not always together like to prevent her ex from spotting him at school or when she's not around to protect," they explained. "She's an adult and can be more diligent. But yes, she definitely should have at least changed her hairstyle."
Paige will return in 'Virgin River' Season 4
Though fans are confused by some of Paige's choices when it came to keeping Christopher safe, we are excited to see what will happen with her character since she is set to return in Virgin River Season 4.
"There's a big reveal when we open Season 4 that puts certain people in jeopardy. Finding Vince becomes paramount," Virgin River showrunner Sue Tenney told TV Insider. Tenney has also confirmed that Paige (Lexa Doig) will return to Virgin River after being away. However, she also revealed that Paige's storyline will most likely reach it's conclusion in the forthcoming season.
Unfortunately, Netflix has not yet announced when season 4 of the series will hit the streaming service. Virgin River was officially renewed for both the fourth and fifth seasons in late September 2021. In December 2021, Henderson and Breckenridge publically announced that filming for season 4 has come to an end but Netflix has remained quiet about a premiere date.
Since Virgin River Season 3 premiere in July 2021, we're hoping to see season 4 in the summer of 2022.
RELATED: 'Virgin River': Jack Might Not Be the Father of Charmaine's Babies