'Virgin River': Martin Henderson and Alexandra Breckenridge Have Their Own Cooking Show
Martin Henderson and Alexandra Breckenridge's 'Virgin River' characters Jack and Mel are going to be dealing with quite a bit of drama when Season 4 of the Netflix drama premieres. Thankfully, Henderson and Breckenridge are keeping it light with their own cooking show.
Netflix's Virgin River centers the love story between nurse Mel Monroe (Alexandra Breckenridge), who leaves behind her life in Los Angeles for a quieter life in Virgin River, and Jack Sheridan (Martin Henderson), a retired Marine. While Mel is trying to heal from her past, Jack is trying to juggle his life as a bar owner and the impending birth of his unborn twins with his ex-girlfriend, Charmaine (Lauren Hammersley).
Over the course of three seasons, Virgin River fans have watched the ups and downs of Mel and Jack's relationship. Though they appeared to be in a good place when Virgin River Season 3 premiered, the stress of fighting with Charmaine for custody of his children and Mel's desire to become a mother, weighed on Jack, causing him to end things with Mel.
Though they have since mended their relationship, nothing will ever be the same between them. Luckily Breckenridge and Sheridan are good friends off-screen. The actors even have a cooking show together.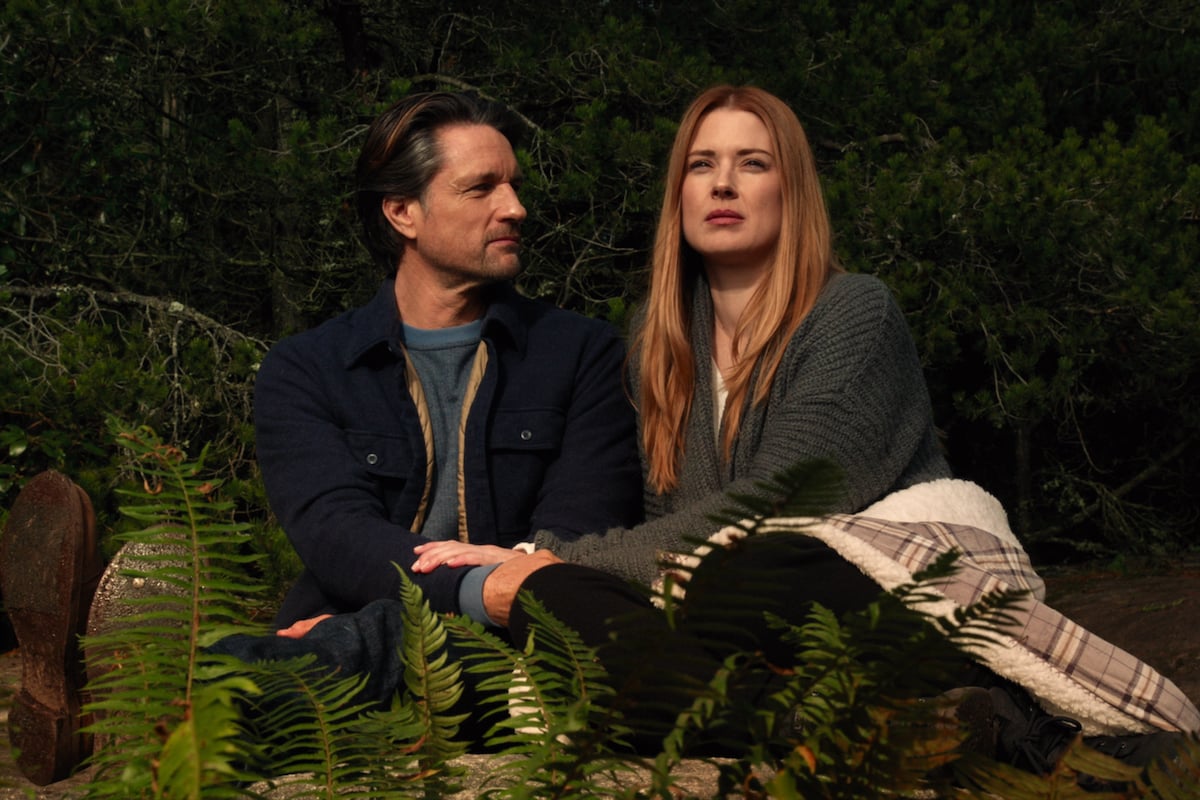 Is Jack the father of Mel's baby in 'Virgin River'?
Amid a breakup between Mel and Jack, Mel decided to fulfill her dream of becoming a mother. Amid a visit to her sister in LA, Mel decides to go through another round of IVF. She and her late husband Mark (Daniel Gillies) had created several embryos following the stillbirth of their daughter and before his death.
However, because Mel went through IVF just a few days after being intimate with Jack, she's not sure who the father of the child is, and she revealed that fact to a visibly stunned Jack. Thankfully, Breckinridge does know who the baby of Mel's father is and all will be revealed to Virgin River fans in season 4.
"That's something that we won't answer until we get to the end of, if we get a season 4," Virgin River showrunner Sue Tenney told US Weekly.
Martin Henderson and Alexandra Breckenridge have an Instagram cooking show
Though their characters have a ton of drama and things to sort through when Virgin River returns, Henderson and Breckenridge are great friends off-camera. They even have their own Instagram cooking series together and have made everything from granola to sourdough bread. The duo had not cooked together on Instagram Live in nearly nine months, but the pair recently came together to cook the meringue-based dessert, Pavlova, together.
"Time to dust off the aprons and get back in the kitchen with my pal and co-star @alexandrabreck – another cooking show episode coming your way Sunday 9 am and 3 pm Pacific Time (sorry NZ and Aus)…. If you're feeling some culinary curiosity join us for another ridiculous Instagram live!!" Henderson shared on Instagram.
Will Mel and Jack break up in 'Virgin River' Season 4?
We love the fact that Henderson and Breckenridge are still cool in real life, because it's a rocky road ahead for their characters when Virgin River returns. "If it's not Jack's baby, Jack and Mel are naturally going to have some tough times ahead," Breckenridge told E! News via Hello! "It would be immensely difficult. That would be extremely challenging, especially for Jack. If he's gonna stick around, if he's devoted to Mel, that's gonna be hard to have a baby that's her dead husband's baby. That's just, like, asking a lot."