'Virgin River': Will Mel and Jack Break Up in Season 4?
Virgin River might appear to be one of Netflix's cheesiest romantic dramas. However, the series which is based on Robyn Carr's book series has way more drama than you may have initially expected. The series follows Mel Monroe (Alexandra Breckenridge), a nurse who leaves her life behind in Los Angeles following a series of tragedies for a fresh start in Virgin River.
Though Mel is in Virgin River to recenter herself, she doesn't expect to fall for Jack Sheridan (Martin Henderson), a stoic retired Marine, and the owner of Jack's bar. The pair have had a series of ups and downs since the series first premiered. However, it looks like they are headed for a major breakup in Virgin River Season 4.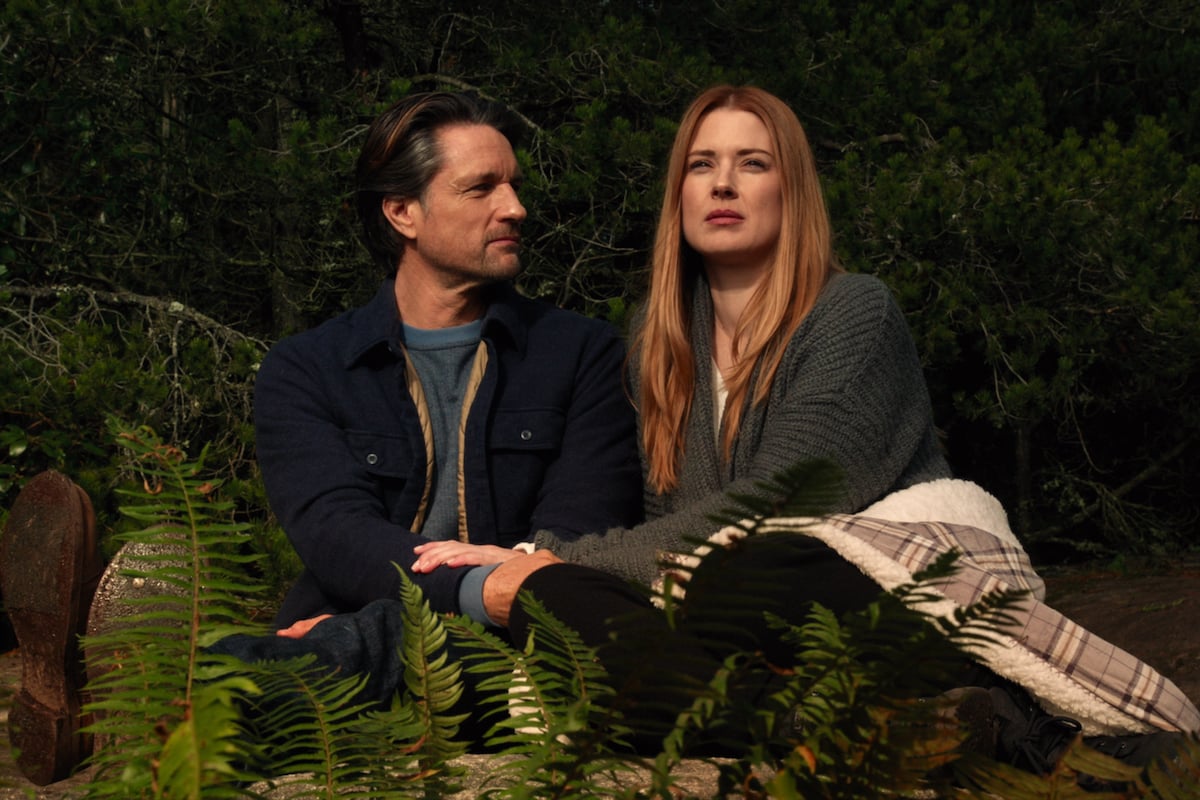 RELATED: 'Virgin River': Why Are so Many Characters From Robyn Carr's Books Missing From the Show?
Mel is pregnant on 'Virgin River' but she doesn't know if Jack is the father
After a brief breakup, Mel and Jack seemingly were finally on the same page, with Jack deciding to propose to his love despite the ups and downs of their relationship, Mel's desire to be a mother, and the impending birth of Jack's towns with his ex.
However, the bar owner's plans were thwarted when Mel revealed her pregnancy, which occurred through IVF and an embryo she'd created with her late husband. "It kind of makes sense to me that she decides to go through with it, because she doesn't believe that Jack's gonna ever come back to her," the This Is Us actor told E! News via Hello! "
Now things are about to get prickly for the couple when they were just making up.
RELATED: 'Virgin River': Fans Are Convinced Paige Is Already Dead
Will Mel and Jack break up in 'Virgin River' Season 4?
Now that Mel has revealed to Jack that she's pregnant but she isn't sure if he's the father, she's going to have to explain to him why she chose to go through IVF amid their brief breakup. Though Jack might be understanding, this along with the drama surrounding his ex-girlfriend Charmaine (Lauren Hammersly) trying to keep him from their unborn twins might be too much for the former Marine.
As much as Mel and Jack have been through, Breckenridge has alluded to some tough times ahead, especially if Mel's baby is not Jack's child. "If it's not Jack's baby, Jack and Mel are naturally going to have some tough times ahead," the actor told E! News via Hello! "It would be immensely difficult. That would be extremely challenging, especially for Jack. If he's gonna stick around, if he's devoted to Mel, that's gonna be hard to have a baby that's her dead husband's baby. That's just, like, asking a lot."
Thankfully, Virgin River showrunner Sue Tenney has promised fans to reveal Mel's baby's paternity at the end of the fourth season of Virgin River.
RELATED: 'Virgin River': Jack Might Not Be the Father of Charmaine's Babies
Has 'Virgin River' been renewed for Season 4 by Netflix?
The third season of Virgin River ended with a slew of cliffhangers, along with Jack's failed proposal and Mel's pregnancy news, Brady (Ben Hollingsworth) has also been arrested for shooting Jack, Preacher (Collin Lawrence) has been drugged and left for dead and so much more. Though the series is one of Netflix's top-rated hits, Virgin River has not yet been renewed for season 4.
However, fans should not despair. SpoilerTV reported via Express, that Virgin River Season 4 has begun filming in Vancouver and will end in November 2021. This means that it's likely that the fourth season of Virgin River will debut in May 2022, six months after filming has ended.