'WandaVision': Elizabeth Olsen's Scalet Witch Costume Almost Looked Totally Different
WandaVision marked many firsts for Marvel Studios, kicking off the company's slate of Disney+ content and becoming the first project to truly take a deep dive into the franchise's supporting roles. The show also saw Wanda Maximoff (Elizabeth Olsen) embracing the comics character she's based on: Scarlet Witch. That meant leveling up her powers, but it also involved getting an upgraded superhero costume. And Wanda's new look is truly something to behold — but apparently, her Scarlet Witch suit was almost completely different.
Wanda Maximoff shows off her Scarlet Witch suit in the 'WandaVision' finale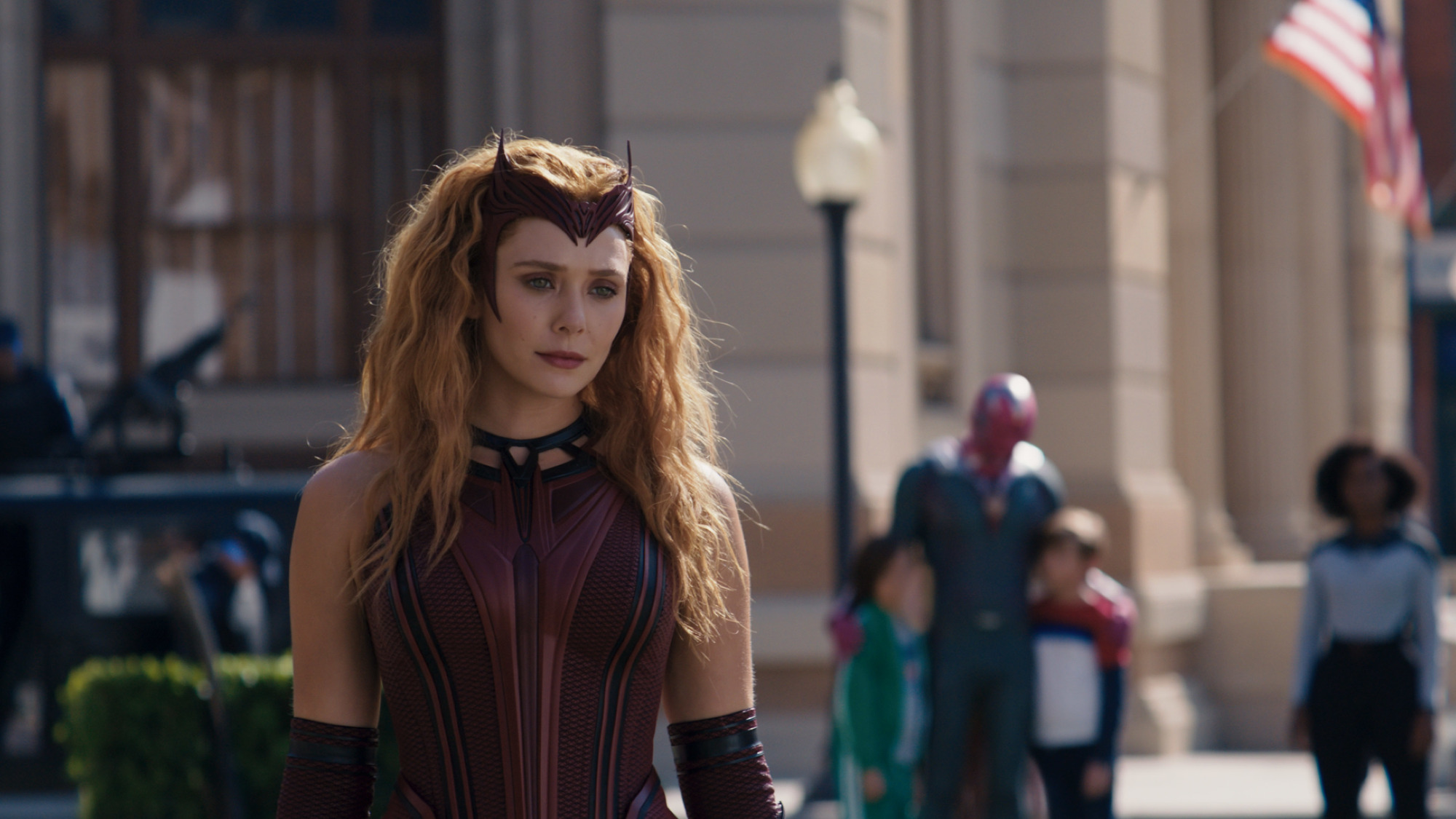 One of the most exciting developments from WandaVision was seeing Olsen's character fully embrace her Scarlet Witch persona. Although Wanda is based on the Marvel Comics hero, the MCU hasn't always stuck to her comic book roots. In particular, Wanda never received a costume befitting her comics counterpart.
In WandaVision's Halloween episode, she gets to wear almost the exact Scarlet Witch outfit seen in comics like Vision and the Scarlet Witch. On top of that, she gets her own unique getup in the finale — and it's pretty much everything Olsen wanted in previous films.
Not only does the final Scarlet Witch costume make Wanda look like a certifiable badass, but it veers away from the tendency to sexualize female heroes. That's something Olsen disliked about her former ensembles. During an interview with Elle, the actor admitted she wasn't a huge fan of her Avengers: Infinity War costume because it showed so much cleavage:
"It would just not be a cleavage corset. I like corsets, but I'd like it to be higher. Everyone has these things that cover them — Tessa Thompson does, Scarlett does. I would like to cover up a bit. It's funny because sometimes I look around and I'm just like — wow, I'm the only one who has cleavage, and that's a constant joke because they haven't really evolved my superhero costume that much.
Her new look allows Wanda to cover up and protect herself from outside threats, presenting a costume that's as functional as it is aesthetically pleasing. However, it wasn't the original design.
Elizabeth Olsen's Scarlet Witch costume almost looked completely different
Fans loved Olsen's new Scarlet Witch costume when it first debuted, but apparently, it could have looked very different. According to The Direct, the early designs for Wanda's new look were more in line with what she wore in Captain America: Civil War and Avengers: Infinity War. They saw Olsen's character donning a long, red leather coat instead of her signature corset. They also didn't include the headpiece she wears in the WandaVision finale.
The outlet's scoop comes from David Masson's ArtStation profile. Masson is a concept artist over at Marvel Studios, and he assisted with the creation of Wanda's Scarlet Witch look. On the site, he shared the original designs, writing:
"Had the immense pleasure of working on Marvel's WandaVision under the supervision of amazing costume designer Mayes Rubeo. Here are some illustrations of a look that didn't make it in the show, they were supposed to be a next step to her Endgame look."
Elizabeth Olsen really wanted to wear Wanda's comics costume in 'WandaVision'
RELATED: Joss Whedon Told Elizabeth Olsen She Would Never Wear Scarlet Witch's Marvel Comic Book Costume
While Wanda's new Scarlet Witch look fits with what Olsen wanted, it's not the costume she fought the hardest for. In fact, the actor really wanted to wear Wanda's original outfit — the one featured in the Halloween episode — just not in a serious way.
During an appearance on Vanity Fair's Still Watching podcast, Olsen recounted how she pushed for giving "nod to the character" by wearing the "classic Scarlet Witch costume":
"I like fought for it. I was like, 'No we have to go full into it. This is like the greatest thing. Paul's doing it, I'm doing it.' And I'm really in it, it's not just a flash. I'm really in the costume for quite a bit. It was so fun, I loved it. And it was the perfect way to wear that costume, 'cause you can't take that costume seriously."
Thanks to her, fans got to see Wanda in not one, but two, iconic getups. What more could we possibly ask for?
WandaVision is currently streaming on Disney+.