'WandaVision': What Happened to the Twins in Episode 7? Marvel Fans Have Lots of Theories
Episode 7 of WandaVision premiered on Disney+ on Feb. 19. In the episode, Jett Klyne and Julian Hilliard once again returned as Tommy and Billy Maximoff, the twin sons of Wanda Maximoff (Elizabeth Olsen) and Vision (Paul Bettany).
As with every episode of WandaVision, the seventh episode ended with a huge cliffhanger partially involving Tommy and Billy. So what happened to the Maximoff twins in the newest episode of WandaVision?
[Spoiler alert: The following article contains spoilers for Episode 7 of WandaVision.]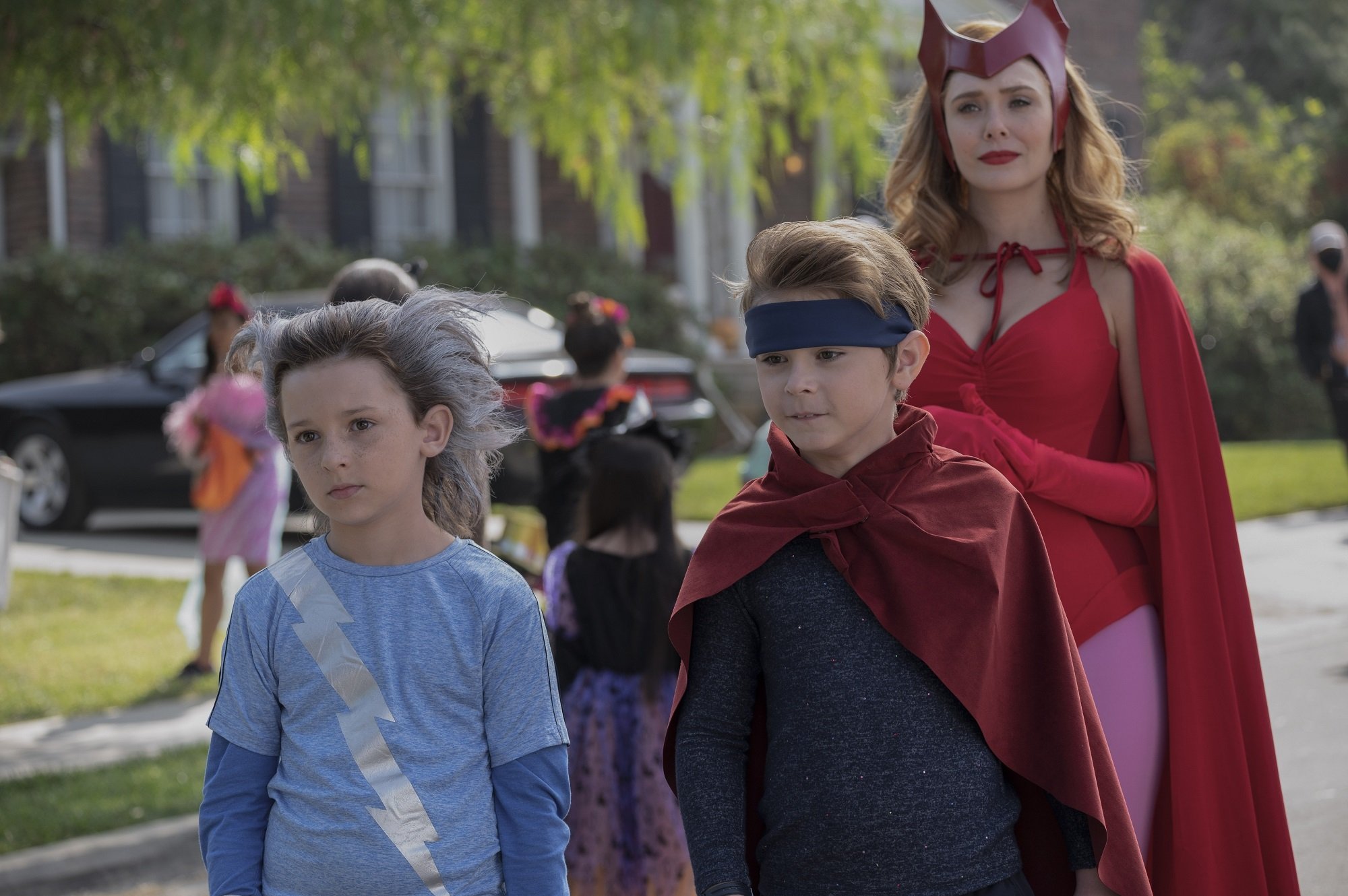 Agnes babysits the twins in 'WandaVision'
Episode 7 is titled "Breaking the Fourth Wall," and the episode pays homage to mockumentary shows like Modern Family and The Office. At the start of the episode, Wanda finds herself depressed following the show's previous Halloween episode.
Vision is nowhere to be found, and everything in the Maximoff house is glitching as Wanda's mental health deteriorates. To give Wanda a day to herself, Agnes (Kathryn Hahn) offers to babysit Tommy and Billy for the day.
Meanwhile, Vision officially meets Darcy Lewis (Kat Dennings) and learns of his history with Wanda before Westview. Monica Rambeau (Teyonah Parris) makes it back through the barrier into Westview, gaining powers in the process.
A mystery is solved in Episode 7 of 'WandaVision'
After entering Westview, Monica attempts to form an alliance with Wanda, but Wanda rejects her. Before Monica can try and make any more progress with Wanda, Agnes interrupts and brings Wanda into her home.
Wanda realizes the twins are nowhere to be found and goes to search for them in Agnes' basement. Agnes then reveals that she is actually Agatha Harkness. In a montage set to a musical number, Agatha reveals she has been pulling the strings behind WandaVision the entire time.
The episode ends with the fate of Tommy and Billy unknown. In a mid-credits scene, Monica finds an entrance to Agatha's basement. Pietro Maximoff (Evan Peters) appears and says "Snooper's gonna snoop."
What Marvel fans think happened to Tommy and Billy Maximoff
The revelation that Agnes is actually Agatha Harkness is something Marvel fans suspected for several episodes. While this fan theory was proven correct, new theories have popped up regarding Tommy and Billy.
Some Marvel fans are hoping Tommy and Billy simply escaped any harm before Agnes brought Wanda inside.
"… when Wanda went looking for the twins in Agatha's house the back door was open, suggesting that maybe the boys escaped? I think Billy sensed that something was wrong especially after telling Agatha that she was quiet inside," a Reddit user speculated.
In WandaVision, Wanda sees a large fly on a curtain and a rabbit sitting in a cage before she goes to the basement. To some Marvel fans, this alluded to Agatha turning Billy and Tommy into animals.
"Agatha is supposed to be a witch right… And what is a common trope for witches? That's right. Turning people into animals," a fan wrote on Reddit.
Of course, the last running theory about Tommy and Billy's fate is that Agatha is using the twins to bring the villain Mephisto to life.
One fan wrote on Reddit, "In the comics… When Mephisto is resurrected, the twins disappear. I'm wondering if Agatha is trying to resurrect Mephisto and so she took the twins."