'WandaVision' Cast Evan Peters as Quicksilver to Show 'Certain People' Were Messing With Wanda
In the Avengers: Age of Ultron, Aaron Taylor-Johnson played Pietro Maximoff/Quicksilver, the twin brother to Elizabeth Olsen's Wanda Maximoff/Scarlet Witch. Pietro died in the 2015 Marvel film, and in WandaVision on Disney+, actor Evan Peters was brought on to play Pietro instead of Taylor-Johnson.
Peters previously played a different iteration of the character in 20th Century Fox's X-Men franchise. Kevin Feige, the president of Marvel Studios, shared that this casting change was made for a deliberate reason.
[Spoiler alert: The following article contains spoilers for WandaVision.]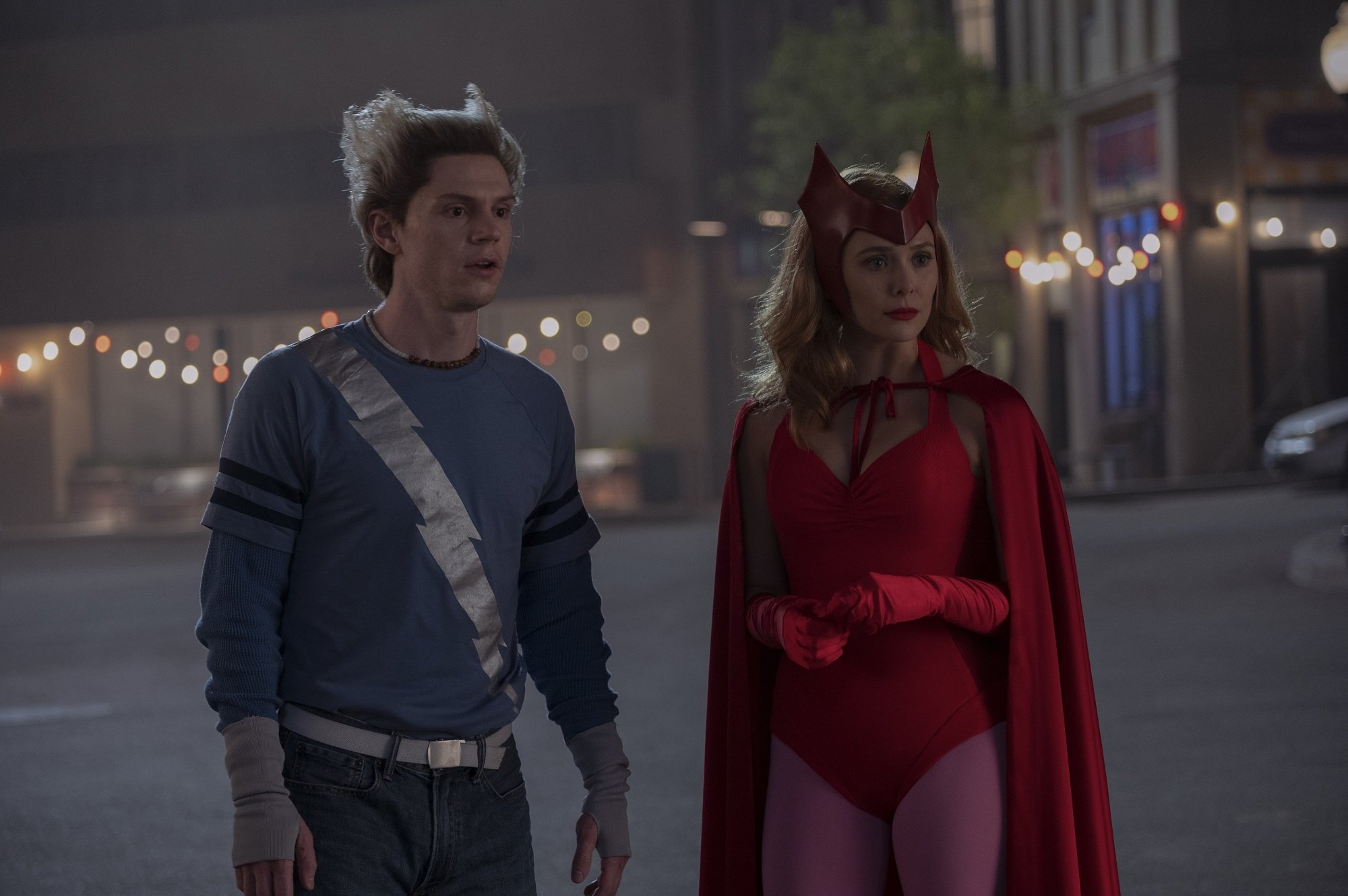 'WandaVision' producers wanted Evan Peters on the show
WandaVision follows Wanda's grief after the events of Avengers: Endgame and how it affects her reality. While speaking with Marvel.com, WandaVision writer and producer Jac Schaeffer explained why Peters was chosen to play Pietro.
"We loved the idea of [bringing him back]," he said. "And then we were like, how in the world are we going to make this make logical sense? Like, how do we justify this? Because that's the thing, you can hatch a million great ideas, but to make them land, to make them be grounded, to make them feel organic to the larger story."
The writer continued, "This show is such a mind scramble, and because it's working on so many levels, and there's so many notions of what's real and what's not, and performance, and casting, and audience, and fandom, and all of that, we just thought it would be the biggest thrill to bring Evan over to the Marvel Cinematic Universe."
RELATED: 'WandaVision': Evan Peters' Hair Was a Reference to X-Men's Wolverine
The casting has significance in 'WandaVision'
Having Peters play Pietro in WandaVision has been an entertaining twist and mystery. While the casting choice proved to be a shock for some fans, the decision to cast Peters in WandaVision took a lot of deliberation.
"My favorite part of the process is always the very, very beginning when we're figuring out what something could be and at the very, very end when we're refining it and putting it out into the world," Feige said during a virtual Disney+ TCA press event according to Digital Spy.
Feige explained that having Peters appear as Pietro was also important to the plot of WandaVision.
"I believe we ended up going with what you saw relatively early on in the development process. It's just another way that certain people were messing around with Wanda," he said.
RELATED: 'WandaVision': Kevin Feige Confirms Where Elizabeth Olsen's Character Will Be Seen Next
Evans Peters wanted to be in 'WandaVision'
While the development for WandaVision took quite a bit of time, Peters did not have to be convinced to sign on to the project.
"We were rooting for it for so long, and didn't know if it would be possible," Schaeffer told Marvel.com. "It was complicated to make happen. Evan was always up for it — like, always, always, always. He is a comic book fan, and a Marvel fan. He is always up for the absolute weirdest option. And he's a pleasure — truly a pleasure to work with."