'WandaVision': Olsen Twins Drew Evan Peters to Acting; Now He's Elizabeth Olsen's Co-Star
In recent years, Evan Peters has become more of a household name thanks to bigger projects like American Horror Story and X-Men. But he didn't start thinking about acting until he was 15 and started off with some very interesting roles. And when it came to why he got into show business, it's actually the famous pair of Olsen twins that he jokingly suggested got him into acting. And while Peters may have started because of Mary-Kate and Ashley Olsen, he's now acting with Elizabeth Olsen in WandaVision. [Spoiler alert: Spoilers ahead for WandaVision]. 
Evan Peters said he was 'bit by the acting bug' and that the Olsen twins got him out to Los Angeles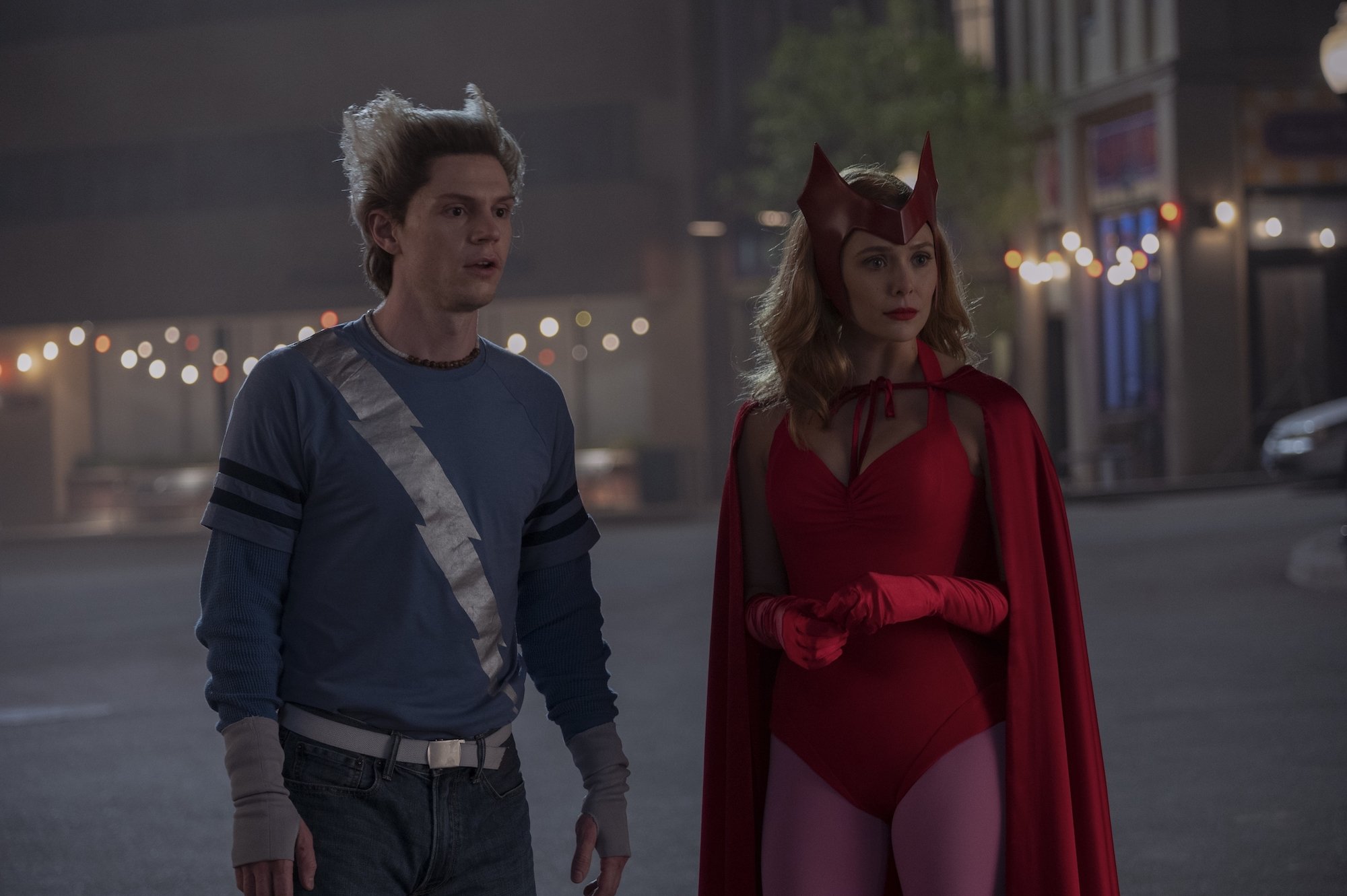 RELATED: 'WandaVision': Was That Disturbing Commercial From Episode 6 Referring to Wanda or the Kids of Westview?
In an interview with MLive, a local Michigan publication, all the way back in 2008, Peters talked about his experience being an up-and-coming actor. At that point, Never Back Down had just come out and he was just getting started. Peters hadn't hit his breakthrough role yet (more on that later), but he was booking a lot of supporting roles; Kick-Ass would come in 2010 and the sequel to Never Back Down would come in 2011. 
Peters moved to Grand Blanc, MI when he was in high school from Missouri and said he "got bit by the acting bug." However, he didn't act in school plays and instead really started working when he left. And he said that he had an interesting goal to moving out west. 
"But mostly I wanted to meet the Olsen twins," he told MLive. "They were 15, I was 15 … the acting thing seemed like the best way."
Fast-forward into 2018, when Peters sat down with W Magazine to talk about his career a bit, and he said that his first celebrity crushes were Mary-Kate and Ashley.
"Well, first it was the Olsen twins," Peters said. "For sure. Yeah, they kind of got me out to L.A. in a way, because I was like, 'I gotta meet 'em!'"
He also said he could "definitely" tell them apart since they're not identical twins.
But, of course, they weren't what truly drove his acting career
Putting them aside, though, he told W Magazine about some commercials he did like Sour Patch Kids and PlayStation, which didn't get him any free merch or gaming consoles, unfortunately.
He said that he was interested in both TV and movies, working on pretty big networks like Disney Channel's Phil of the Future and The CW's One Tree Hill, among other shows. Peters said that Even Stevens and Shia LaBeouf's role on it inspired him as well.
He had his star-making role with American Horror Story in 2011 where he first played Tate Langdon, the tortured, angsty teen who ends up being a pretty demented and haunting suspect in the Murder House. After eight seasons, Peters took a break from that series after its 2018 run, American Horror Story: Apocalypse, but he's planning on returning for its Season 10. Whenever that happens. 
He's had a ton of other roles in series and movies in the meantime as well, but when it comes to a cinematic breakout role, Peters' role as Quicksilver aka Peter Maximoff in X-Men: Days of Future's Past was it. He went on to reprise that role in two more Fox X-Men movies, and had a couple of very notable scenes. And it's what led him to work on WandaVision with another member of the Olsen family. 
Now his version of Quicksilver is with Elizabeth Olsen on 'WandaVision'
Looking at those comments he made in the past, it's actually really funny and kind of sweet to look at the fact that he's playing opposite Elizabeth Olsen now.
Evan Peters' reveal on WandaVision has been rumored for a while, but it was still a pretty epic reveal. Wanda's Pietro, in the Marvel Cinematic Universe, died tragically in Avengers: Age of Ultron. That was the first film the twins were introduced in as well as Paul Bettany's Vision, although Bettany had been voicing J.A.R.V.I.S. since 2008's Iron Man. 
But with Wanda creating a brand new reality in WandaVision, and possibly merging multiverses, she somehow brings in Fox's X-Men version of Quicksilver, aka Peters. In Episode 6 he plays it off like he's Pietro from Age of Ultron just in this new body and with this new voice (and semi-new personality). No one can explain it, and it's all a bit fishy.
Again, there are theories galore when it comes to this show. So it'll be exciting for fans to see if Peters' Quicksilver is really the X-Men version or if he's someone else in disguise and is just thrown in to throw fans off. But for Peters, it's a fun to look back at his original LA wish and see where he is now. Even though Elizabeth Olsen is completely different from her sisters, of course.
RELATED: 'WandaVision' Episode 6 Referenced The Twins Comic Book Origins