'WandaVision': What Happened to White Vision?
The 'WandaVision' series finale left White Vision's whereabouts a mystery. Here's where he might be, and how he could potentially return to the MCU..
The series finale of WandaVision left fans with one burning question. As seen in the previous episode, S.W.O.R.D. Director Tyler Hayward put the real Vision back together in white armor. But now, after that epic finale, fans are wondering, what happened to White Vision?
[Spoiler alert: This article contains spoilers for the WandaVision, episode 9.]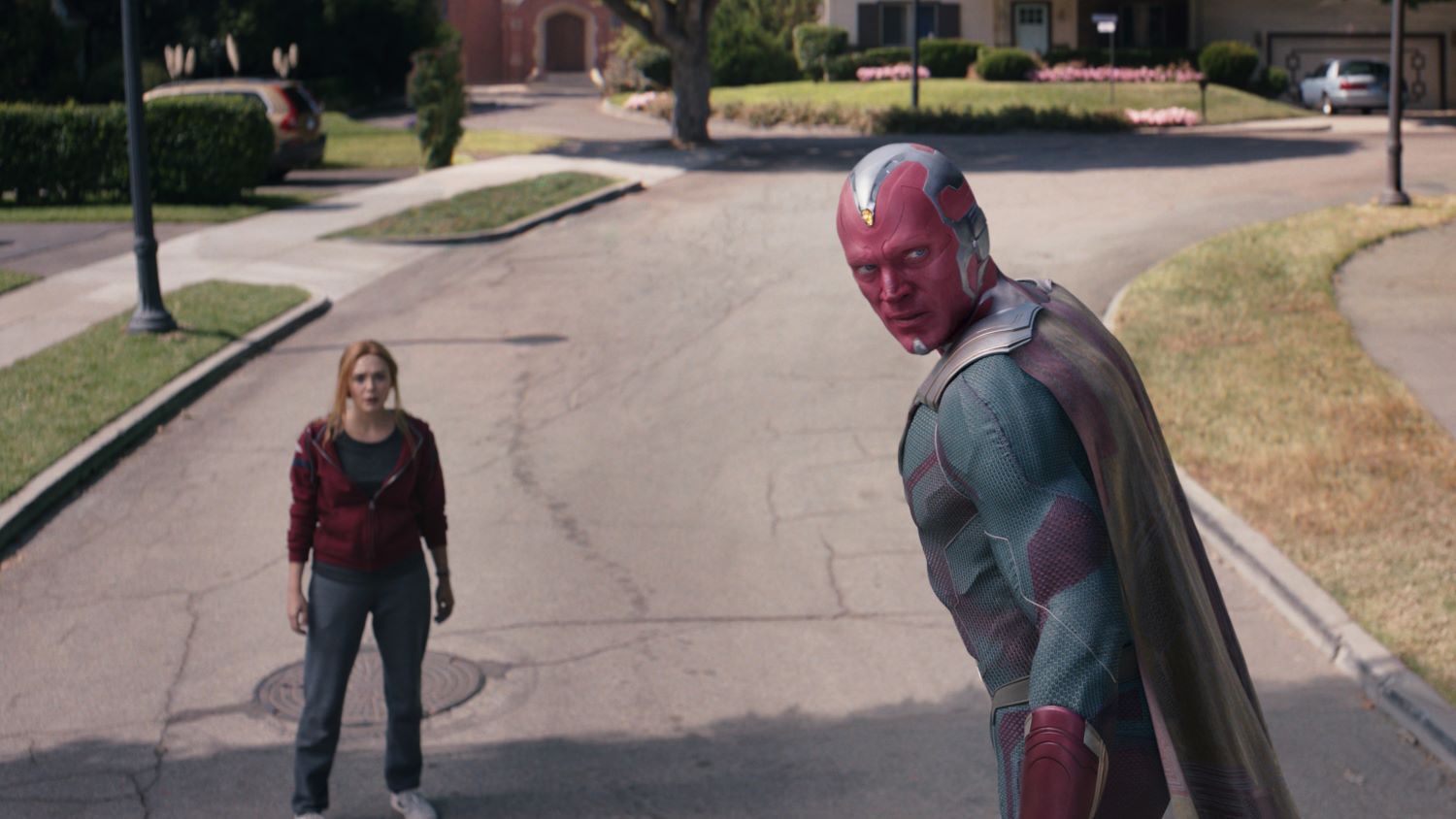 Vision and White Vision face off in the 'WandaVision' series finale
In the WandaVision finale, Wanda's Vision (Paul Bettany) faces off with S.W.O.R.D.'s White Vision (also Paul Bettany). Programmed by Tyler Hayward (Josh Stamberg), White Vision's directive is to destroy. The two duke it out in the sky while Wanda (Elizabeth Olsen) is busy defeating Agatha Harkness (Kathryn Hahn).
Eventually, the two Visions end up in a library, where the Hex version reveals that he isn't truly real. White Vision gives into reason and decides not to kill him. But Wanda's creation asks him to tap into the old memories stored in his carbon makeup. 
With a touch of Vision's finger, White Vision remembers his time with the Avengers and Wanda, including their love and his death. His eyes change as he realizes who he is. "I am Vision," he says, just before flying away. 
Later, when Wanda starts taking down the Hex, she takes her Vision and their kids home. She gives them a tearful goodbye. And when the Hex is fully lifted, Wanda is left standing alone on the plot that was supposed to be their forever home.
What happened to White Vision?
After White Vision flew away, there was no indication of what happened to him. The final WandaVision post-credits scene shows Wanda in a remote cabin, taking in the magical knowledge of the Darkhold. But there is no indication that she knows White Vision has regained his memories. 
It's unclear where White Vision is now. But if he is indeed the same person as before, he is probably searching for Wanda. And the mystery of his whereabouts hints he may show up in future Marvel projects.  Knowing Wanda will appear in Doctor Strange and Multiverse of Madness — which will feature multiple universes and superheroes  — there is potential for White Vision to return as well.  
Paul Bettany teased White Vision's future after 'WandaVision'
Paul Bettany hasn't confirmed he'll be in any upcoming Marvel projects. But the WandaVision star did hint there is more of White Vision/Vision's story to be told. 
"I guess we've seen what happens to Wanda when love is taken away from her," Bettany told Esquire. "And I wonder what that would look like with Vision… I mean, that's the thing, right? I've never had a loved one to lose… I don't know what grief is because I've never had a loved one to lose."
"There is so much to get into with him because it's been ten minutes here, ten minutes there, in the movies," he continued. "Now we're sort of just starting to sort of peel back some stuff."
The entire season of WandaVision is streaming on Disney+. The next Marvel series, The Falcon and the Winter Soldier premieres on March 19.