Want More of 'Ted Lasso's' Roy Kent? Try These Brett Goldstein Movies
He's here. He's there. He's every f—ing where. Before playing the loveable curmudgeon and veteran footballer Roy Kent on Apple TV's Ted Lasso, Emmy nominated Brett Goldstein had quite the career behind and in front of the camera. From writing to acting to producing, Goldstein has done it all.
If you need a little more Roy Kent in your life to tide you over between new episodes of Ted Lasso, then check out some of his lesser-known projects below.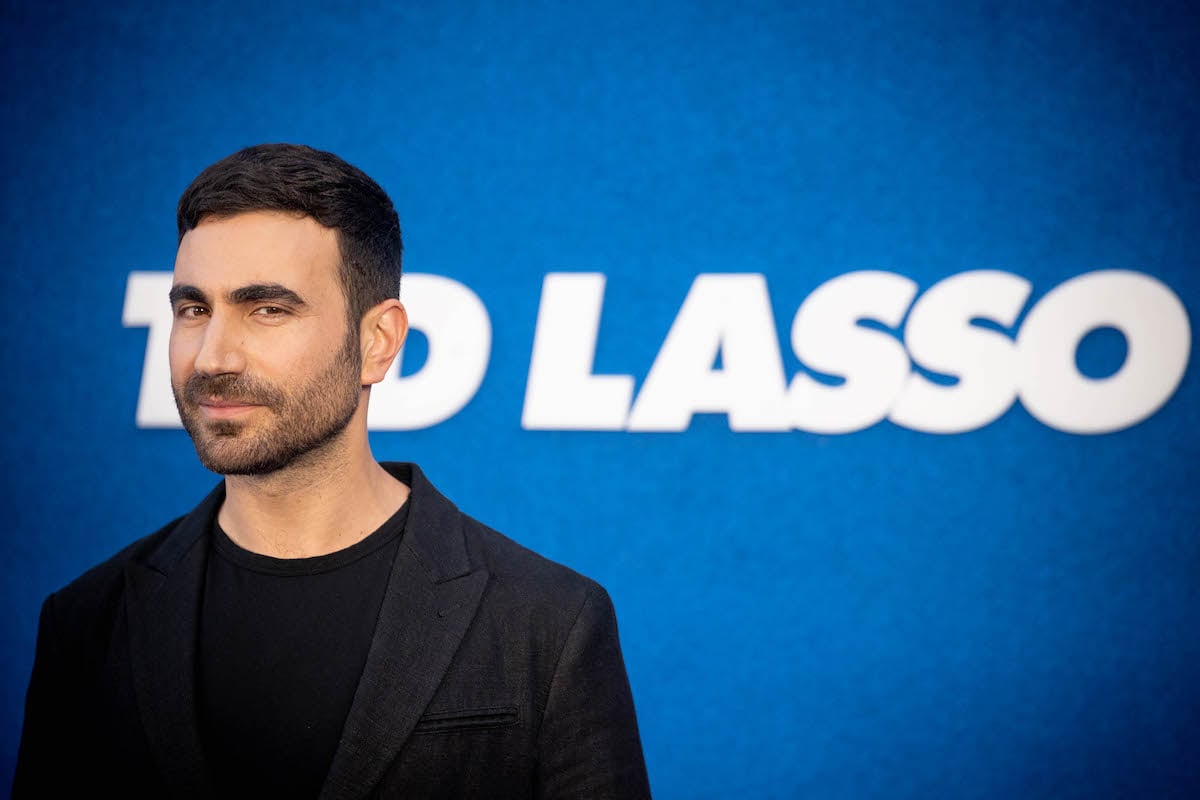 Goldstein wrote an AMC anthology series
Ted Lasso fans already know that Goldstein is also a writer and producer on the show. He is responsible for last season's fifth episode, "Tan Lines." His script, while funny, centered around Ted finally coming to terms with the end of his marriage.
Consequently, romance and relationships are two topics Goldstein loves to write about. Along with Black Mirror and Stranger Things writer William Bridges, Goldstein co-created the AMC anthology series Soulmates. Though each episode tells a complete story, the entire series revolves around the idea that technology has developed a way to find someone's true love. 
Though Goldstein doesn't appear on-screen, the show has garnered some famous faces in its cast.  However, notable actors Charlie Heaton (Stranger Things), Bill Skarsgård (It), Sarah Snook (Succession), and Malin Akerman (Watchmen) each star in an episode. 
Brett Goldstein won a British Independent Film Award
In 2016, Goldstein played a supporting role in Adult Life Skills. A coming of age story, the film centers on a woman (Jodie Wittaker, Doctor Who), who is both approaching 30 and dealing with her twin brother's death. Consequently, she is living in her mother's shed, unwilling to grow up.  Goldstein plays Brendan, the romantic lead, a socially awkward estate agent who drives a motorbike around town.
Adult Life Skills premiered at the 2016 Tribeca Film Festival and quickly received critical acclaim. Goldstein subsequently won a British Independent Film Award for Best Supporting Actor for his performance. 
Before 'Ted Lasso,' Brett Goldstein co-starred with Ricky Gervais
On the British dramedy Derek, Goldstein acted alongside Office creator Ricky Gervais as a merchant marine who falls in love with one of the caretakers at his grandmother's nursing home.
While the role is one of his more serious ones, Goldstein jumped at "the chance to work with the greatest people in comedy," as he told Channel 4. The show served as a jumping-off point for the actor and comedian, later leading to bigger stand-up gigs and acting roles. 
He's played a superhero
No, he's not in a Marvel movie, but he is in latex. In 2015, Goldstein starred in the British superhero comedy SuperBob. He also co-wrote the mockumentary.
Goldstein plays a British postal worker who is accidentally hit by an asteroid and therefore struggles to juggle having superpowers and a love life. Joining him onscreen is Catherine Tate (Doctor Who), Natalia Tena (Game of Thrones, Harry Potter), and Laurea Haddock (Poldark). 
Funny, romantic, with a ton of heart, SuperBob is the perfect date night movie.
Brett Goldstein hosts a popular movie podcast
Let's face it. Roy Kent's voice is one of his most attractive qualities. Luckily, Goldstein has his own podcast to keep your ears satisfied while you wait for new episodes of Ted Lasso. 
As a self-described movie-lover, Goldstein channels his obsession into Films To Be Buried With. In each episode, the actor sits down with a famous guest to discuss the movies that changed their lives. The only catch is the guest is fictionally killed off at the start of the podcast, only to be asked by Goldstein what film THEY would want to show to God. 
Past guests include self-help guru Brene Brown, Game of Thrones' Maisie Williams, comedian Patton Oswalt, and Sharon Stone. Members of the Ted Lasso cast and crew have also made appearances on the show. For example, Brendan Hunt, Hannah Waddingham, Nick Mohammed, Bill Lawrence, and Toheeb Jimoh have all appeared on the podcast.
In short, you have over 150 episodes of Goldstein's antics to listen to. Moreover, you might learn more about your favorite comedians and actors along the way.
RELATED: One of the Stars of 'Ted Lasso' Played 1 of the Most Memorable Characters in 'Game of Thrones' History