Want to Go On a Virtual Getaway? Stream These Travel Series on Netflix
Want to take a trip? With travel restrictions reshaping the way people jet-set around the globe, it's been necessary to get creative. There are virtual excursions live-streamed to one's device, road trips, staycations, and of course, the great television escape.
If you're searching for some travel-themed programming other than 90 Day Fiancé to add to your binge-watching list, check out these programs on Netflix.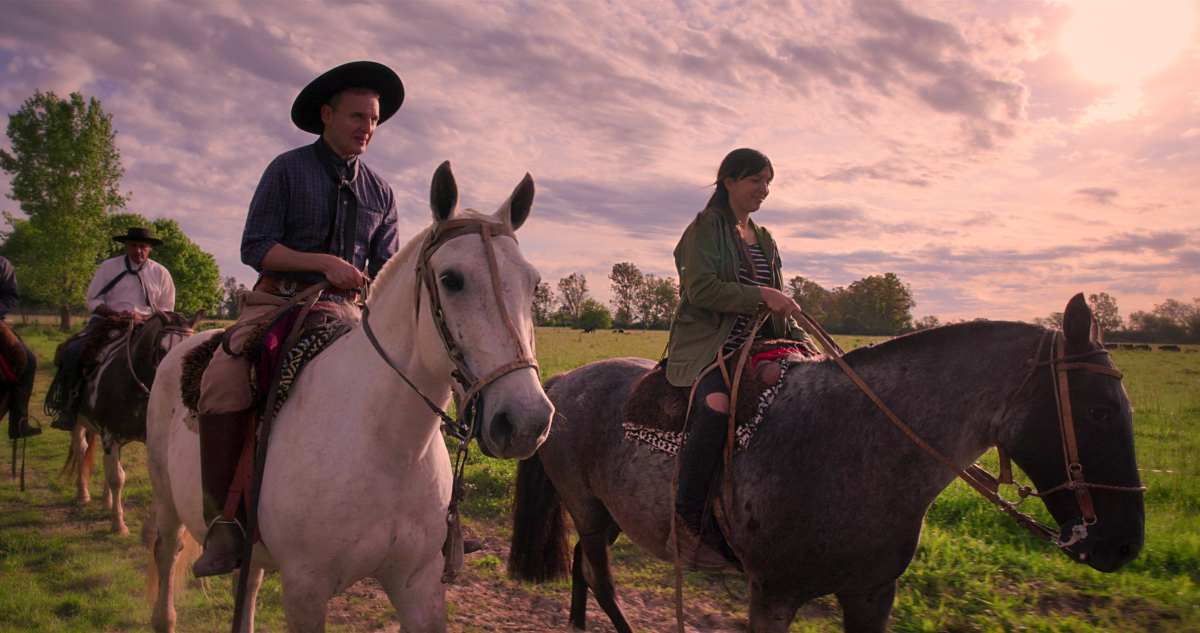 'Somebody Feed Phil'
Watch Phil Rosenthal travel around the world to sample various cuisines in this foodie documentary. Rosenthal is most famous for creating the hit sitcom Everybody Loves Raymond, so viewers get a side dish of humor as they watch this series. Three seasons are available on Netflix.
'Dark Tourist'
Described as a plunge into the dark recesses of the tourism industry, this adventurous docuseries follows David Darrier as he visits a death cult in Mexico, nuclear radiation hotspots, vampires in New Orleans, and other "secret" locales.  
RELATED: 'Down to Earth with Zac Efron': What is the New Netflix Series Really About?
'Jack Whitehall: Travels with My Father'
Comedian Jack Whitehall and his father are travel buddies who try out new experiences in places such as Hungary, Cambodia, Turkey, and Compton. Season 4 dropped in September with all new episodes.
'Pedal the World'
This 2015 documentary chronicles Felix Starck's journey across 22 countries by bicycle.
He set out with only his luggage and camera to experience the "meaning of life," spending one year and more than 11,000 miles on the road. Starck enjoyed his trips but also ran into some misfortune. He was robbed, almost ran off the road, and overcame a bout of pneumonia. Stream the one-hour doc on Netflix.  
'David Attenborough: A Life on Our Planet'
Attenborough narrates this latest nature documentary that takes viewers into jungles, rainforests, and other terrains in the world.
Tragedy and beauty meet in this film that covers environmental destruction, wildlife survival, and climate change. Produced by the World Wildlife Federation and Silverback Films, David Attenborough: A Life on Our Planet arrived on Netflix on Oct. 4.
'The World's Most Extraordinary Homes'
If you're into international architecture and real estate, then you may want to watch The World's Most Extraordinary Homes. A BBC series, the show handholds viewers as they preview homes with hosts Caroline Quentin and Piers Taylor, and Quentin has a particular soft spot for pools.
Houses in Spain, Norway, Canada, New Zealand, Japan, and other regions are in the spotlight and no home is too unreasonable.
Forest abodes, mountain dwellings, and coastal gems await explorers who are interested in seeing homes made of unconventional materials in unconventional locations.
'Chef's Table BBQ'
Chef's Table BBQ was released in Sept. and is the latest addition to the Chef's Table series which has dipped into the lives and recipes of cooks around the globe—including France, India, and the U.S. This version is all about BBQ, and according to its logline, method is king.
"Featured chefs and pitmasters include Tootsie Tomantez, an 85-year-old grandmother who still shovels the coals at her Texas restaurant; Lennox Hastie, a remarkable Australian chef who sources all of his ingredients from the Outback; Rodney Scott of South Carolina, who is known for his whole hog barbecue; and Rosalia Chay Chuc, a traditional Mayan chef who serves Cochinita Pibil out of her Mexico home."
Stream season 1 of Chef's Table BBQ on Netflix.