Want to Work With 'Outlander' Stars Sam Heughan and Caitriona Balfe? This Is How You Can Become Part of Season 6
Outlander stars Sam Heughan (Jamie Fraser) and Caitriona Balfe (Claire Fraser) are finally preparing to go back to work for season 6 after months of delays due to the pandemic. The details about the upcoming season are still unclear. What is known is that executive producer Maril Davis has insisted that Outlander is the "least COVID friendly" show ever.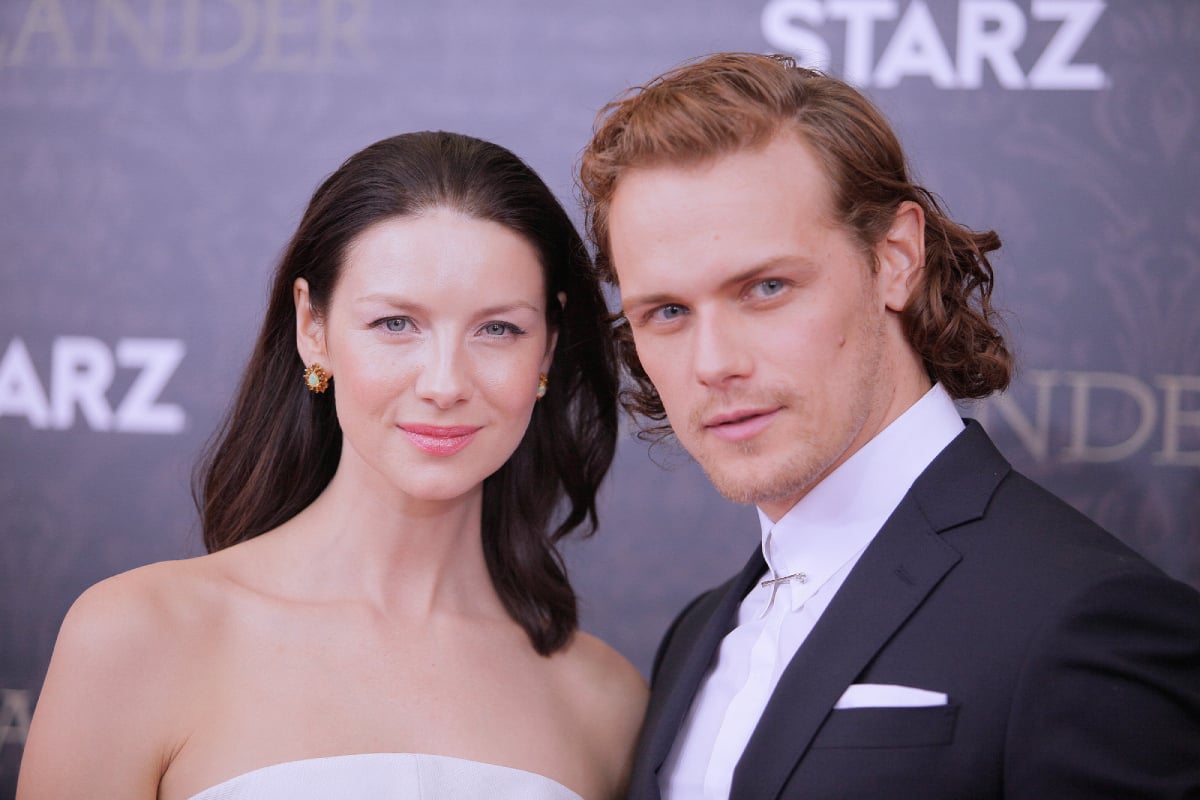 It's been a challenge figuring out how to film the time-travel series with new safety protocols on set. But it appears that they are making progress, as they are now accepting applications for the Outlander training program.
Sam Heughan has focused on his love of Scottish history during Droughtlander
As the crew quietly gears up for production on season 6, Heughan has been promoting his book Clanlands: Whisky, Warfare, and a Scottish Adventure Like No Other with his co-star Graham McTavish. Both men have a passion for Scottish history, and the project began with a plan for a podcast.
According to The Scotsman, the podcast idea eventually turned into a book. Clanlands is a Scottish travel diary with original maps and illustrations based around the clans. It will soon become a TV series titled Men in Kilts: A Roadtrip with Sam and Graham.
The TV series will be a light-hearted take on Scottish history, people, culture, tradition, and food and drink. The book is available now and the Men in Kilts TV series will premiere in 2021 on Starz. Outlander fans will be able to watch Heughan and McTavish travel around their home country by campervan, motorcycle, boat, and kayak.
They even visit the site of the final confrontation of the Jacobite rising of 1745. Outlander fans will remember that this is where the Starz drama began.
Production for season 6 of 'Outlander' is 'gearing up'
Heughan promised that the cast and crew of Outlander will be back soon for season 6. But, he also explained that "it's a big show" with "lots of people." This means that they are working out the logistics, but he says they are "gearing up as we speak."
"Shooting Men in Kilts we were almost guinea pigs for one of the first things to be shot in Scotland, seeing how it all worked with social guidelines," Heughan explained. "It went without a hitch. I think everyone was just so excited to be back on the road and shooting again. So we're hoping to be back really soon."
Heughan says he can't reveal anything about the plot of the new season, but he did tease that he's already read the first four scripts for season 6. He did admit that they were still at Fraser's Ridge in America, but he wouldn't reveal if the story would lead back to Scotland.
During a recent appearance on Live with Kelly and Ryan, Heughan revealed that he's "been in a few times for costume fittings." He also noted that he was "excited to go back to work."
How to apply for the crew of 'Outlander' season 6
For fans who are interested in working on the crew of Outlander for season 6, the show is now hiring. According to The Daily Record, the show has 16 trainee positions in various departments for the upcoming season.
All applicants must be Scottish (production is based in Cumbernauld) and eligible to work in the UK. Applicants must also be over 18, have a basic understanding of the film and TV industry, and preferably have at least one credit from a professional production.
Training positions available include assistant director, video assistant, props, SFX, post-production, and greens. The application states that successful candidates will begin work on January 5, 2021, with the potential of working through August 2021.
Anyone who meets the criteria can apply here, and the deadline for applications is Monday, November 23 at 10:00 am. The job listing states that trainee compensation is between £514.60 and £537.15 per week plus holiday pay. The workweek lasts between 50 and 57.5 hours.
Season 1 through 5 of Outlander are available on the Starz App and Amazon Prime Video.