War Machine to Receive a Disney+ Series to End His MCU Run?
War Machine may be a pivotal character in the Marvel Cinematic Universe — adding to Tony Stark's varied interrelationships and working alongside the Avengers to save the day. Yet, he is often relegated to Stark's sidekick, and he is rarely the one who gets to throw the final blow or issue the pensive, poignant, or impactful statements. 
This is not to say that Don Cheadle's War Machine isn't valuable, but rather that the MCU sort of depreciates the character — ridding of the intoxicating comic book origin story and stripping him of the unique and individual identity (untethered to other supers) that he received in the comics. But, the MCU may be looking to rewrite history, and undo this wrong.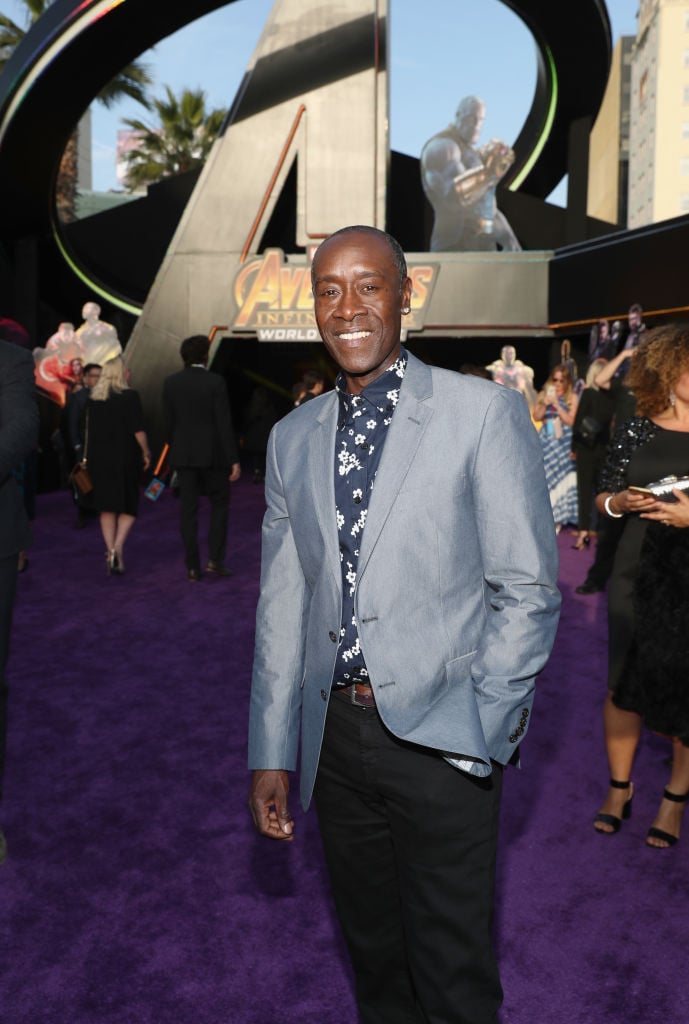 Just because Tony Stark is no longer in the MCU, doesn't mean all his glorious technological advancements cease to exist, as Marvel insider, Mikey Sutton notes. And, with Tony Stark gone, War Machine may finally get to take the spotlight that his beloved, yet quite egotistical, best friend, love to seize.
Recent reports suggest that War Machine may receive a Disney+ show, which, considering how long the character has been with the franchise, could operate as the combat-ready Avenger's final bow. Let's dive into what we know so far.
Insider reports suggest a War Machine series is coming to Disney+
According to Marvel and DC insider Mikey Sutton, who shared his intel with Geekosity: All Things Pop Culture, fans should prep for a War Machine TV series. Sutton argues that such a show has been planned for Disney+ since the beginning. He notes:
Marvel Studios sees unfulfilled potential in the character, one with more of a military bent. Disney+ provides them the opportunity to dig deeper into the character, explore his darker psychological corners. With the coronavirus halting productions…development for War Machine has quieted down but will rocket to the surface again once the pandemic has drifted into irrelevance.

Mikey Sutton
The 'War Machine' show will reportedly be a bit dark and quite mature
Sutton explains that the show will explore War Machine's psychology, diving into complex themes that the MCU often skates away from, or gently brushes up against. While the show will be a mature-themed show, fans should not expect it to carry an R-rating, as Disney will not place any R-rated material on its streaming platform. Sutton explained the show, stating:
Details are scarce; however, discussions were for War Machine take a decidedly adult route. Not adult as in Jessica Jones on Netflix, but a more somber tone with dealing with PTSD and brutal (albeit not bloody) violence and grey morality. 

Mikey Sutton
"Grey morality" should prove interesting for the MCU, as the good guys are usually good, while the bad guys are bad — some change sides, but they rarely waver between the two.
Yet, grey morality should be expected, as the X-Men are soon to join the landscape. And, Magneto, Rogue, and Gambit all boast some greyness. While all remains to be seen, seeing Iron Man's Tech take center stage — but with War Machine's character at the center — will be a long-overdue gift to the Marvel fan base.
Considering how long Cheadle has been in the franchise, the show may be a way to remove the character from the landscape, as it would close his journey — via some origin details and post-Stark life questioning. And, his absence would open the door for new characters — She-Hulk, Ms. Marvel, and more — to become the second-gen core saviors.