Was Taylor Swift's 'Squad' a PR Stunt?
Once upon a time, Taylor Swift's girl squad was a remarkable lineup of celebrities who hung out with the singer at her house parties and joined her on stage at her concerts. Swift's fans were envious of her squad, something Swift later acknowledged she felt a bit bad about, and many wondered if it was all just a PR stunt.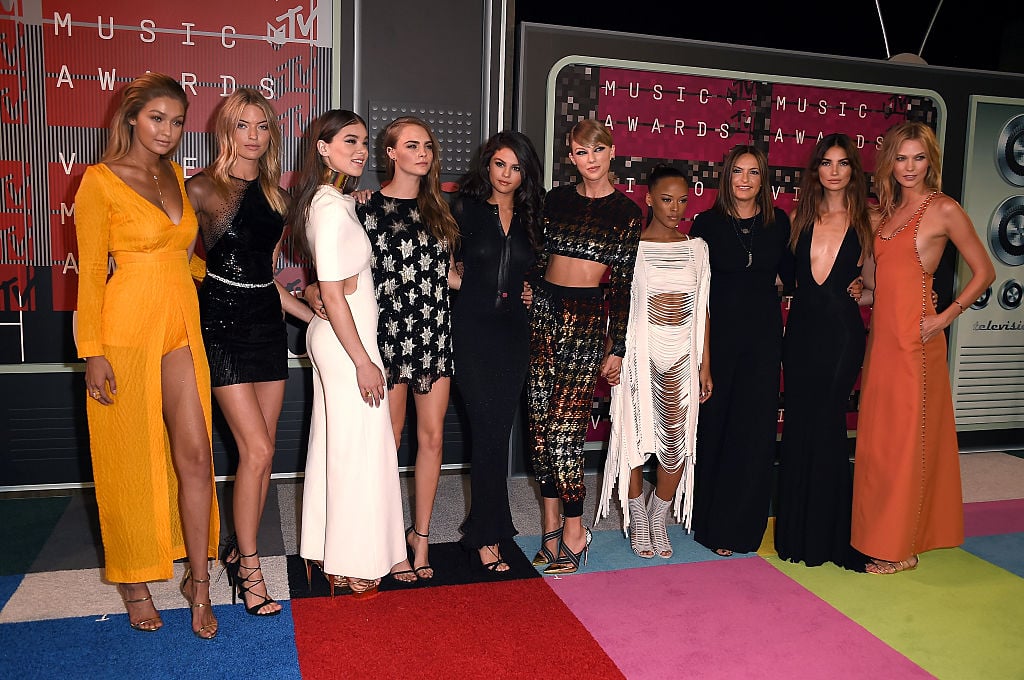 Swift's friends were all celebrities
In a 2016 Forbes article, writer Dani Di Placido addressed Swift's image and the role of her squad. "The sweet and innocent character Swift has been playing is beginning to wear thin. Feud after feud is beginning to make her appear a bit nasty. Her famous 'squad' of beautiful, skinny celebrities is evocative of the stereotypical group of popular girls in high school, excluding an air of exclusivity and superiority."
Her friend group was enviable — all celebrities, all gorgeous, and all just happened to be hanging out with Swift. The friendships may have been real and not manufactured, but the way she paraded them around was, in hindsight, something that Swift regretted.
Swift got a bit older and wiser
As age has a way of doing, Swift found herself approaching her 30th birthday and showing some wisdom with her years. In a March 2019 essay she wrote for Elle magazine, titled 30 Things I Learned Before Turning 30, she reflected on things she's learned along the way.
"According to my birth certificate, I turn 30 this year… I've heard people say that your thirties are 'the most fun!' So I'll definitely keep you posted on my findings on that when I know," she wrote. "But until then, I thought I'd share some lessons I've learned before reaching 30, because it's 2019 and sharing is caring."
Her squad drifted apart
While Swift's squad was tight with the singer for a time, eventually the group disbanded and the headlines about them eventually fizzled. She shared in her essay how some "drama" may have contributed to the group splitting up.
One lesson she noted is "learning the difference between lifelong friendships and situationships," in which she explained how some friendships may be "for an important phase, but not forever."
She added, "It's sad but sometimes when you grow, you outgrow relationships. You may leave behind friendships along the way, but you'll always keep the memories."
RELATED: Taylor Swift Doesn't Want to Talk About Her Relationship With Joe Alwyn: Why It 'Isn't Up for Discussion'
She regrets the message she was conveying with her squad
At the height of her squad, Swift shared a lot of pics of them on Instagram and she realized later that it was a regrettable move. It wasn't a PR stunt, but she does regret flaunting her famous friends in everyone's' faces.
"Never being popular as a kid was always an insecurity for me," she explained in her essay. "Even as an adult, I still have recurring flashbacks of sitting at lunch tables alone or hiding in a bathroom stall, or trying to make a new friend and being laughed at."
Having this group of gal pals removed that insecurity, but in sharing that with the world, she realized, she was making other people feel alone.
"In my twenties I found myself surrounded by girls who wanted to be my friend," Swift wrote. "So I shouted it from the rooftops, posted pictures, and celebrated my newfound acceptance into a sisterhood, without realizing that other people might still feel the way I did when I felt so alone. It's important to address our long-standing issues before we turn into the living embodiment of them."