'Watermelon Sugar' and 'WAP' Are Similar Songs; One Twitter User Pointed Out the Unfair Critique of Cardi B's Track Compared to Harry Styles'
Cardi B and Megan Thee Stallion dropped one hell of a song last Friday. "WAP" premiered on Aug. 7 and blew the internet up. Not only is the video visually stunning with a ton of cameos, but the song is also all about female sexuality. Which, weirdly, made a lot of people angry. The contents of the song have become a very hot topic, however, it's not much different from songs male artists have made. Like one by Harry Styles, according to a Twitter user.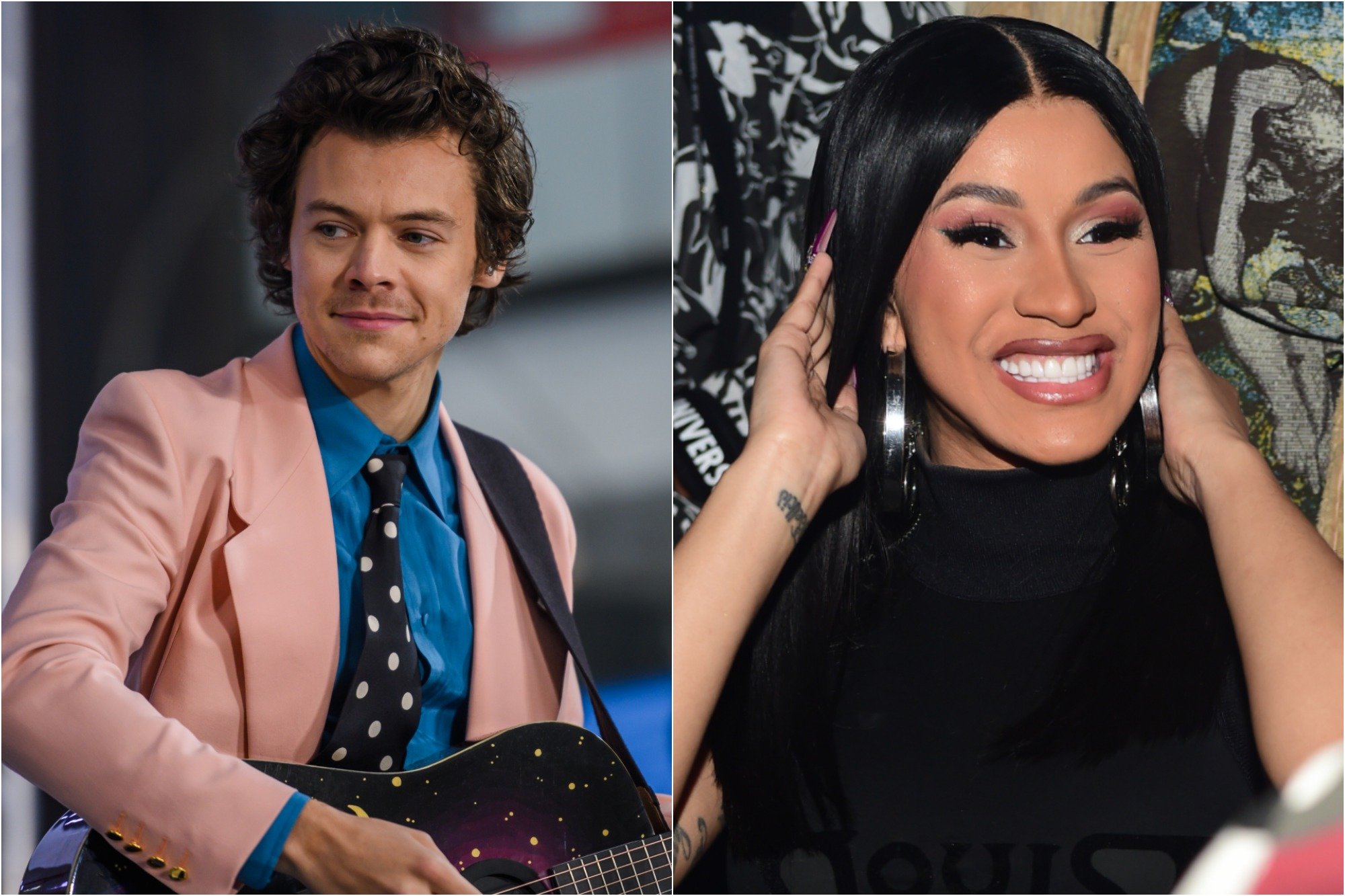 RELATED: Cardi B Says She Knows 'For a Fact' Megan Thee Stallion Is Freaky
Cardi B and Megan Thee Stallion's track, 'WAP,' brought a lot of discourse online
Cardi B and Megan Thee Stallion dropped the track to heavy anticipation. The song is all about, well, a "WAP," which they sing often in the song. Essentially, it's about women getting what they want and deserve in the bedroom. However, the discourse around the song turned into a conversation about vulgarity and if a "WAP" is healthy (which it is).
Conservative commentator Ben Shapiro posted a viral video, which hit Twitter on Aug. 10. He then went on to tweet further thoughts, like how his "doctor wife" has a diagnosis of "bacterial vaginosis, yeast infection, or trichomonas [sic]." As if a "WAP" is a medical issue, instead of a healthy ecosystem.
And CeeLo Green degraded the song further, using it to say, "A lot of music today is very unfortunate and disappointing on a personal and moral level," according to The Shade Room's Instagram. Famously, Green is known for his song "F*ck You."
RELATED: Megan Thee Stallion and Cardi B Just Took Advantage of Kylie Jenner's Massive Social Platform
But, as Brittney McNamara, Identity Editor for Teen Vogue, wrote on Aug. 11, all of that is just a way to show discomfort with women taking control and autonomy over their bodies.
Criticizing and suppressing women who harness their sexuality and discuss it in frank — even vulgar — terms is part of a long history of policing women's sexuality. So no, it's not surprising that some men are threatened when women display and celebrate their sexuality — it's unfortunately to be expected.
But one Twitter user pointed out how unfair the critiques are
Twitter user, Ariana Lewis, pointed out on Aug. 7 that it's highly unfair to put Cardi B and Megan Thee Stallion's song down when other songs also sing about female pleasure. Or pleasure in general.
"PSA if you were okay with Watermelon Sugar but you have a problem with WAP that's some misogynoir talking," they wrote.
Commenting further over a Twitter message, Lewis also stated that there isn't much else to say. "I think they are both great songs and women's sexuality should absolutely be celebrated!" Lewis said.
To critique "WAP" so profusely, without batting an eye at songs like Lil Wayne's "Lollipop," DNCE's "Cake By The Ocean," or 50 Cent's "Candy Shop," isn't fair. And further highlights the fact that the issue with "WAP" isn't with its contents, but rather with the view it's coming from: a woman's. 
Both songs talk about sex and women's pleasure
Looking at both "Watermelon Sugar" and "WAP" specifically, and they're both about women's pleasure.
Styles sings, "Tastes like strawberries on a summer evenin'" along with "I want your belly and that summer feelin'/Getting washed away in you," alluding to oral sex.
In a November interview, Zane Lowe commented to Styles: "'Watermelon Sugar…' everyone's kind of figured out [that] it's about the joys of mutually appreciated oral pleasure." The non-question didn't really get an answer from Styles, other than, "Is that what it's about? I don't know."
RELATED: There's a Fan Theory That Harry Styles Co-Wrote a Song on Taylor Swift's 'Folklore' and It's Actually Pretty Convincing
While Styles agreed it's good to leave it up to interpretation, the video hints at oral sex yet again, with Styles and the women in the video eating watermelon rather sensually.
With "WAP," it's a lot more explicit in what it's talking about. Cardi and Megan are very direct in describing sex, and how they enjoy it. But basically, as Lewis tweeted, the songs have very similar themes. 
So instead of all the dizzying discourse, fans can enjoy both. Cheers to two summer hits.
RELATED: Harry Styles' 'Watermelon Sugar' Is Actually Not About Watermelons or Fruit at All